Normally I wouldn't consider buying a wrestling figure, but upon seeing this one, and it being on sale, I decided to get it: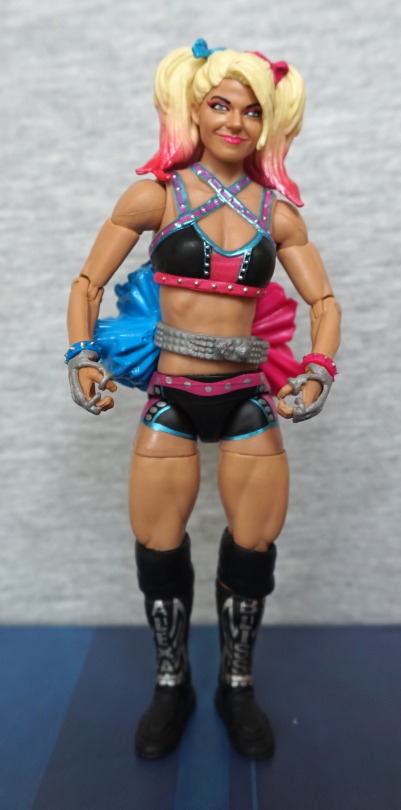 At first, I thought it was a cross-dressing bloke. On further research, she's female, and they did a bit of a poor job with the head sculpt. Sorry Alexa :(. So that was probably why she's on sale, oops. Her head is squarer than it should be, which was the source of my confusion. I was mostly attracted to this figure, due to the bright colours, though. 
Another thing my research dug up is the belt and the bits on her hands should be shiny – I find it odd they didn't use silver paint on these, especially as they've used silver elsewhere on the figure. 
Also the sculpt – it seems they went for customising the body and the face, but the arms and legs are probably generic sculpts. 
I love the hair, outfit and boots on this figure, but the arms seem kind of generic and don't really fit. They've done her makeup, so that's a nice touch. 
Left: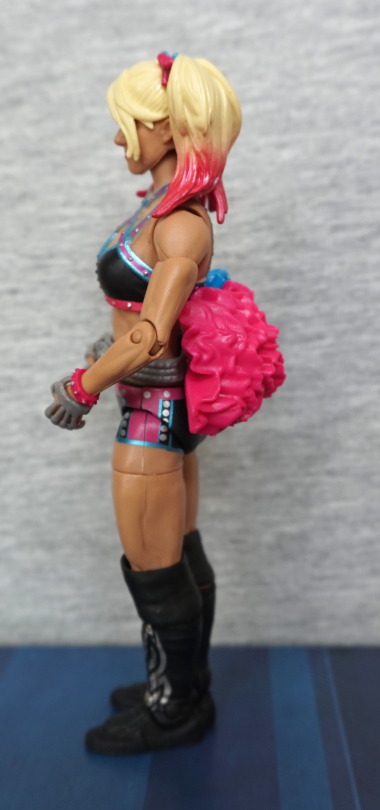 One pink pom-pom comin' up! Here we can see the blend of the dye in her hair – the blend job is so-so. Some of a seam showing on her hip.
Right: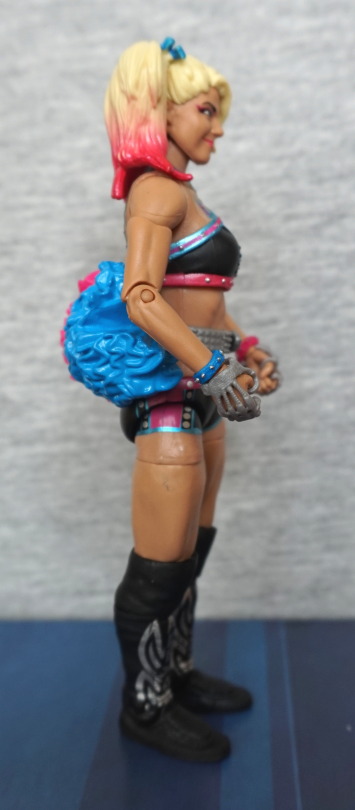 Rather disappointed they didn't put her hand jewellery in silver. Think it would've looked much better, but it's not very delicate, so not true-to-life. And a blue pom-pom! Dye blend in her hair seems better on this side. 
Back: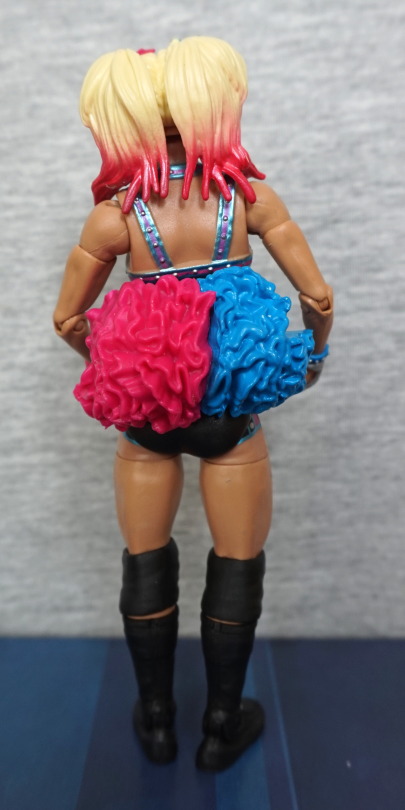 Here you can see how the paint in the hair differs on the two sides. Her top straps are nice and shiny – this is definitely one of the selling pints of this figure. Here you can see that the top of her boots is a separate part – this helps with articulation. The poofy bits on her back aren't terribly accurate to real life, but OK for a cheap figure. Not really finding this "elite" series to really be elite, which is likely why they've hit the bargain bin. 
And one last thing on articulation: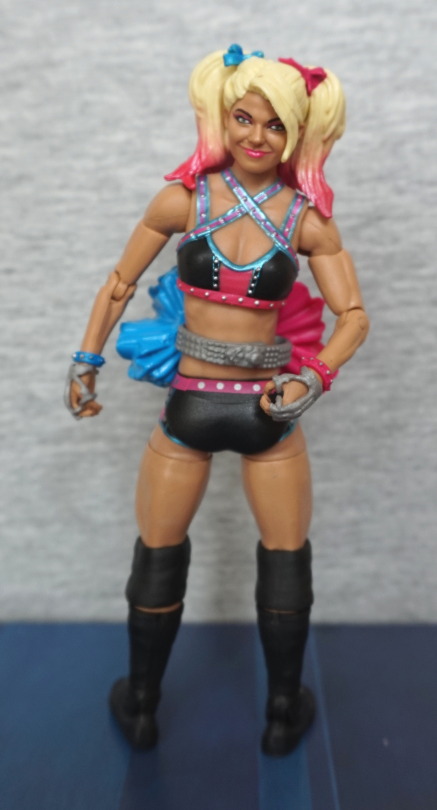 Her waist has plenty of it! 
I think this figure is a fine one as a cheap one for the kids, if you get it cheap. It's not hugely accurate to her real look imo, so I don't see her much as a collector's item. I paid £10 for her, so she was definitely on the cheaper side of things, though I think the regular price was £20 or something, which is just too much imo. She did come with a base, but it is a cheap piece of rubbish and I wouldn't recommend it. 
If a quality articulated figure manufacturer made her, I'd definitely buy it though – love this outfit, and I don't think the figure does it justice. But it's OK for a tenner and not knowing who she was prior…