And now for the slightly infamous Max Payne figure that came with the collector's edition! 
So this was the figure that was promised: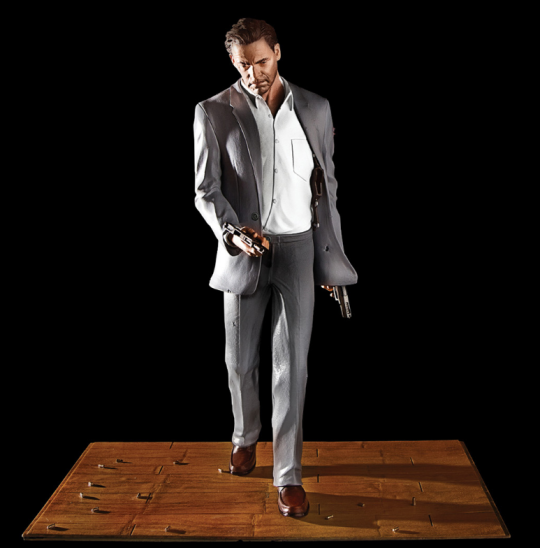 And this is what we got: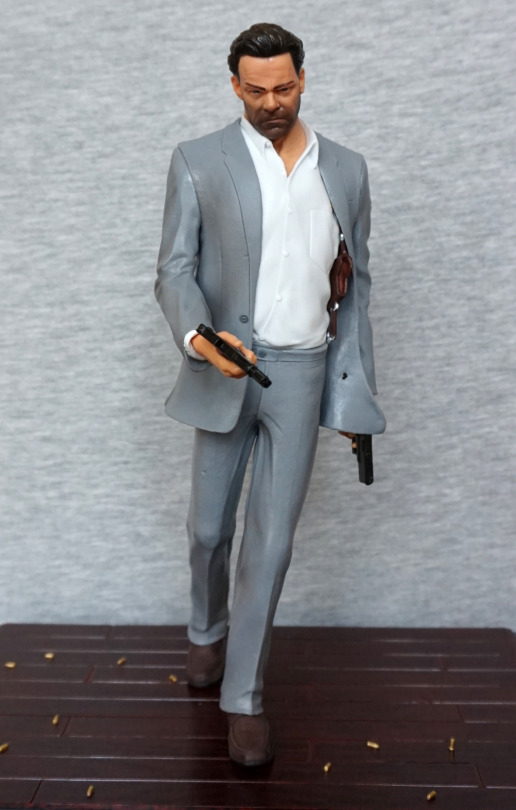 A weird grey-coloured suit with no texturing, and a white shirt that doesn't look like it's been anywhere near coffee and cigarettes… is this Max Payne? 
And that face: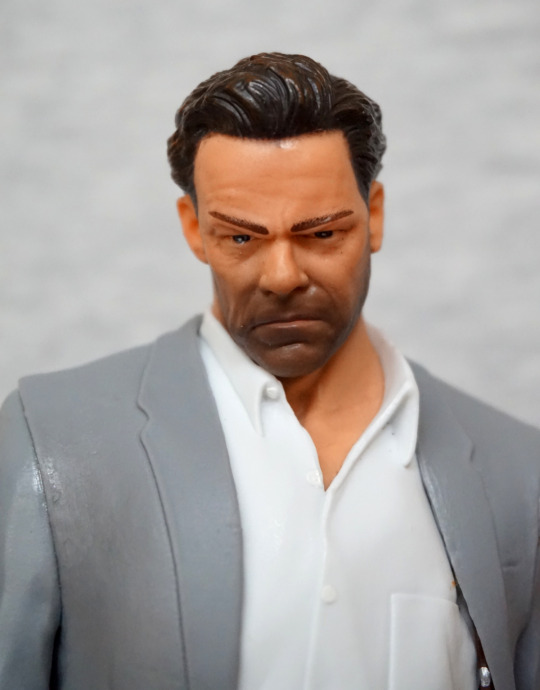 Oh, so that's where the coffee went. Those eyebrows also amuse me. Hair sculpt is actually rather decent – I think all the sculpting efforts went into the face and then bllerrgh. 
But hey, at least we got this base: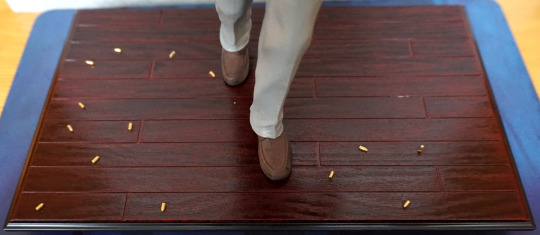 Easily the nicest part of the figure – the wood came out well, and the scattered bullets look nice. 
Left: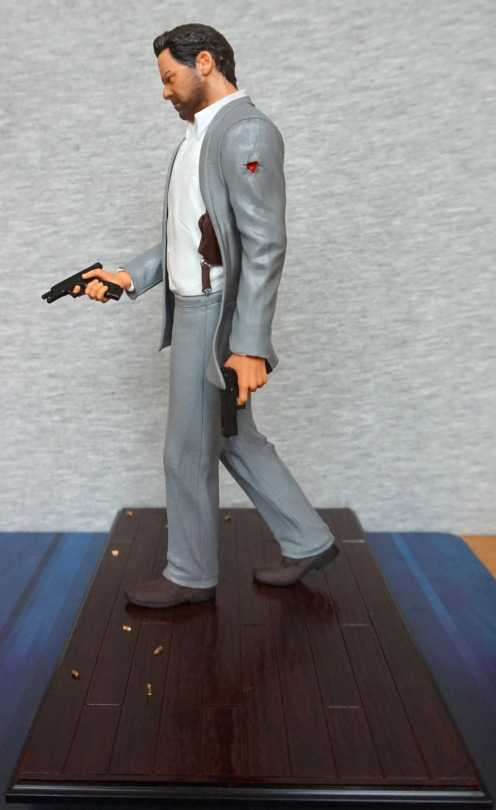 Some parts of the sculpt are actually quite nice – head's pretty detailed, fabric creasing works well. Some nice detail in his hand too. 
Close-up of the bullet wound:
It could have been good. Instead they stuffed some angry red paint on itand called it a day. We can see a figure seam here, but it has actually been sanded down better than I'd expect for a figure with this paint quality. 
Holster: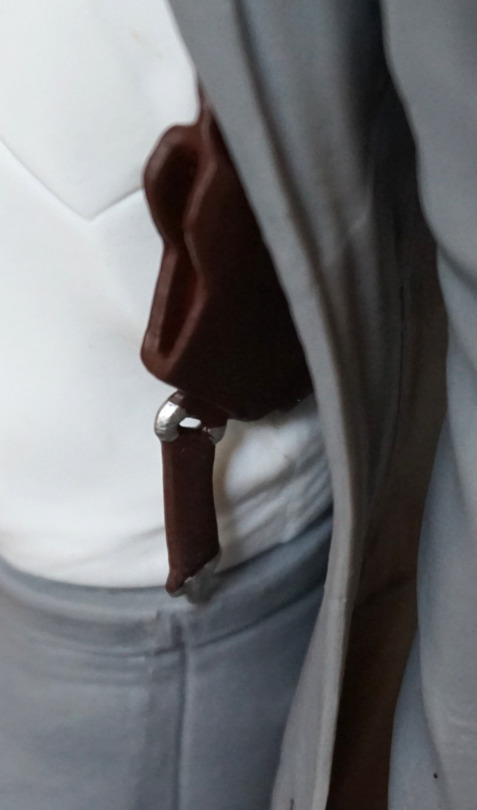 Looks the part. Brown paint has slopped onto the ring somewhat, but overall, doesn't look bad. 
Right: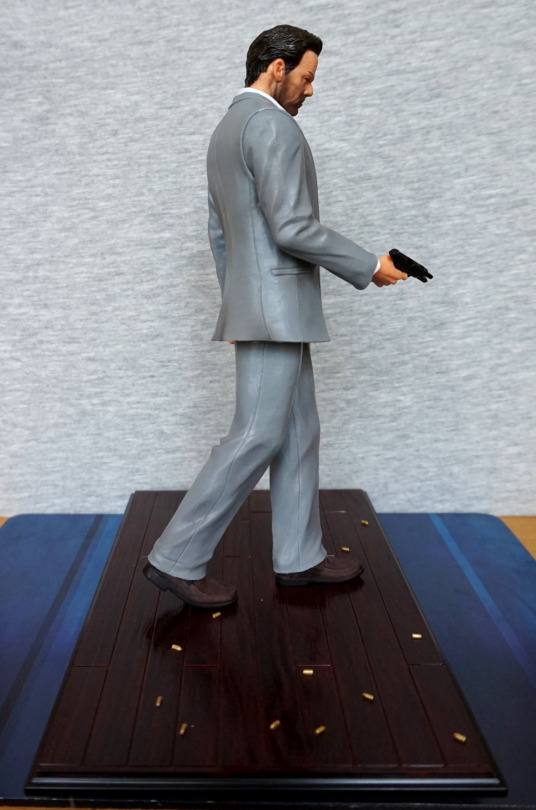 Again, sculpt is decent. His shoes look good but is suit… did he buy this from the pleather store or something? Or is that giving pleather a bad name?
Gun: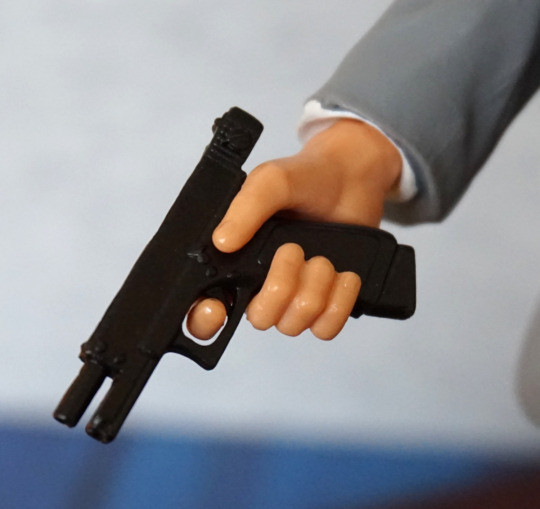 A little webbing can be seen up close, but looks fine tbh. Gun is decent enough. Not sure why there isn't a matte finish on his hand. OK, I know why – shiny finish is cheaper. 
Back: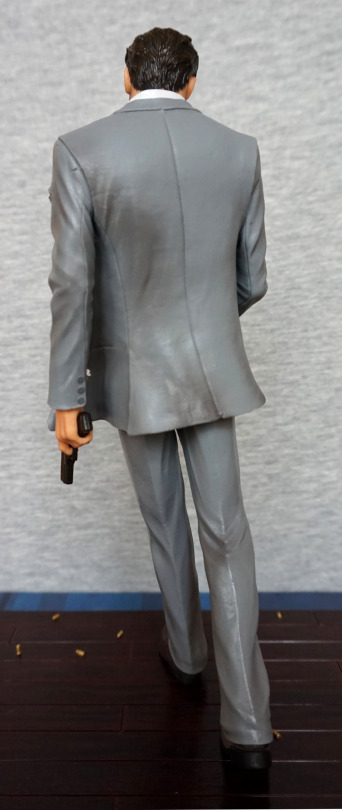 Aww, lookit – they did actually attempt some shading somewhere! Either that, or the figure rolled around the warehouse… I almost suspect that, with the paint job the rest of the figure got… 
So why did I buy this dude when I knew he was shit? 1, he was cheap and it's Max Payne. 2, Some point in the future I aim to use this figure as painting practice – I can't exactly make that suit look any worse! The sculpt-work is there on this figure, hidden by a shoddy, cheap paint job. Me painting him isn't going to happen in the short-term, but when I've learned a couple of techniques, I plan to give it a go. And probably add a claw stand to the base (or some other mod) so that he doesn't experience "bullet time" leans. If you do an image search for this figure, you'll likely find ones where he's leaning far over – apparently they didn't use a particularly strong plastic or put rods in his legs to prevent this issue -.-