I have both the Diablo figures by NECA – one is "normal" Diablo, other is Shadow of Diablo. Here they both are together: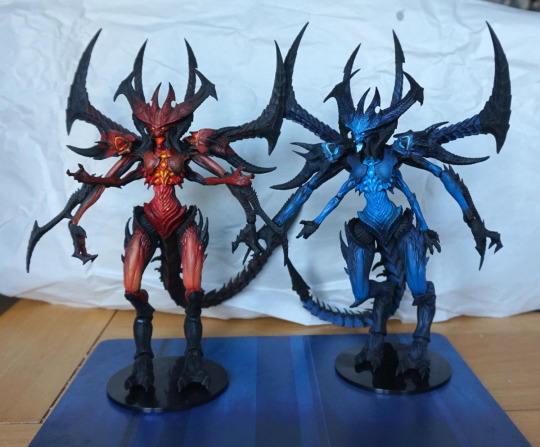 The normal Diablo I got as a gift, the Shadow of Diablo I ended up paying a fair bit for, as it got customs'd. Both figures are from the same mould, with different paint jobs. 
The normal Diablo: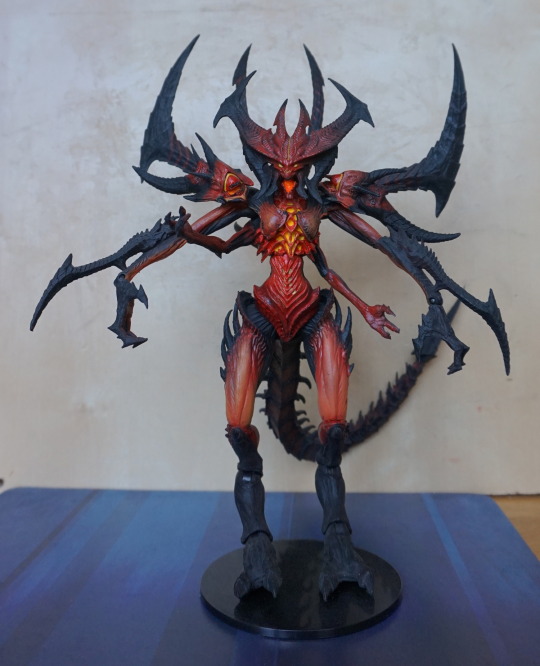 The paint job on this one is quite striking – the yellow and red contrast nicely. The figures are decently poseable – along with the usual articulation, his shoulder parts move, his back spikes move and his table is bendable. 
Here's a shot of his side: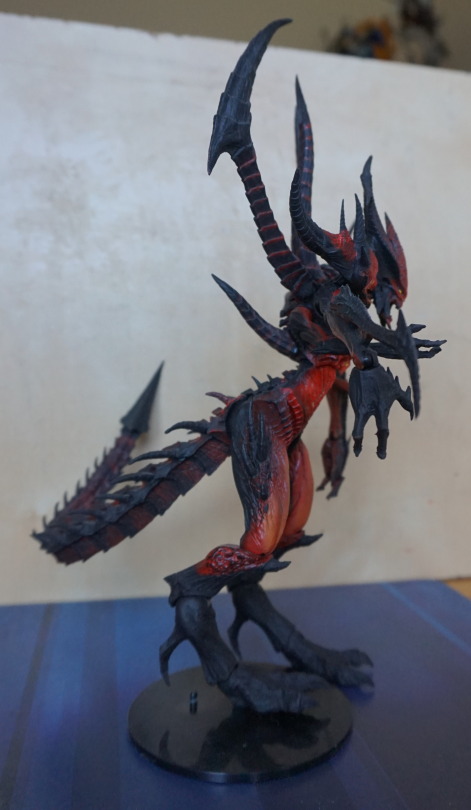 Not too much to see here, though one thing here is to note he's not on his stand properly – both of these figures are prone to falling over, and the peg is not long enough to hold him in place at all. This sort of makes the leg articulation useless, as you can't really pose his legs in many positions without him faceplanting. Usually I have him leaning against the wall to prevent him from attempting to skydive. 
Back view: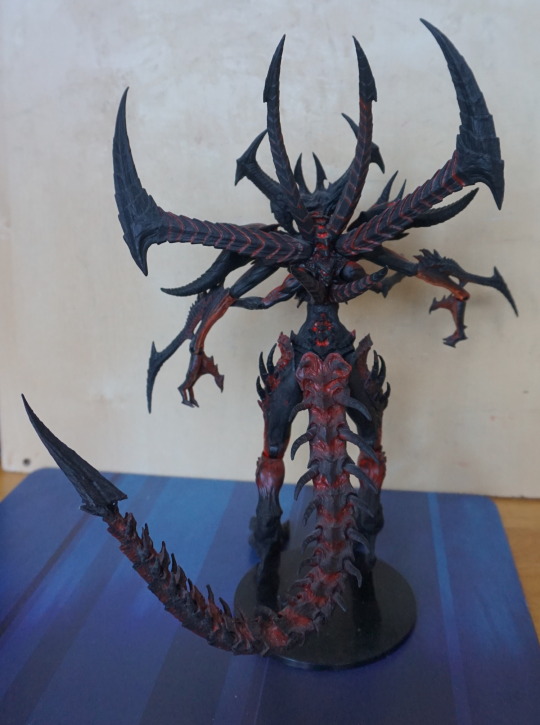 Nice paint job here too. Tail is poseable, but it's kinda awkward to move it around – the wire is quite stiff. Now to leave this Diablo munching on the wooden backdrop, and look at Shadow of Diablo: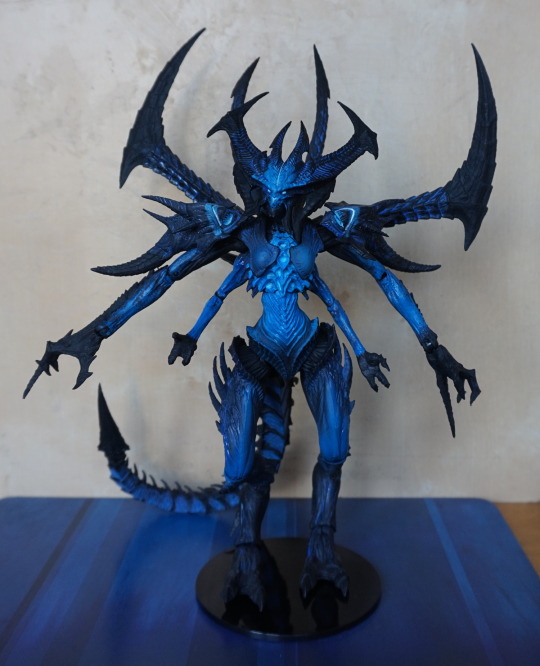 This guy has a reasonably striking appearance from afar, but does not stand up to closer scrutiny. Close-up on his face: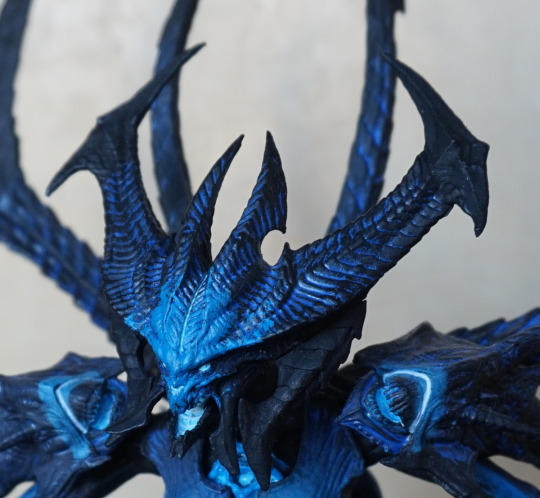 The blue wash appears messy, where it blends into the black parts, and the shoulders don't look as well blended as the ones on the red version. Whilst the blue paint does feel more sloppy, I'm not sure if the paint itself was partially a factor in the figure's paint flaws. There's less colours to play with here, though NECA is known for doing sloppier paint jobs towards the end of figure runs. 
Here is his side: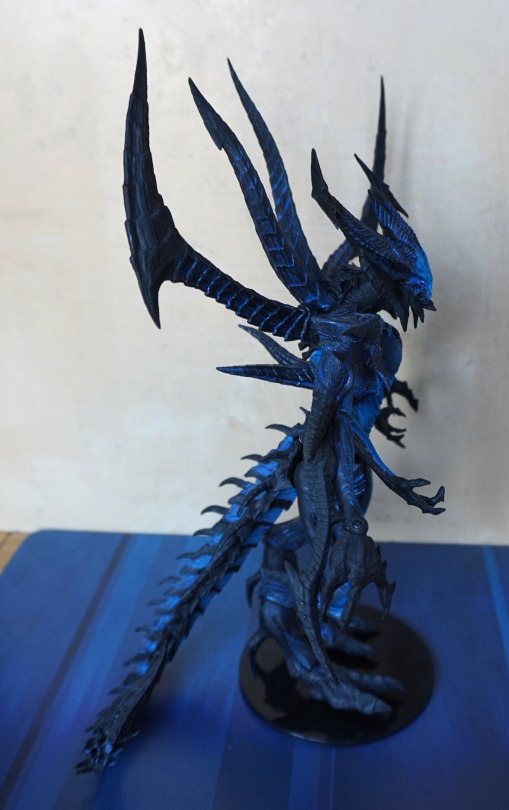 Not much to say here – looks rather like the original version, only blue. 
The back: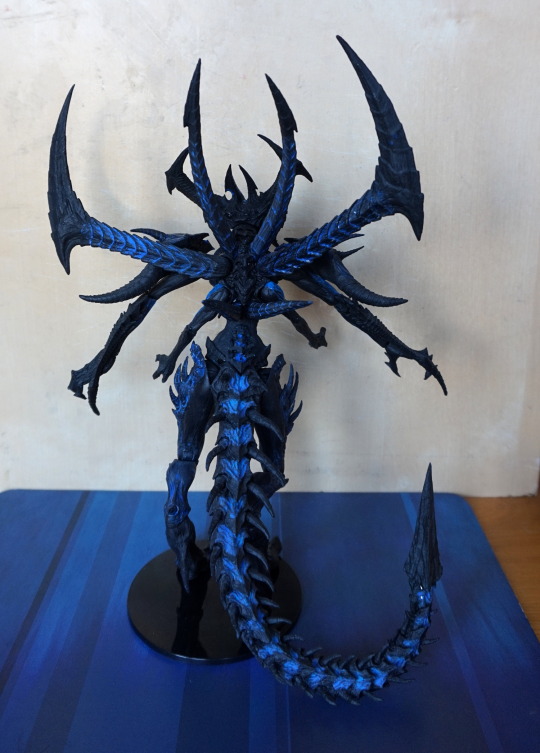 Here you can see the blue wash being uneven on the two outer back spikes. Also if you look closely near the tip of his tail you can see two dots – this is the wire showing through :/. Pretty sure this was from the figure's construction, where they haven't embedded the wire correctly. Fortunately, it doesn't show as this part is usually facing the wall. 
So if you have a choice of one or the other – definitely go for the "original" version. The blue one just doesn't have as good of a paint job, and an image search seems to confirm it's not confined to just mine (as well as some reviews from the time). Getting hold of either at this stage is likely to be an expensive proposition though. I believe the original RRP was £25, but good luck getting them for that now.