Now for a figure I can't tell you much about! There is a maker's name on the back, but sadly I can't quite read what it says, so can't search/verify who made this XD. I bought him from a collectables shop in Southampton, and I don't think the owner knew anything about him either (and he didn't really like the fellah :P):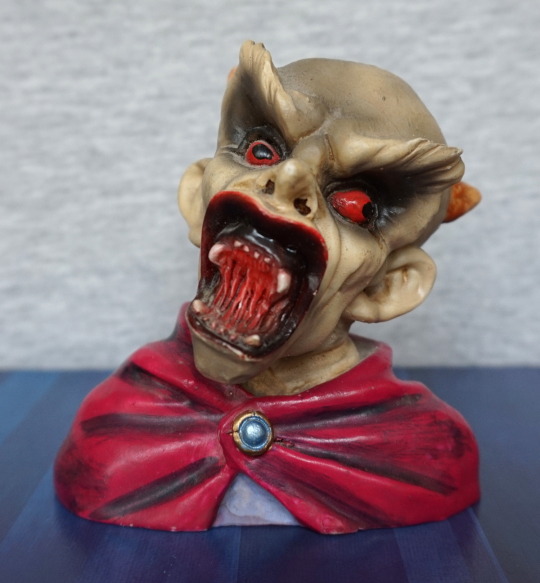 He has a few little dints, but nothing too severe, which is good for this kind of collectable. Too often these kind of things have quite large paint gouges secondhand. 
Whilst I've called him a zombie in the title, I'm not sure he really is. Almost a gargoyle/demon look about him. He's a fearsome fellow anyway! Not so keen on the super-lazy eye, but I love those eyebrow ridges and that screaming mouth. Paint on his cloak seems a bit on the rushed side, but the skin paint is very nicely shaded. 
Left: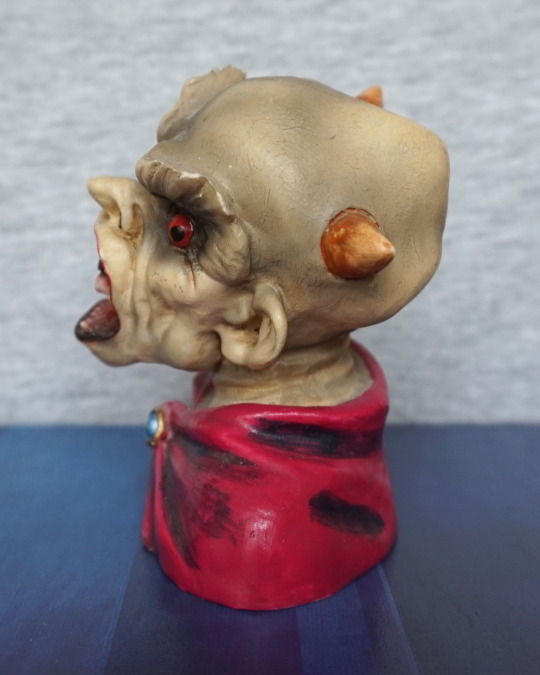 Here you can get a good look at one of the horns atop his head. They have a decently chitinous look to them irl. I don't think this photo does them justice. Here you can see some scratching on his eye ridge. Some lovely moulding details in the side of his face, with the way it wrinkles. 
Right side: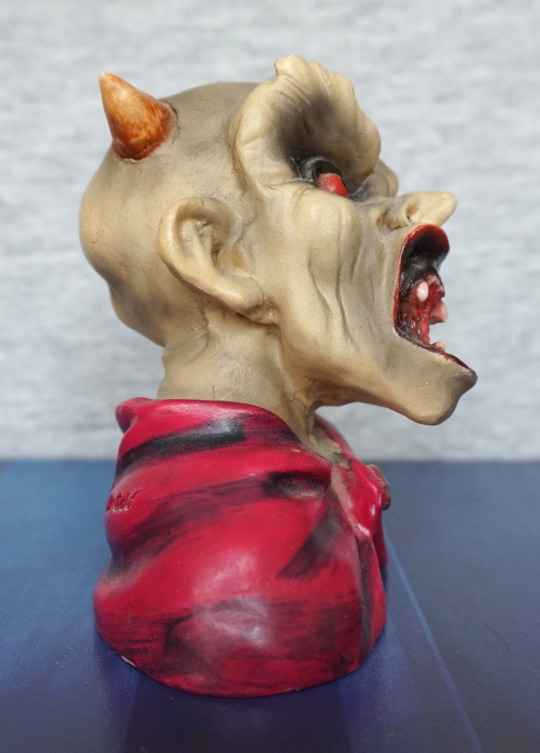 I like the way the skin has been done so it's taught on his head, and looser on the face. Gives that demon/undead vibe. You can see where an attempt has been made to blend the darker parts of his cloak into the lighter parts, but could've done with some more blending, so there was less brush strokes in it. Maybe a wash would have been better in the lighter areas? 
Back: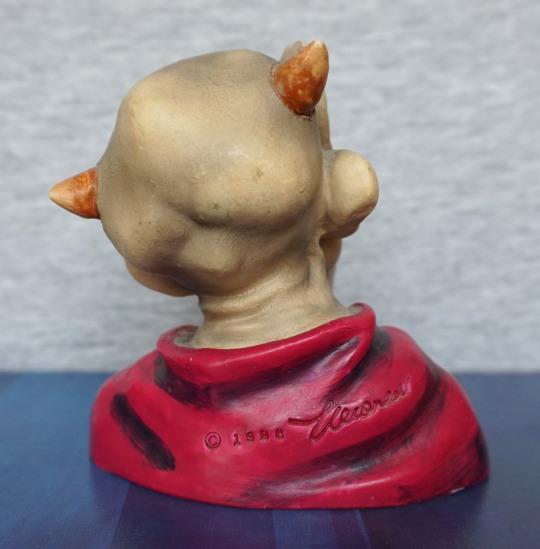 Some nice attention-to-detail in the mould. Here you can see he's been stamped © 1998 and some kind of name/logo next to it. Not sure if this is a small-run item or mass-manufactured. I love the shading on the back of his head – gives a good amount of definition to him. 
On display, the flaws in the cloak are less obvious at a distance, but it would've been nice if a bit more effort was put into blending the darker paint, or it was more of a wash instead. He's still a cool-looking figure, who currently resides on my desk :).