This figure I picked up at Home Bargains. This is a very small figure that comes with a 'spirit tank', Sub-Ultron 011: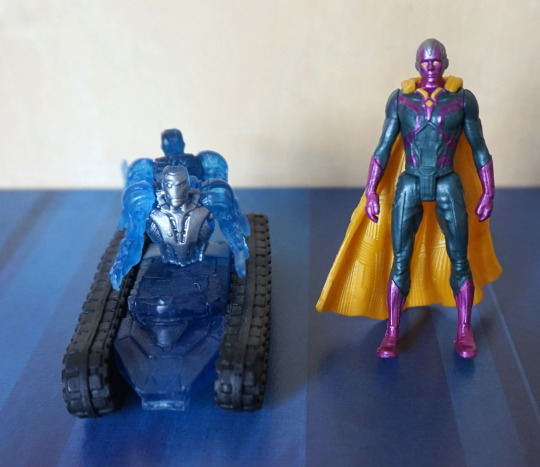 Was attracted by the colours,. and the fact it came with the tank accessory, to make it more interesting than the 2-figure packs. 
Here is a close-up of Vision: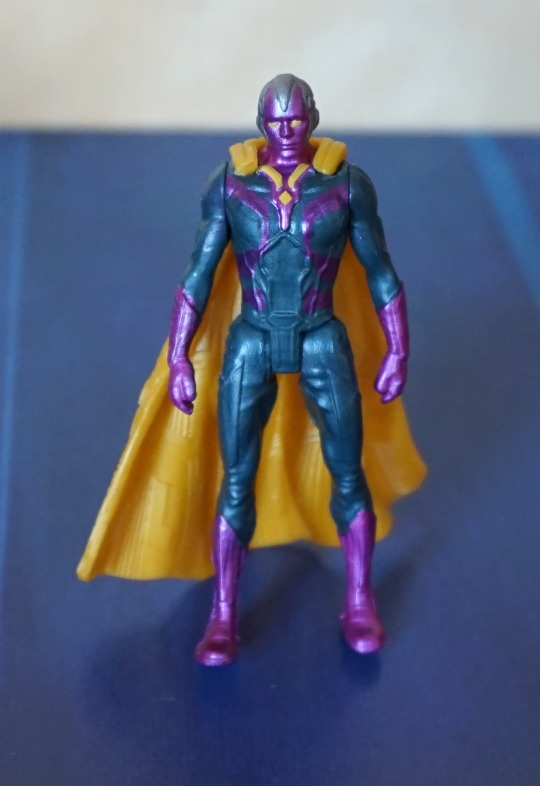 For a small figure, he's well painted, but the purple on his chest looks kind of our of place, as it appears it hasn't been designed with the mould in mind. Looking at pictures of Vision on the internet, it's supposed to follow some contours on his suit, which has been lost in this rendition. 
Here he is from the back: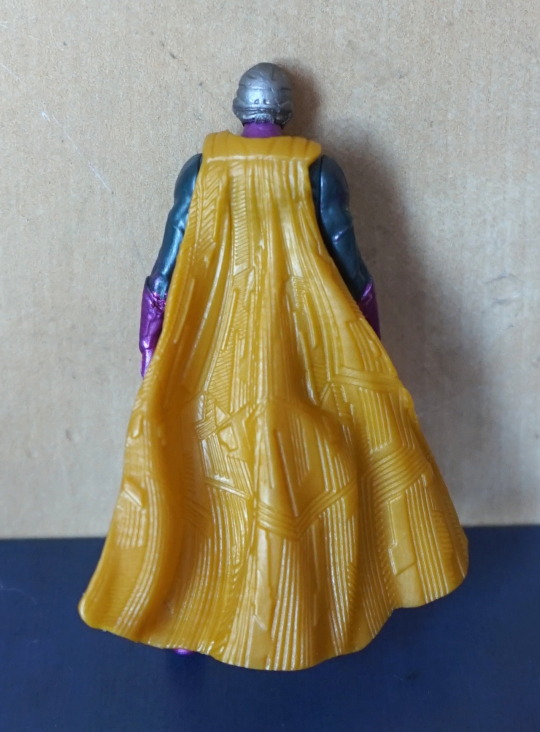 The moulding is nice on this cape, but it's only really kind of a bit bendy at the top. 
Which leads to his articulation being pointless: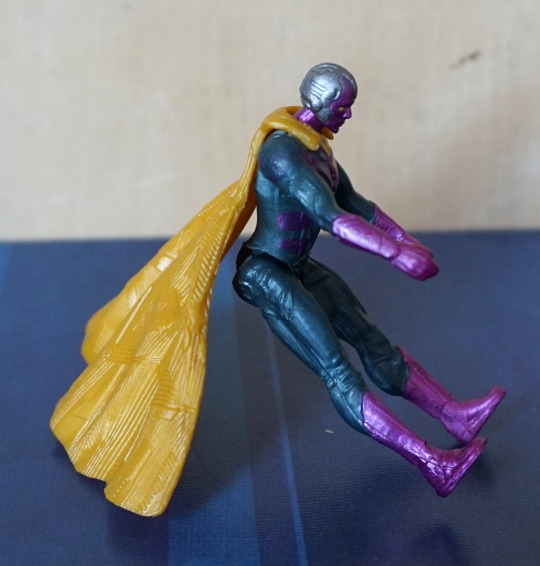 He really doesn't have much articulation, but he is very small. Would've been nice to do something with the cape so he can sit, or give him knees so you could potentially do some poses, despite the cape. 
Sub-Ultron 011: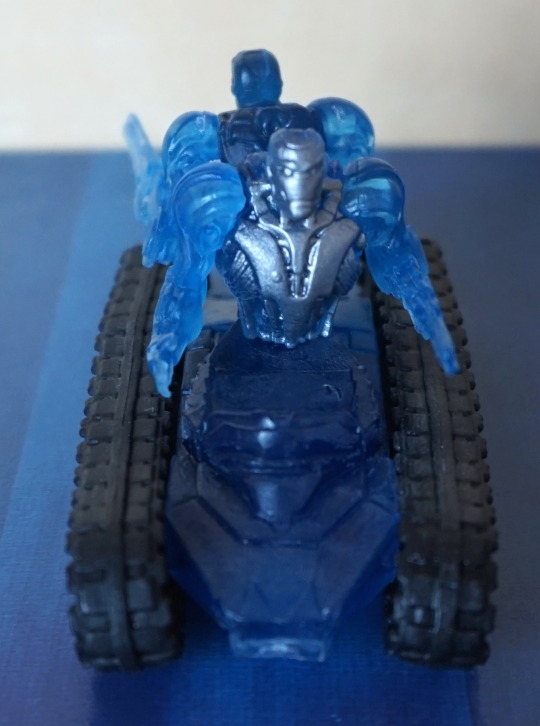 The silver effect is nice, but the tank tracks are kinda wonky to the body, and the arms can easily fall off the body halves. Can imagine that's kinda handy as a kid, emulating battle damage… but I don't think they're supposed to fall off. 
Other views of Sub-Ultron 011: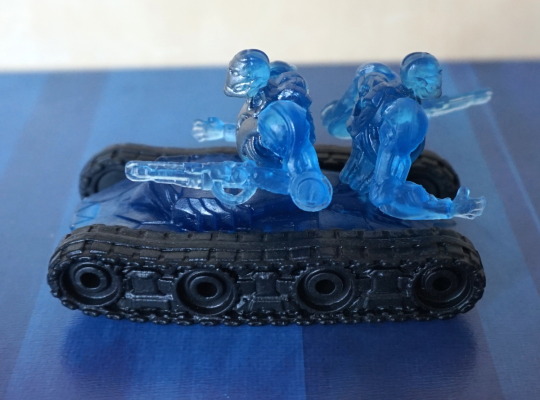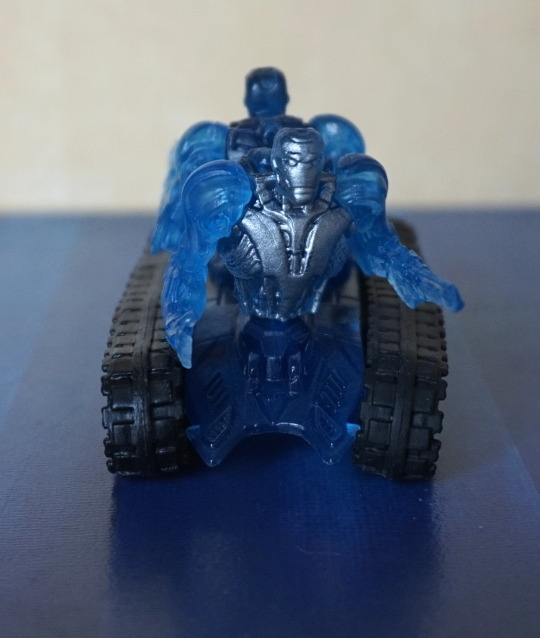 It mostly looks OK as its own thing, but researching Sub-Ultrons, I don't think this is accurate to what it is supposed to be. Sub-Ultrons are robots, and this appears to be more of an ethereal entity, due to the large use of unpainted translucent plastic. From what I can see, they should only glow blue in places, not be mostly blue. It looks OK in its own right, but doesn't seem very faithful for what I believe it's supposed to be. 
Despite it being a vs set, I decided to do this: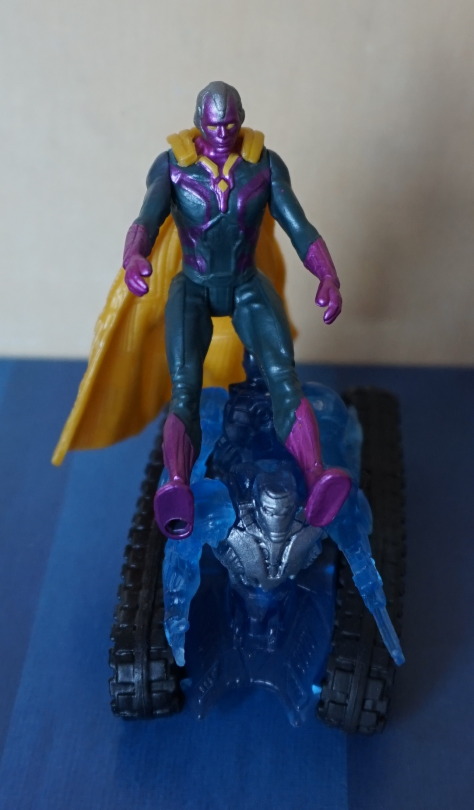 Well, at least he can now sit, despite the cape!
Not entirely convinced by this purchase – I wouldn't suggest spending much on this set, and this might be one of the smaller items I may pack away at some point. Still love the colours, but I'm not super-attached to it.