This figure I've been considering on and off, as I have a liking for succubi. Finally decided to pull the trigger and buy her. Weirdly, in the two listings Solaris Japan had, one could be shipped by small parcel, and the other… could not. Thankfully the cheaper listing allowed small packet shipping. She did fill up nearly all of the shipping box, but she survived fine. 
So here she is: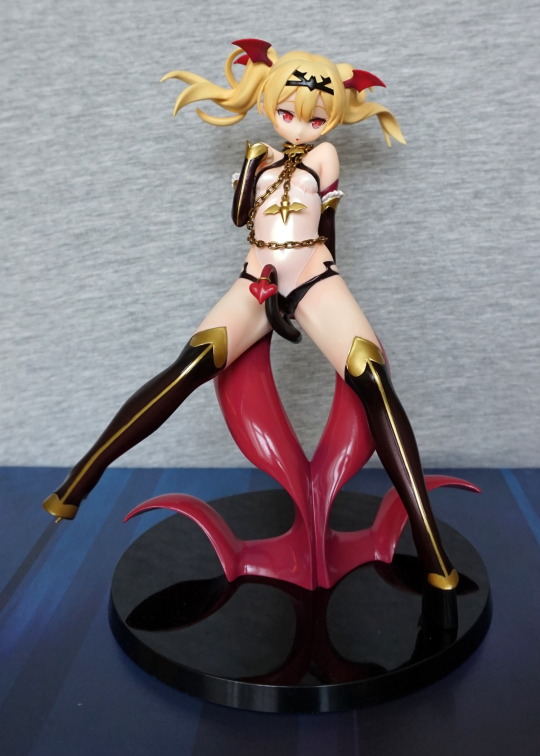 The chain is a loose part that hooks to her necklace, and you wrap around her body, in whichever way is pleasing to you. I love the pearlescent finish on her top, but I wish there was more contrast between her top and her body. I bought the normal edition, so don't have the limited edition hand and tail. Would've liked those parts, but not prepared to pay a few k yen for them. 
Close-up of her face: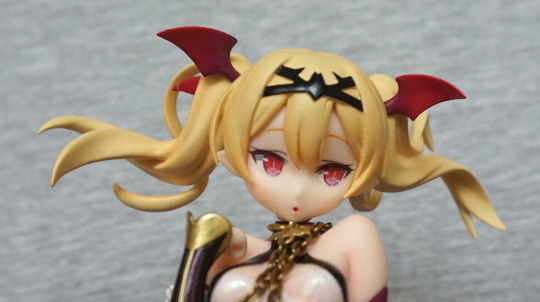 A wonderful cheek "o" expression. Love the colour of her eyes. Her tiara feels kind of flat though, and not quite painted to the corners, making it feel not-quite-there. 
Close-up of the chains: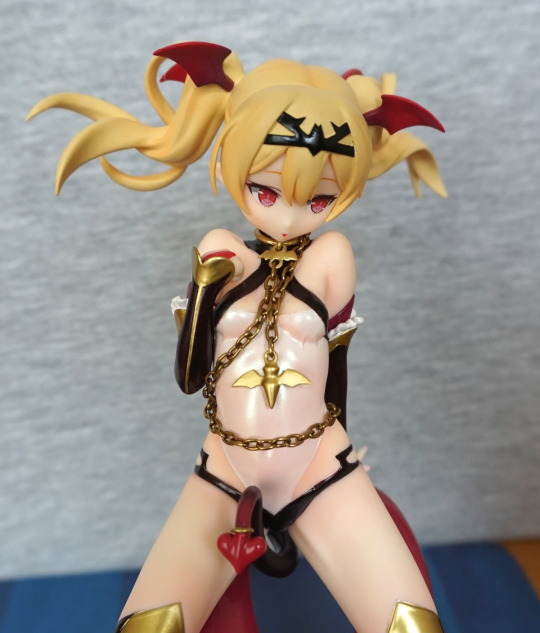 I do really like the chain that comes with the figure, and is probably my favourite part. 
Close-up of her right leg:

Love the glossy shininess, and the gold colouring, but the gold paint is a bit off in places, which doesn't give this figure a very premium feel. 
Tail end: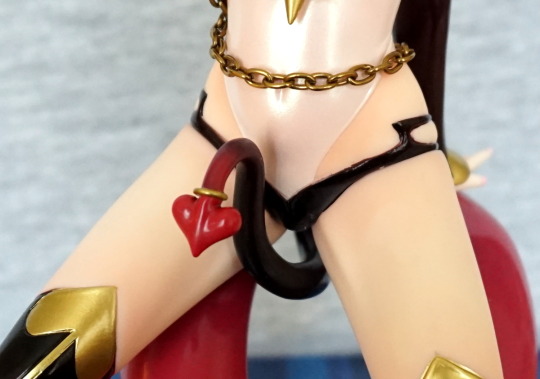 The shading is very nice on the tail, and the little golden ring. Here you can see a bit of sloppy paint around her panties. Not sure if things are particularly well-sculpted around here, the sides of the panties look a little on the odd side to me. And large black panties over a leotard? The black framing works well, but up close it's a bit… hmm. 
Left: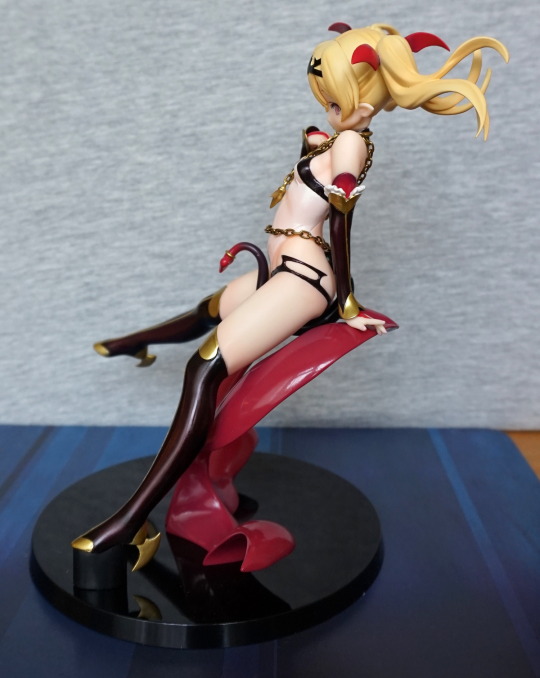 She's posed well, and here you can see the odd design they went for the panties… or whatever they are. I guess she's Supergirl gone bad :P. I do like the gold blade parts on the back of her boots. 
She's pegged to the base by the black lump under her shoe – this part is permanently attached to her shoe, and the base peg goes into this. The upside of this is she sits on the base very organically. 
Right: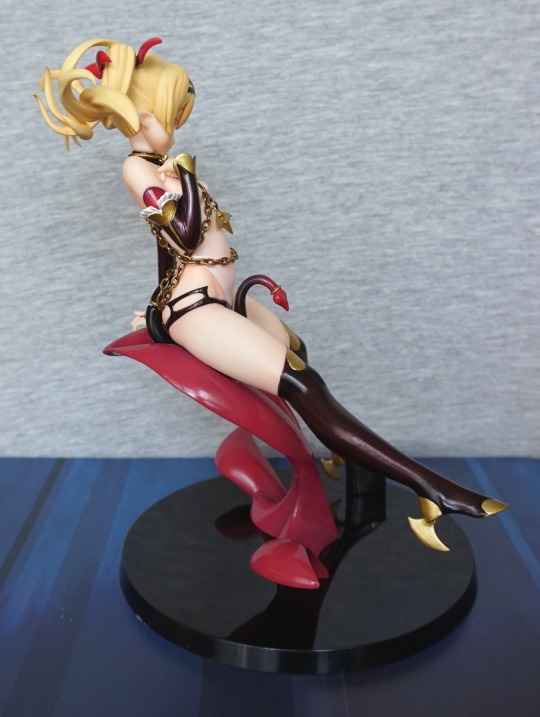 I like the way she has one figure poking out – gives a more natural pose feel. Again, that gravity-defying loop on her panties though. Her hair looks good from this angle – love the messy look they've gone for. 
Back: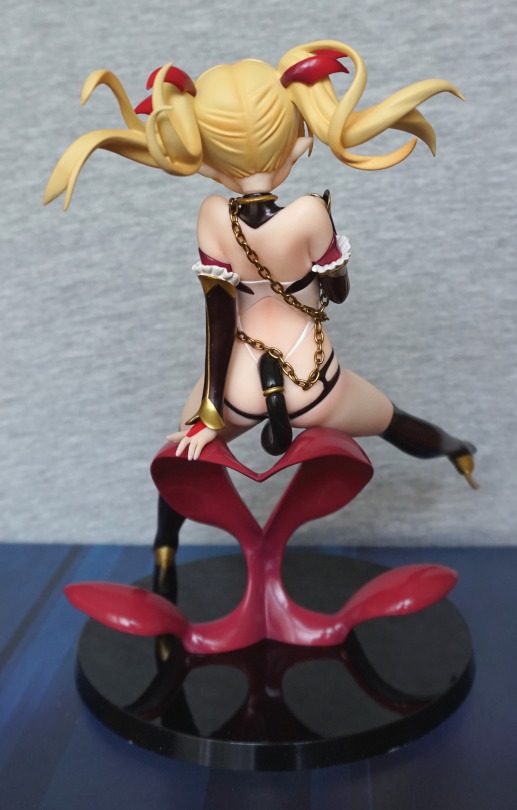 Here you can see a good chunk of the heart-shaped base they've gone for. Props for the non-boring base. Here you can see where I haven't neatened up the chain :P. Her leotard is shown to be more of a different elasticated top, and I do like they've done this, so it shows more skin. Her hair is sculpted well back here. 
Top of her head: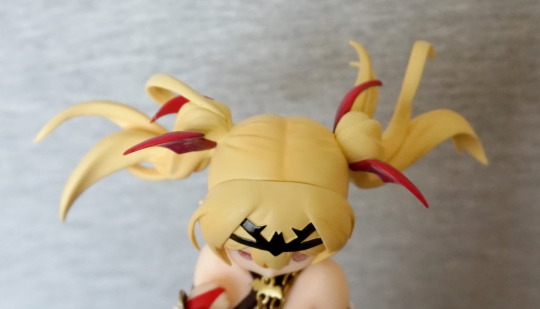 Pretty decent seamline, and she's got 4 head wings. Flapflapflapflap. 
Close-up of her back: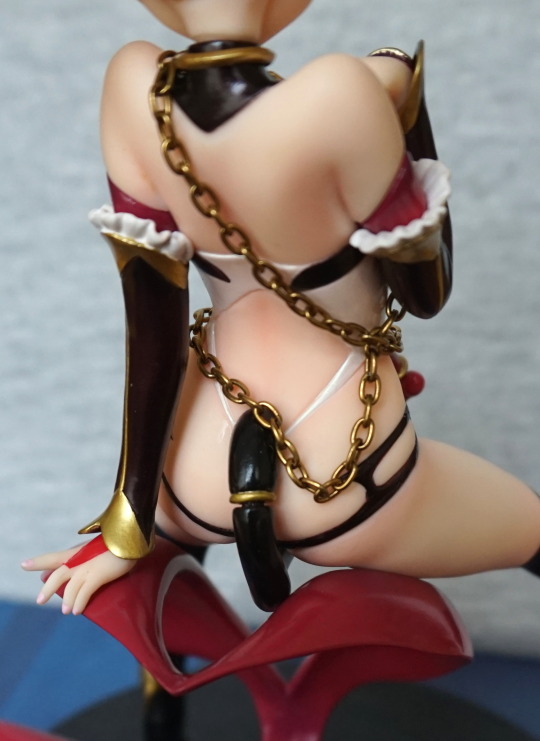 The tail has a bit of a gap. Not really tried to fix this, as she's displayed where it doesn't show. Here we see a nicely posed hand, with pink nail polish. I do like her back overall. 
With this figure, it has a good amount of strong points, and I'm glad I got her. But there's just some bits lacking in the paint job, which hold the figure back and doesn't make it worth full price for me. If you can pick her up cheaply, and prepared for a few minorish paint flaws, then maybe this is the figure for you.