This figure came with a VHS tape, with some Spawn episodes on… but that went straight into storage. So let's look at the figure instead: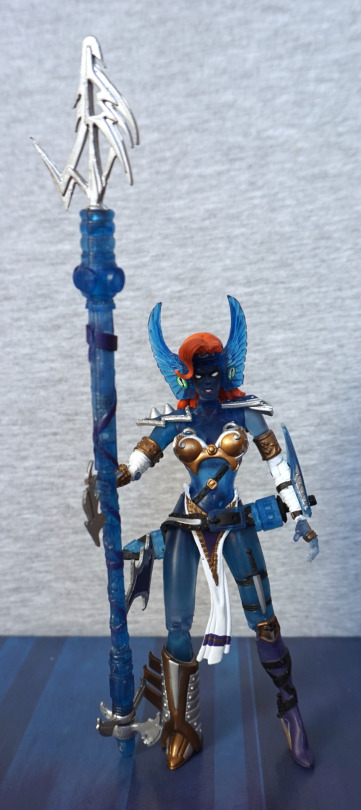 I was attracted to this figure due to its blue colour… and cheap price tag (¥500). I love the colour scheme on this figure – there's a variety of colours, but they work together. The blue and goldish colour pairs well.
Face: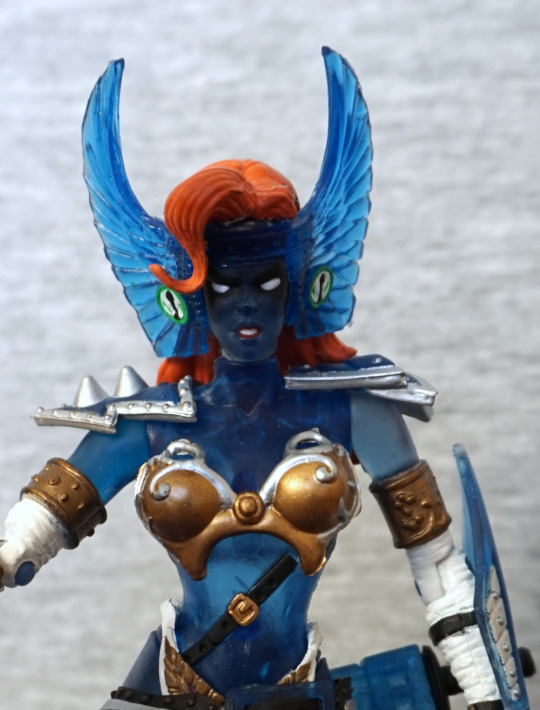 Here we have her hair and headband. She looks like the wings are part of her head, but if we look up close, we see this is not the case. Whilst the translucent wings are a nice effect, it may've been better to keep the headband as the same colour as her armour. The paintwork is average for McFarlane – which is reasonably neat if you don't look too close :P. The black belt across her midriff terminates a bit early, which looks odd. 
Left:

Her weapon is neat, and she holds it well. The tip can fire out, and does so with some force. I like the armour on her arm, and the purple boot is.. interesting. 
Right:

Here we can see the button that fires the tip. The gold armour on her arm on this side I like quite a bit. I like the spiky shoulderpads too. 
Back: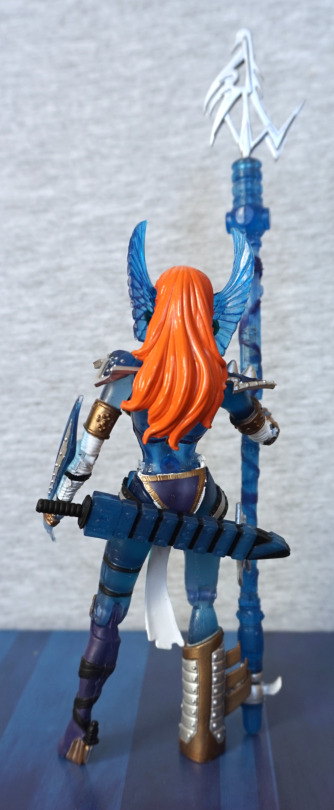 Here we can see the brightness of her hair – it is quite a bright orange, that contrasts with the rest of her. There's a decent amount of texture sculpted into it. Paint on her backside is a bit sloppy. I like the sword on her back, which she can also hold, if you prefer it to the staff. 
Overall, I'm really glad I picked this one up. I was trying not not buy all the McFarlane figures, as the quality isn't the best for these older figures, but certainly worth it for ¥500! She's grown on me a fair bit since I've unpacked her, so she's staying on display 🙂