More old Western action figures! This time Lara from Tomb Raider: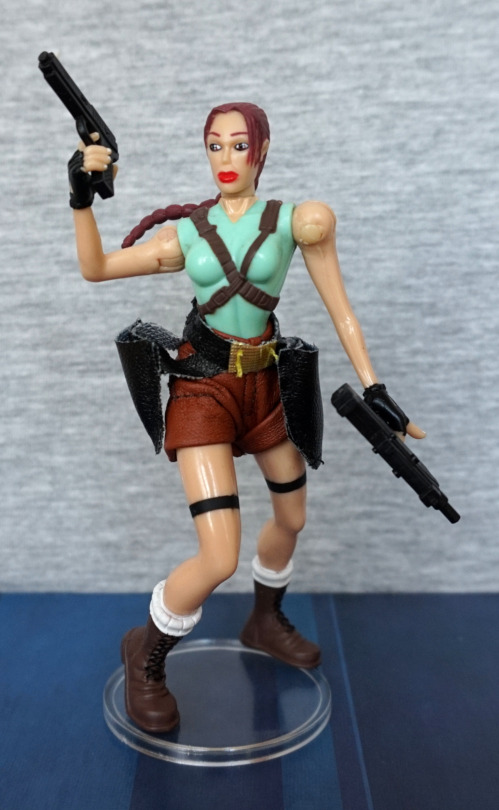 That's one helluva face… Her head is too thin, and that lipstick is way too red. The material shorts were an interesting choice. Looks like one of the legs has come unfurled during this photoshoot, which doesn't help. Note to self: go fix that. I think with the top not being fabric, this doesn't work so well, and maybe they would have been better off moulding them, but this was probably the easiest way, without losing leg articulation entirely. 
Left: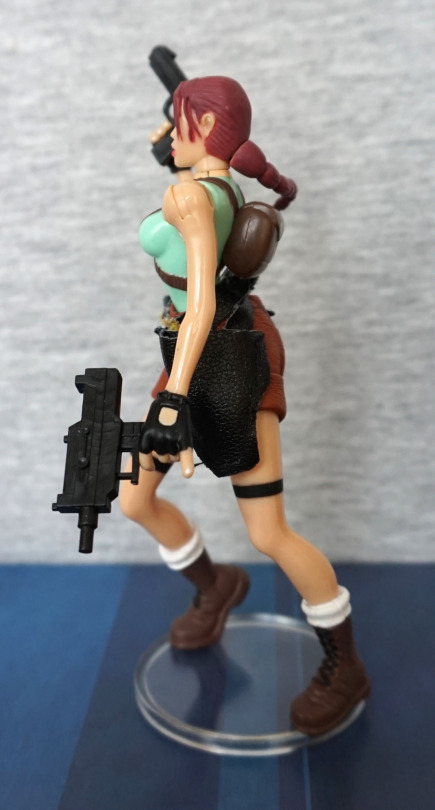 … and I didn't pose this uzi correctly – her finger does fit in the trigger, and sits well in her hand. The holsters do feel super-large to her body, but they were designed to fit the guns she comes with, so you do have the option of holstering them. Her hair looks OK, but isn't super-detailed. You can rotate her pony tail though. 
Right: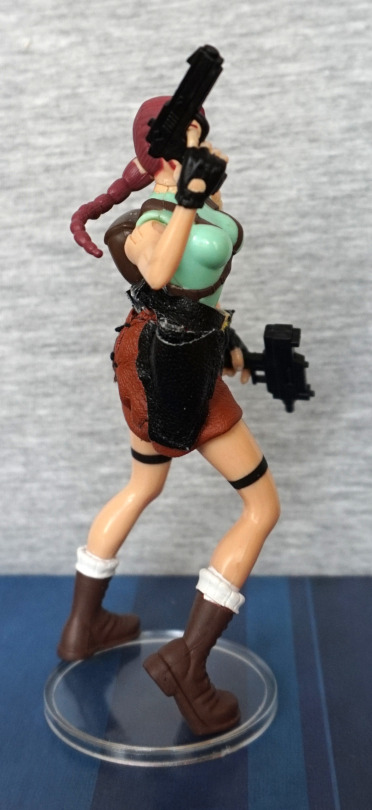 Here we can see where the white paint on her sock/shoe is a mess. Bit of a shame. The black bands on her leg are supposed to be where her holsters attached… but here they're just um, garters? It might be possible to pull the holsters down so they reach, but it won't look good. On the fence about them adding these – it is more accurate to her design, but defeats the point if her holsters aren't attached to the bands. 
Back: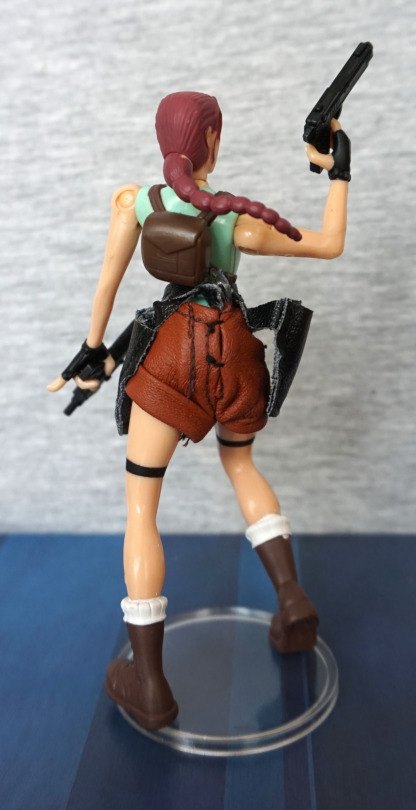 Here the stitching is a bit of a mess on the back, but the rolled short looks nice. Her backpack is pretty decent – not too much detail to it, but does the job. The joints in her arm are very visible, but this is typical of older figures. The stand in these photos is one of the spare bases I have – without a base she doesn't really balance, so I'd recommend getting one of these plastic disc bases for her. She has a standard sized hole though (these bases work with NECA figures, for an example), so if you have a spare base, it's worth trying with her. 
Watch out Lara!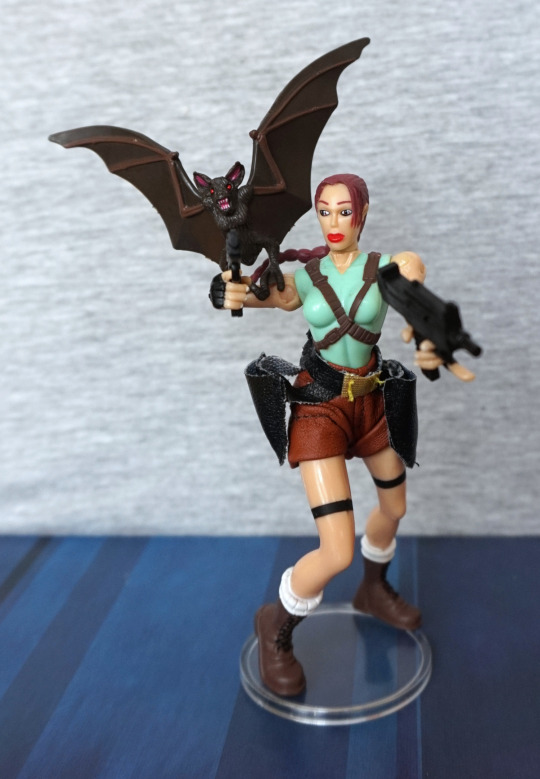 The thing that attracted me to this figure other than the fact it was Lara was the fact she comes with a couple of creatures. She comes with this bat, and what's apparently an Atlantean Guard: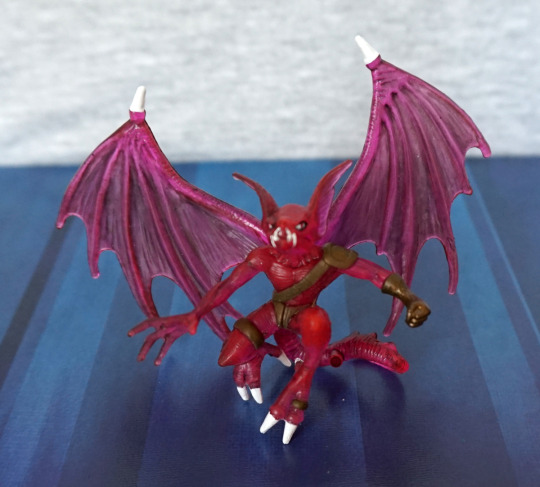 I really like this little guy – he has a fair amount of detail to him too. Possibly more so than Lara! He also has a peg on his tail, but for the life of me I can't figure out what this pegs to. 
Right: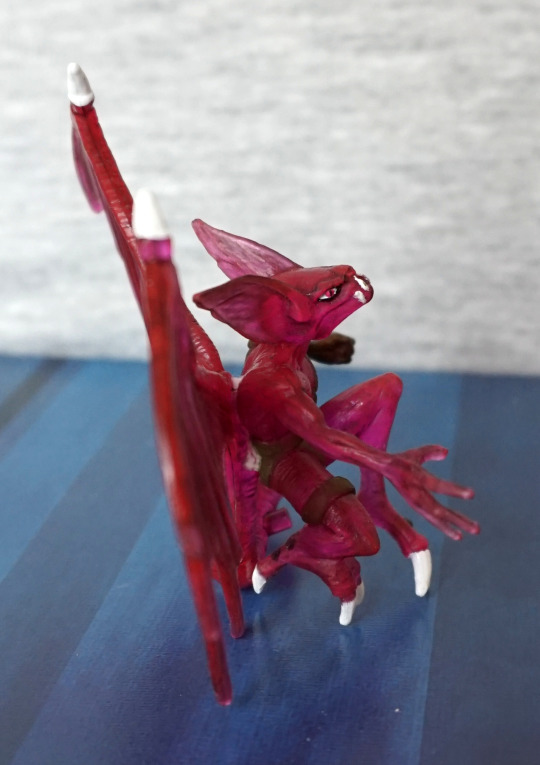 Vicious lookin' bugger. Don't think I want to cross him. The eye is painted really well. 
Back of the guard and bat::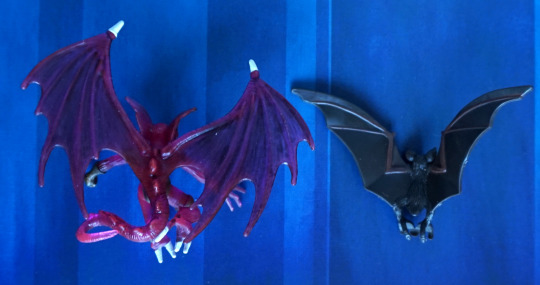 They're both nicely detailed on the back. These accessories are almost better than the main feature, lol. 
Here are the other two guns she comes with: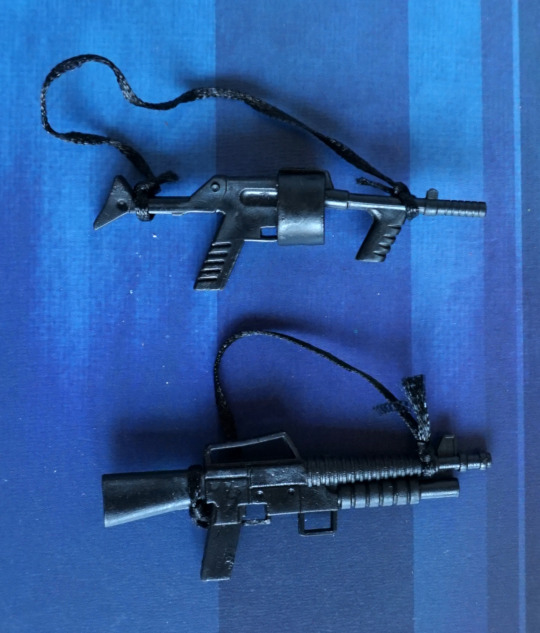 You can sling these over her shoulders, if you like. I find that a bit overkill. They're not hugely detailed, but I like the fact they've been included. I may sling one over her shoulder, but not both. 
Overall, I don't think I could recommend this figure, and it's one for the more hardcore collector/fan. I have a soft spot for things Lara, so couldn't resist adding this to my collection, with the low price tag. If you're in the US, you should be able to pick this up as cheaply as I did, however it could end up pretty costly in other countries. She feels like an experimental figure from the 90s, of ideas that would be later refined, and she has a face that only a mother could love…