This blog was originally published on Tumblr, after the Camille Noire figure post was deleted. If you don't want to read a grump about Tumblr and how this blog came to be, skip this one. 
So… I was going to do a post similar to this, but in about a week or two, however Tumblr has now forced my hand. So this will be today's blog, instead of a figure post! There was a figure post…
So it started off like this: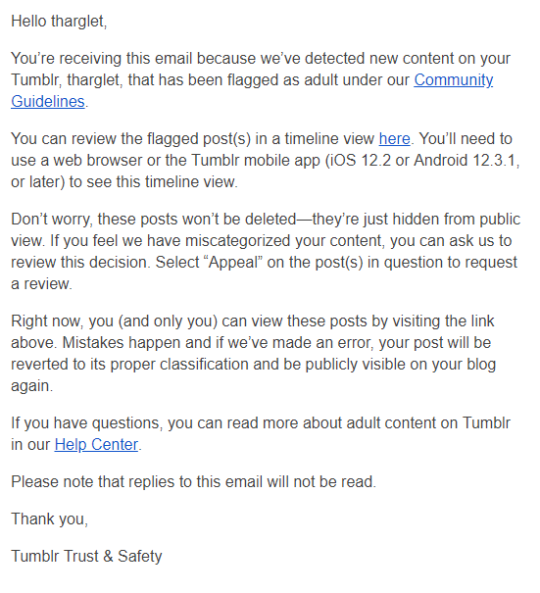 OK, they've revised the email they now send out to be more expansive and professional-looking. Let's go to my timeline and get this sorted:

Oh. Oh. Despite the new email still referring to the "flag for review" button, it has now completely gone!! I even tried all the buttons at the bottom – no, not hidden under the "cog" options either.
The figure for this blog, as can be seen from the title is Clive Barker's Camille Noire. This figure, whilst skimpily dressed, does NOT have any nudity. She is quite gory though! But… fake gore isn't against the guidelines, and neither is fake nudity for that matter.
I was planning on winding down or stopping my Tumblr blog, partially due to time constraints and partially…. because of this idiocy! My content is specifically not against the new guidelines, but gets flagged with alarming regularity. If I can now no longer ask for review, then I'm entirely disinterested in still blogging here.
I am currently contemplating on doing loot-style posts, but these will likely be on My Figure Collection instead of here. These posts will have less pictures of each figure, feature multiple figures and happen on a less frequent basis. Photographing then editing images takes a lot of time – and too much free time for something that I don't gain much from.
If I go back to blogging on a more regular basis, it won't be on Tumblr. I will be cross-posting my Tumblr content to a personally-hosted blog, so that it can be preserved in case of a tightening of the Tumblr adult rules (meaning more posts vanishing off the face of the planet).
Thank you to those who have chosen to follow me, and have been reading and reblogging my content! If I start up a new blog somewhere else, I'll add a "last blog" here to point to it.