Now for the final part! I think I got my money's worth! 
So what's left? Some Gundams of course! However, before their photoshoot, they needed a bathe:
These were quite grimy, and I don't think the slightly rubbery plastic helped matters. I had no idea who these three were, but one MFC post later, I'd been linked to the who, and a Discord message later, I knew what figure series these are from. They're pretty old, so they're not on MFC at the time of writing, and I haven't got around to adding them (if I will!). These three are from the "Styling S" series. These figures feature extremely limited articulation, and seem to be self-assembly. They seem to have been sold in a blind box format, which ties into the fact they would've required assembly, and their quality. They needed some reassembly when I got them – they had been spread around the bag during transport, and sadly one part broke. One of the stands was broken, but I suspect this happened prior to transport. I may fix this with a pin, or just glue the stand part to the stand it belongs to. 
OK, enough waffle, make with the figures!
GAT-X103 Buster Gundam: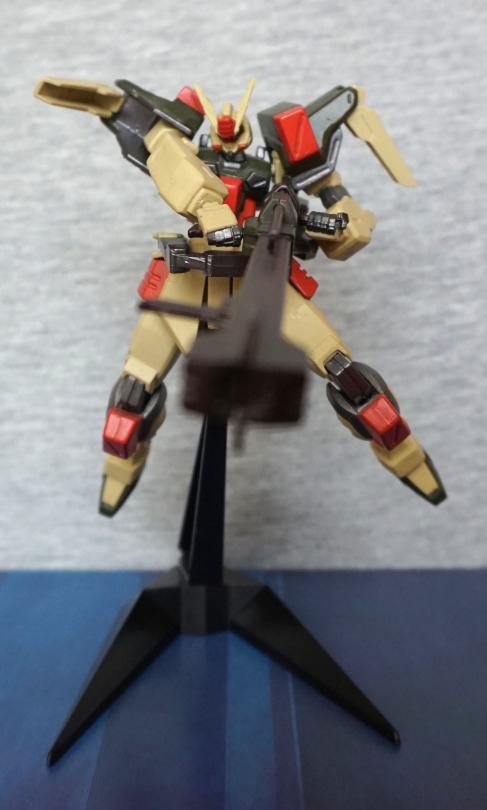 This is the dude with the broken park – one of those beige pieces on his shoulder is now permanently glued in. I initially thought he had missing pieces, but I found some images of him on the internet, and got him assembled properly! And that's a gun and a half he's pointing at us! 
From the left: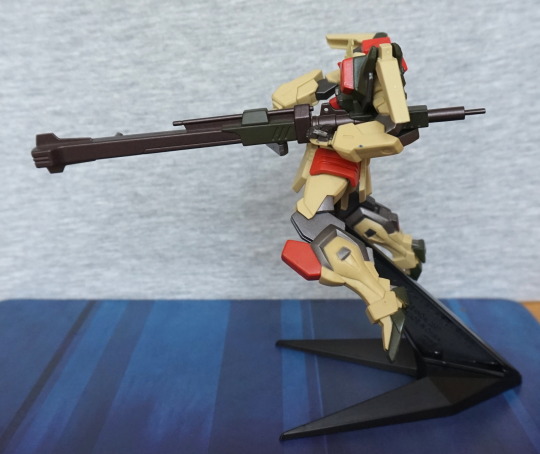 Yeah, don't want to be on the business end of that thing! One dirt spot remains on his arm there ¬¬. Erm, do Gundams go in the car wash…? How does one wash a Gundam normally? 
Right side: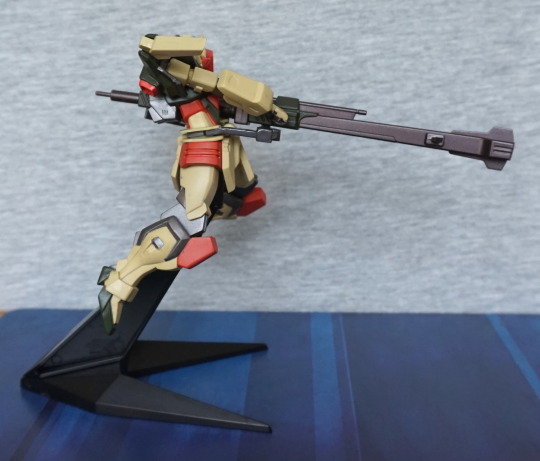 Here you can see one of the hip mounts for the gun – this was the main mistake I made when reassembling him – I didn't know what these bits rested on, and didn't manage to connect the dots. 
Back: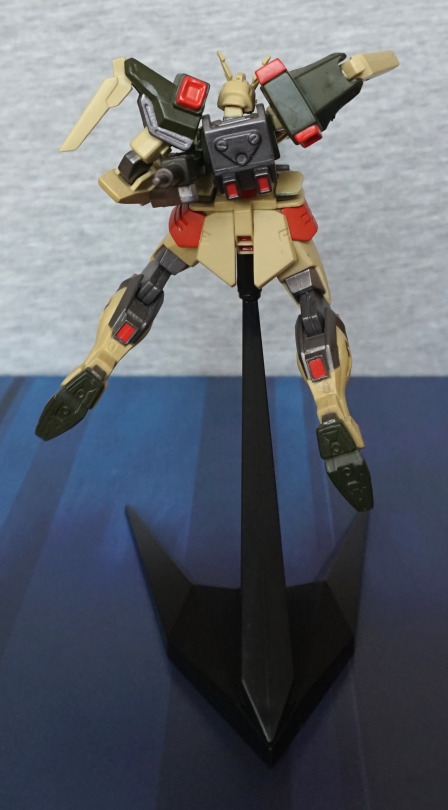 As these have stands up… well, erm, there, you get to see the details on their feet, which is nice. Some detailing on the back, equal to the front. 
Top: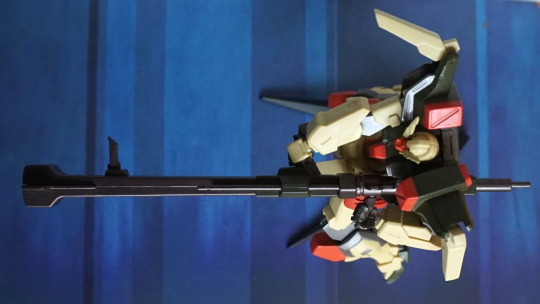 Nice, sturdy grip goin' on with that gun. And it certainly needs it! Still damn big!
Close-up of his chest: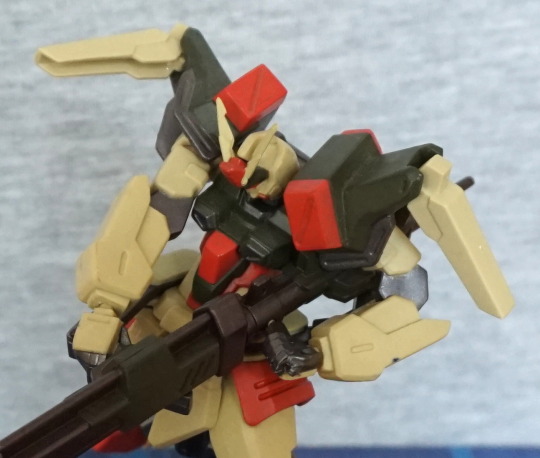 His head is permanently in "aiming gun" direction. No head articulation, so you can't have him grumping at things. The poses are cool for these figures, but sometimes… I just want to tweak things a little bit… But that's not an option with these. 
Now for ZGMF-1000 ZAKU Warrior. This guy is the one with the broken stand, so he's borrowing GAT-X103′s for these photos. Some of the original stand peg is in his arse peg still, so he sits a little proud on the stand: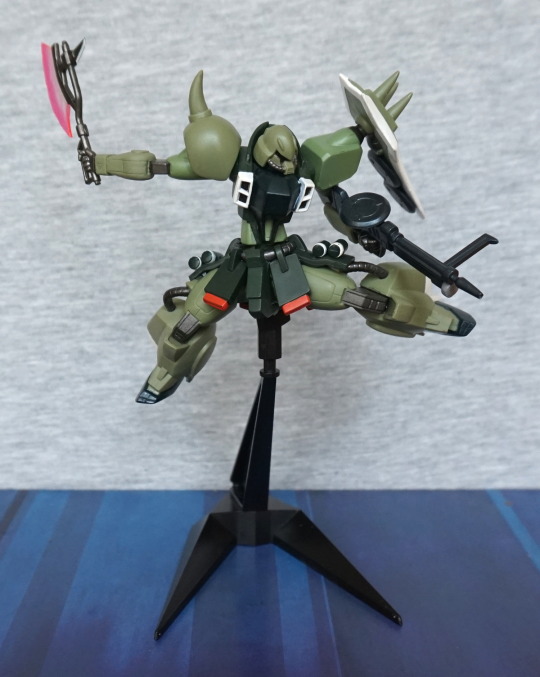 Here he is, ready to go hammer and tongs on something below him. 
Left side: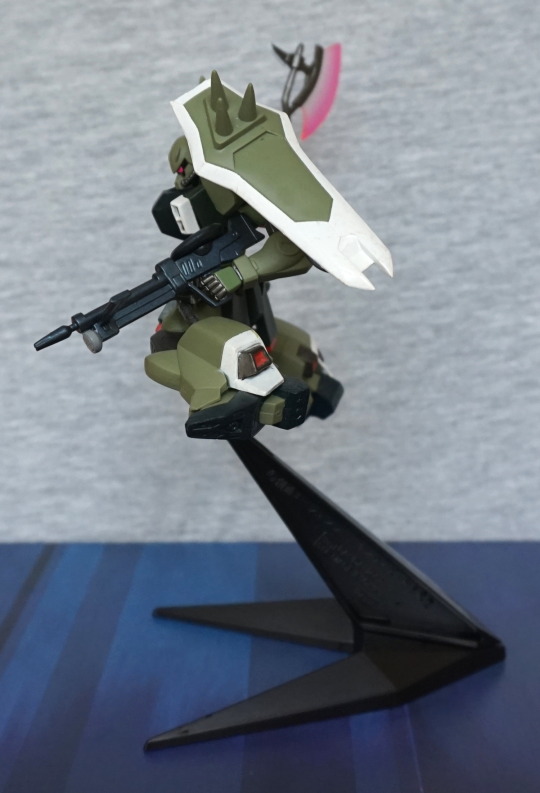 Here is his spiky shield and gun. From this angle, he could almost be going for a poop. 
Right side: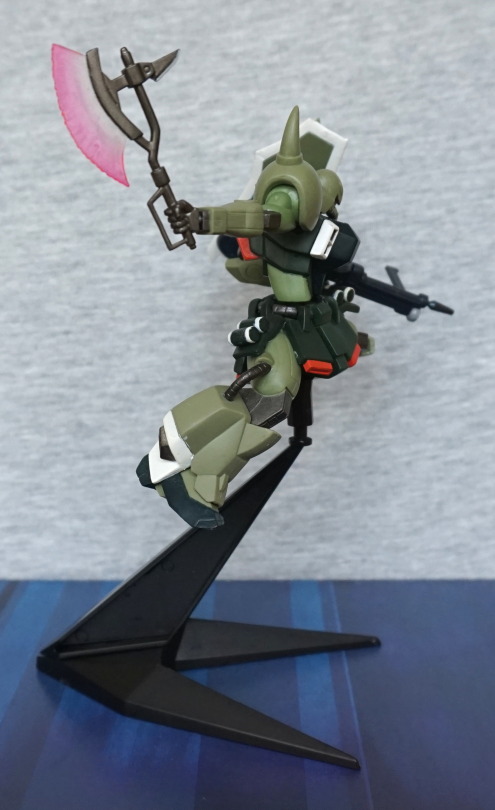 That better be an energy axe! I like the way they have him angled, ready to strike.
Back: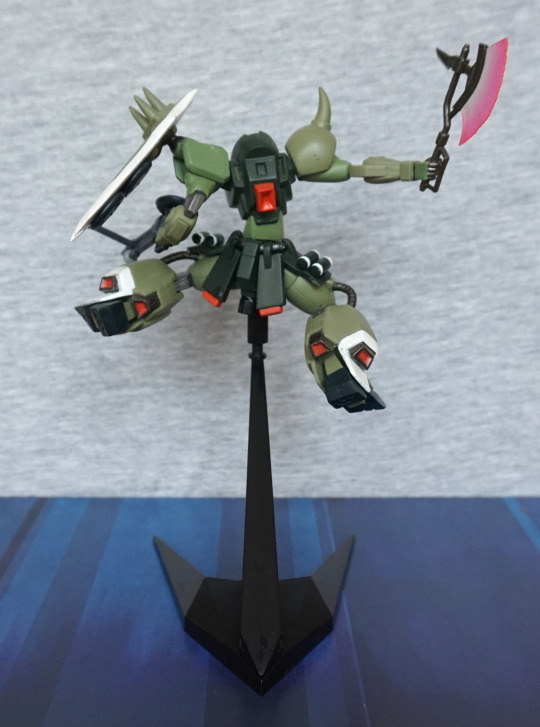 Looks OK form this angle, with flaps protecting his backside. These flaps are attached on with hooks (along with the two on the front), and can be reasonably easily knocked off, but they stay happily, so long as you don't bump them. 
Close-up of the axe: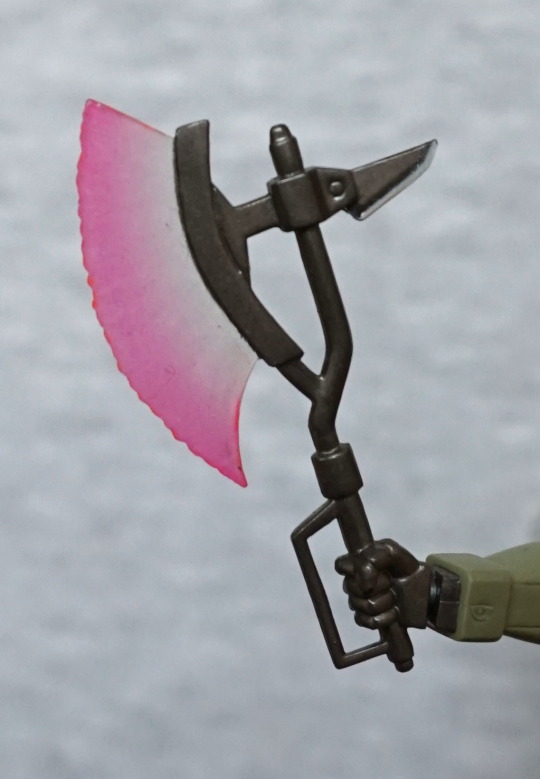 Yep, that looks like some kind of futuristic energy axe. Better not get too close to him! The gradient effect is nice on the "blade". 
The shield has some details on the back:

Guess he's ready for some discus? 
Midriff: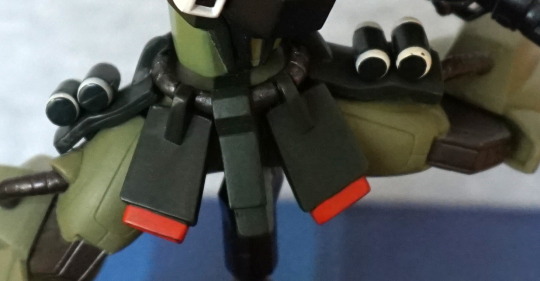 Here's a close-up of the flaps, and some grenades he has on his belt. Those crown jewels are safe… so long as those 'nades don't go off prematurely. I do like the detail in this area. 
And lastly we have ZGMF-X20A Strike Freedom Gundam. Yep, just rolls off the tongue!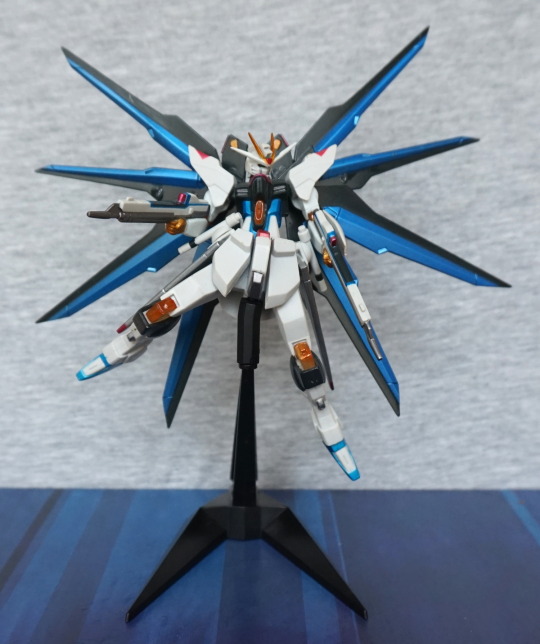 This is my favourite of the three, and certainly is the most striking. I love the "wings" on the back, and the general colour scheme. He's also dual-wielding guns, so that's also a win. 
Right side: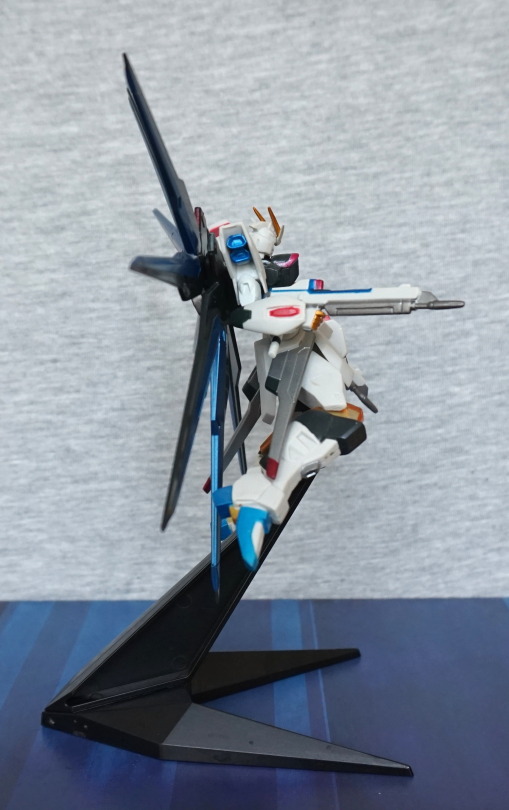 Not too much to see here, looks like he's got holsters for those guns. 
Left side: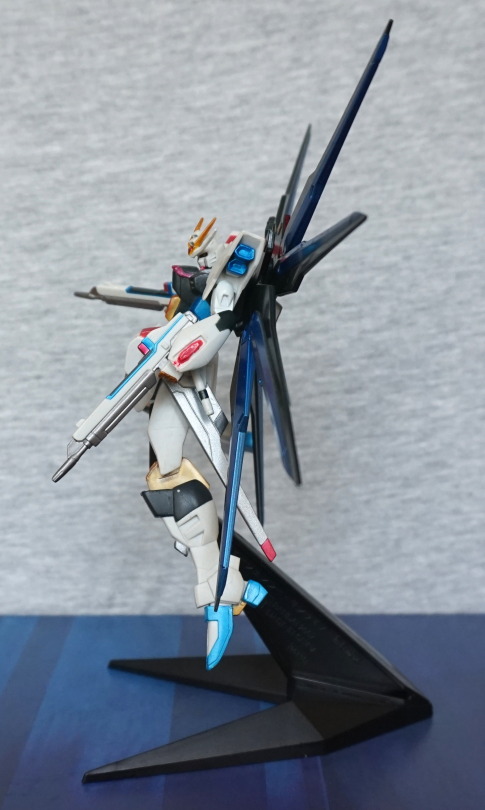 More of the same. Bit of some red smudging on his arm though. Loving the colour scheme still.
Back: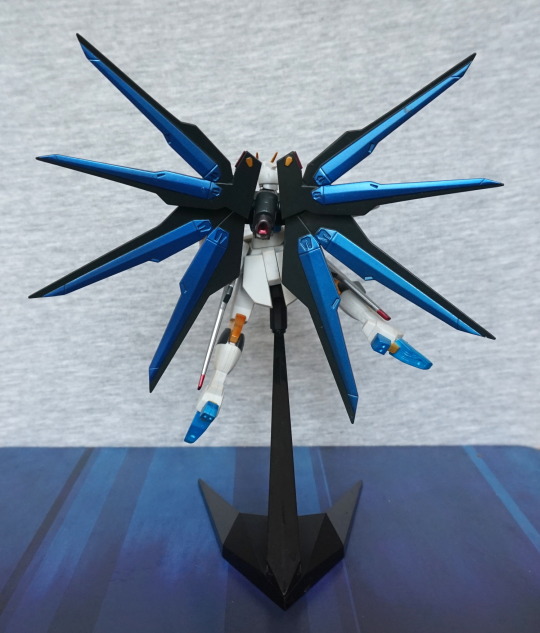 His wings look really impressive from the back. 
This one actually features a small amount of customisation: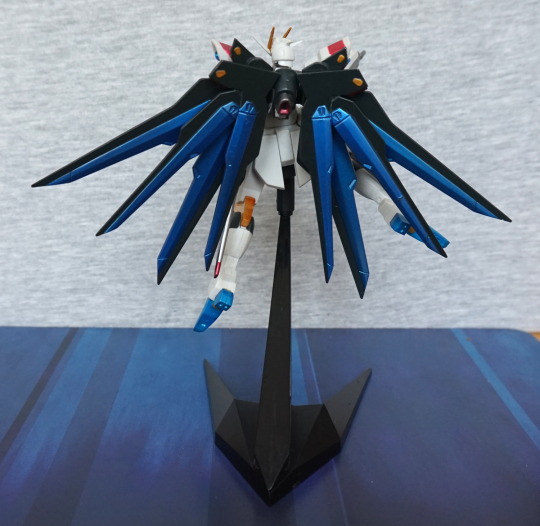 The upper wings have two positions they can slot into! This option looks nice, but I prefer having him with his wings out. Here's what this configuration looks like from the front: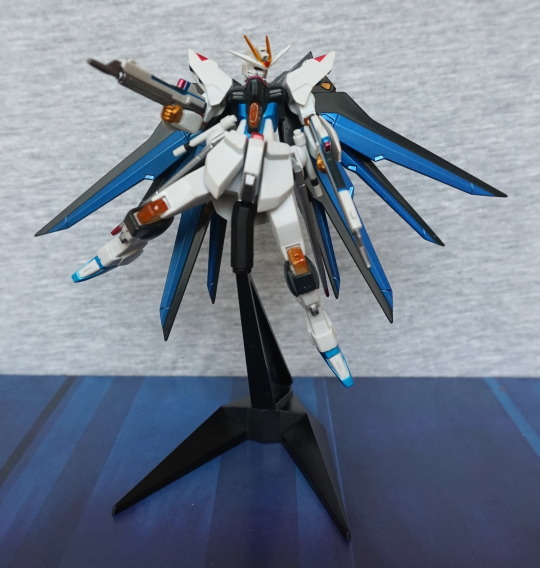 Not as visible, but I can see some people preferring him looking like this, so it's nice that they included this option. I don't particularly like the way his head is fixed so he's looking down and left – it fits with the flying left pose but I'd like to see his face from more front-on. 
All in all, these figures are OK. They're nothing special, but they're competent. The moulds don't feel particularly complex, and the colours are mostly block coloured plastic, with some paint detailing, so they do feel somewhat plain, compared to a fully painted model. If you wanted something cheap and Gundam, these would fit the bill. They're also far easier to assemble than a model kit – it's all pegs, so there'd be no sprue-clipping, stickers, and swearing at small parts. I wouldn't buy these, but as I have them, I will display them. Until I, erm, run out of space again… probably. 
And that's the last of this Urban Mine! Hope you enjoyed this 4-part series. I certainly enjoyed this loot box, and I felt I got my money's worth.