I bought this figure from a seller on MFC, along with tomorrow's figure. I've been debating getting this one, but with shipping & import, it was adding up a little high, but this seller was in the UK, so no import, woo. 
So here she is: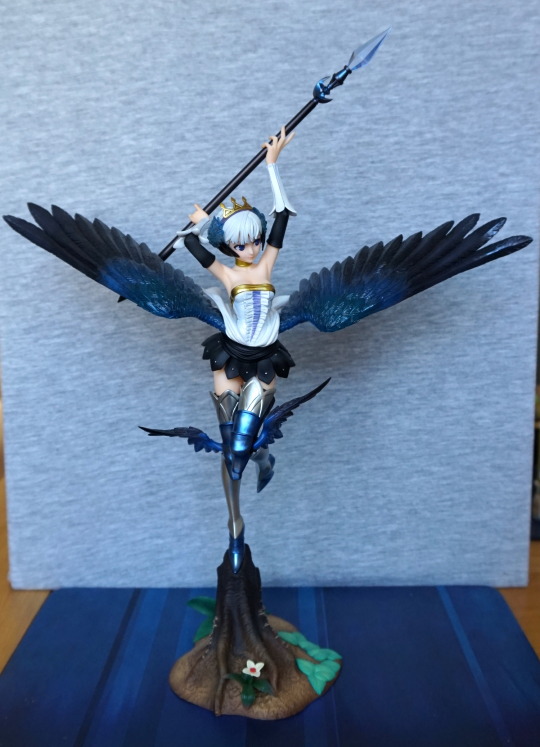 I love the pose on this figure – the thin line with the wings outstretched makes for a dramatic pose. I was also attracted to this figure thanks to the blue hues in her wings. 
Close-up of her spear: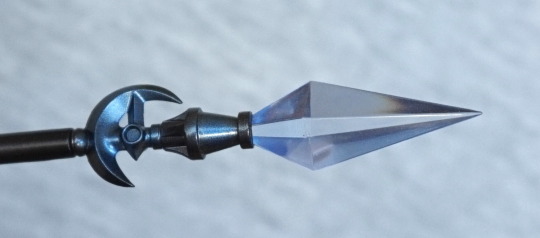 I love the crystal on the end of this, with its gentle blue colour. The moon gives the staff a good focal point too. 
Close-up of her face: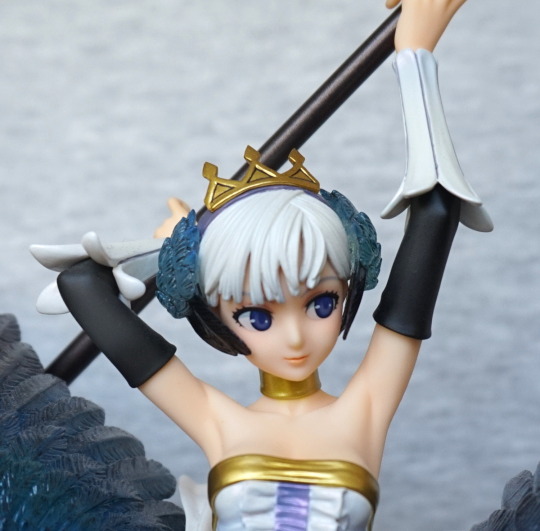 She's clearly looking at something, but not sure the expression goes with the pose? She has a cute face tough, and her upper body is moulded well. Love the little tiara on her head, and her hair looks good.
Close-up of her wing: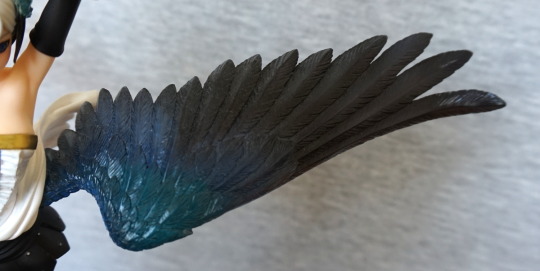 I love the translucenty look of these wings, and the subtle gradients. Gives the figure some colour without being overpowering. The downward angle means they also show well when viewed from the front. 
Left:

Bit hard to photograph well from the sides, but here we can see her holding her spear aloft, and her left leg poised to show movement. 
Close-up of her leg: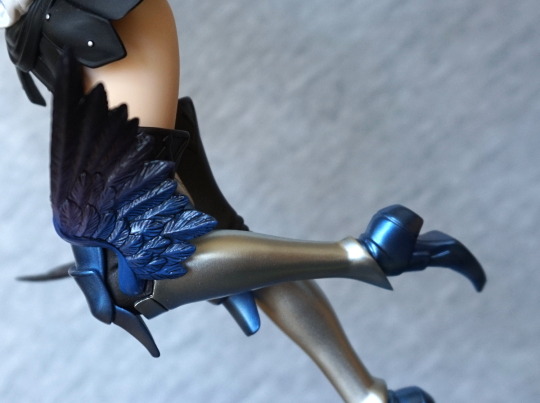 She also has mini wings attached to her knees. These ones are more brightly coloured, and the purple was a good inclusion. The metal parts of her armour here are nice and shiny. 
Right:

More wing covering up her face :P. The pins on her skirt are painted well. Her right leg has metal pins into the base, and she stands sturdily. 
More leg close-up: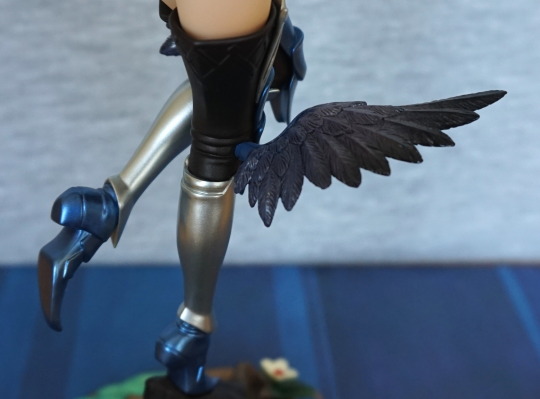 Some creases behind the knee, which is nice, and the lovely sculpting on the knee wings. 
Back: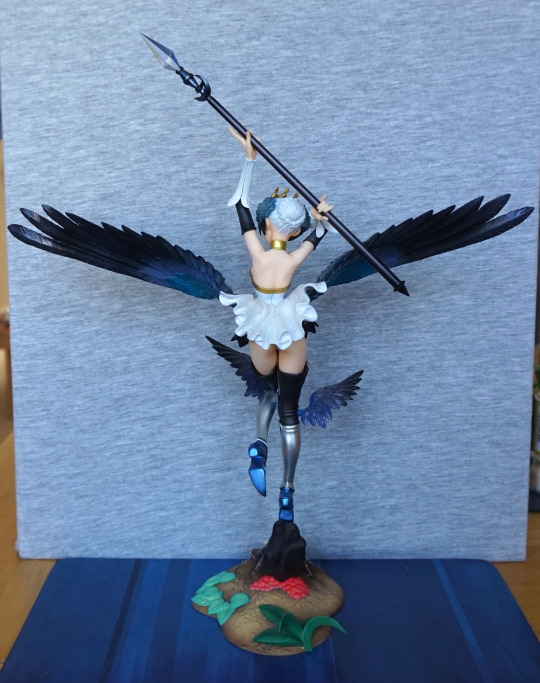 Her dress is flared out, showing us she's likely landing on the tree stump, which explains the more neutral expression. 
Close-up of her back: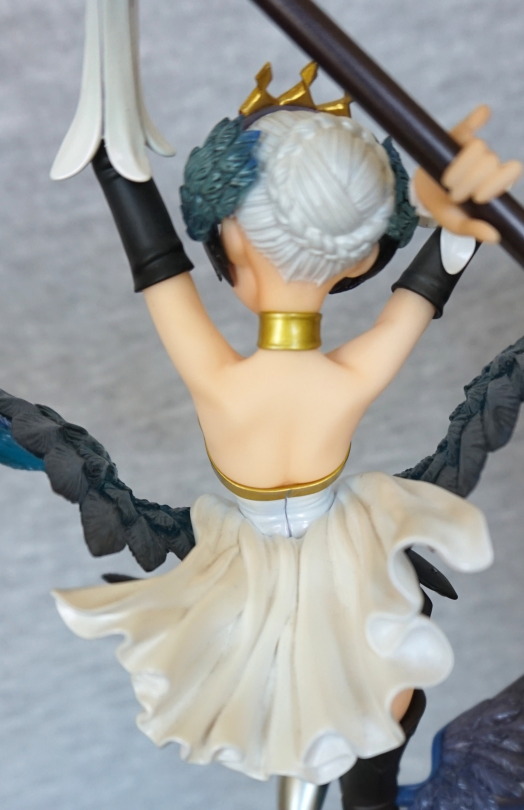 Bit of a seam on the back of her dress, but I'm assuming this is going to be her zip. The gold choker gives a good look to her neck. The dress is separate from the body, which helps with the overall realistic look. Love the way the dress flows in the wind. 
Close-up of the base: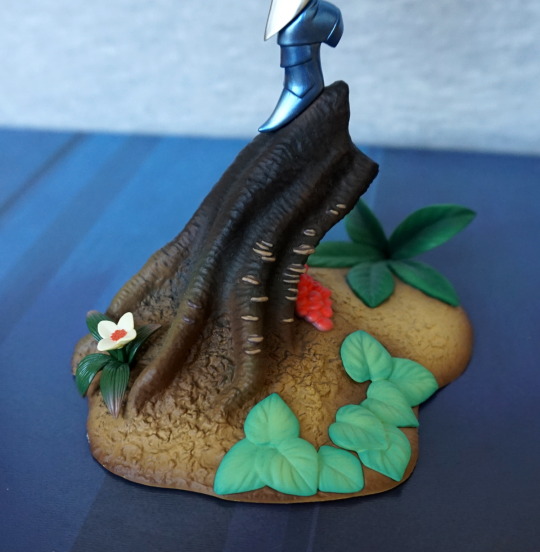 The base is very detailed and well-painted imo. Plenty of shading in the dirt and the plants – even some dirt on the plant to the left of this photo. It does have a more anime vibe than a realistic one, but I think this fits well. 
Overall, I really like this figure, and glad I finally picked it up. If you want a more "sophisticated" statue of Gwendolyn, I think this is a good one. And likely cheaper than Alter's new one… which will probably come out after this blog does…