Here's a Vocaloid figure with a difference… one that isn't overly cutesy. When I found out this figure existed, I had to go and order it.
Not too long later, she arrived: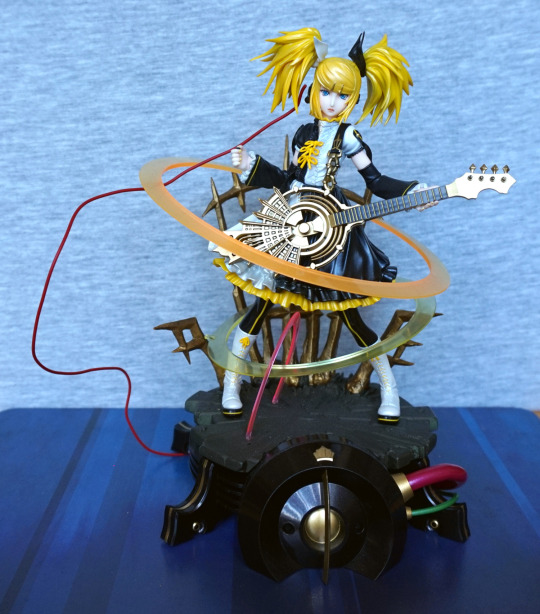 Rin Kagamine, as a rocker. As a fan of heavy music, this one strongly appealed to me, and I love the hairdo Rin is sporting. I think this figure was styled well, and the base is very much a part of the whole ensemble – no boring black disc here! 
I love the design of her guitar – I think it works well as a focal point for the centre of the figure. 
Face: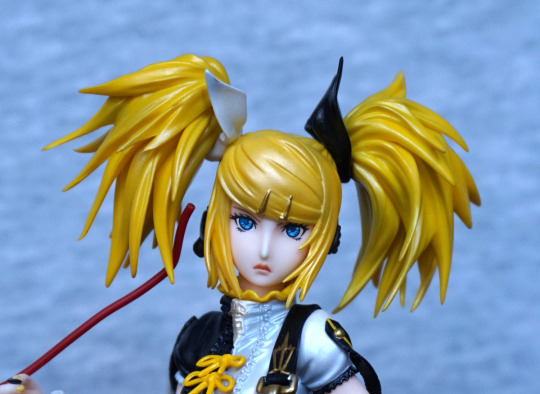 Here she is, not looking very impressed with you. I do love that hairstyle, and the white-black hair ties match up well with the rest of her outfit. From the parts of the outfit that can be seen in this photo, you can see the clean lines that the figure has, and the detailing that went into the sculpt.
What you can also see is the end of the darned headphone wire. This thing Does. Not. Stay. In. I wish there was more depth to the hole or it had some way of gripping the wire so it stays in when nudged. This is my main gripe with the figure. However, this wire is a separate part, so you can bend it however you wish, or choose not to have it. I like the curved lines you can create with it, so I prefer to have it, so long as I can get the damn thing to stay. It will probably meet up with some white tack at some point in its future. 
Left: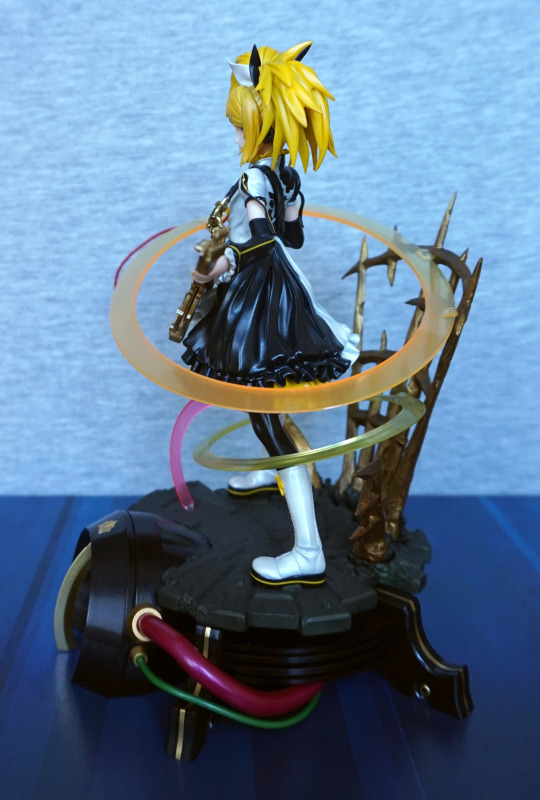 Here we can see they've put a good amount of detail into her clothing, and have her boot creasing at the ankle. The coloured rings look… OK, but I'm not 100% sold on them. I did think about displaying her without them, but decided the figure kind of needed them. I like the fact they've included some wires going into the speaker, and the four "legs" on the base, which make it super-stable as well as look cool. 
Speaker: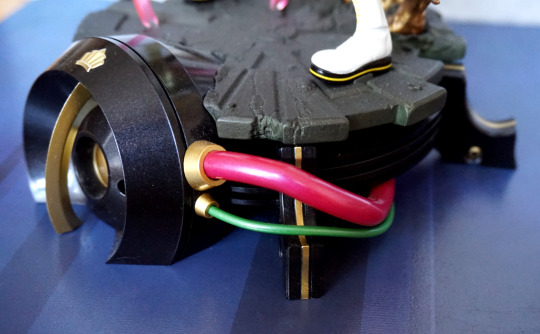 Here is a closer look at the speaker and its wires. I like the fin included in front of the speaker (not very practical, but looks cool) and the little logo thing on the top of it. The paint is also nice and shiny here. Here you can also see where the base has been given some weathered effects, and I think these work well. Also Rin's boot has a nice neat yellow line going round the sole. 
Right: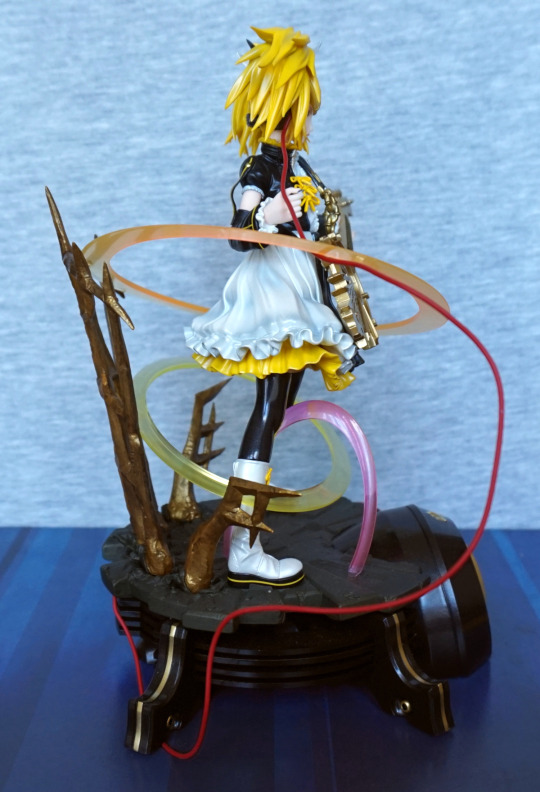 Here the rings look cool, with the way they flow. Also got an opposite colour scheme going on with her clothing, which I really like. The light and shading on this figure work really well, which I feel is decently showcased in the white part of her dress.
Back: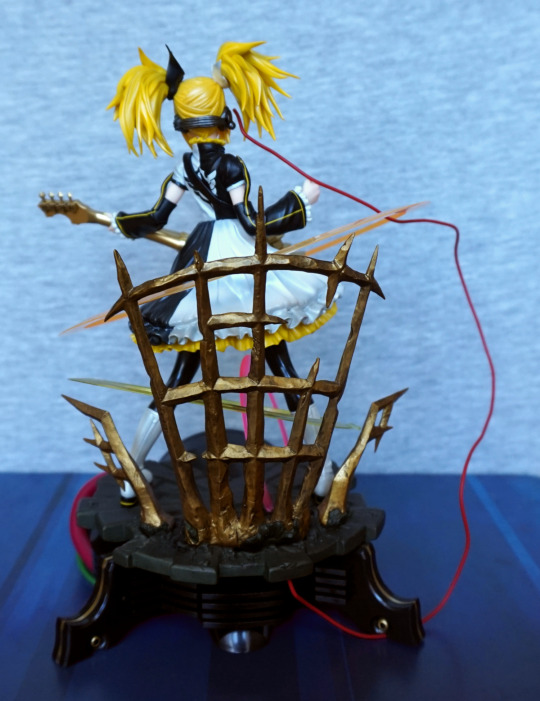 I like this golden "fence" part. I like the colour, and I think it fits well with the figure… even though it's kind of random. As a nod to Rin's normal clothing, we have yellow lines on her arms, which are painted well.
Back of her head: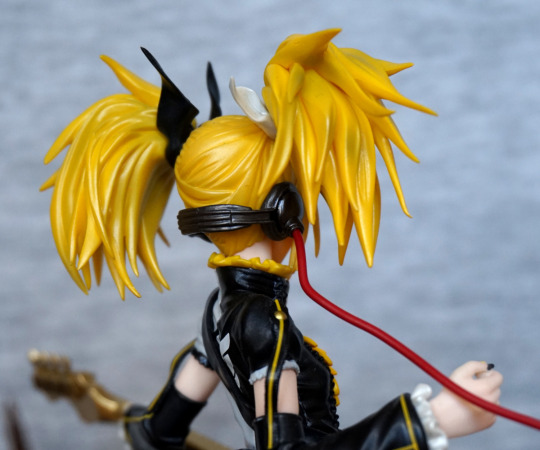 Here we can see they put detail into the back of her hair as well as the front. Also I plugged the headphones in properly for this shot (yay!), and it does look good when it is behaving. We've also got a small detail in the form of a stud on her shoulder. 
Ring attachment: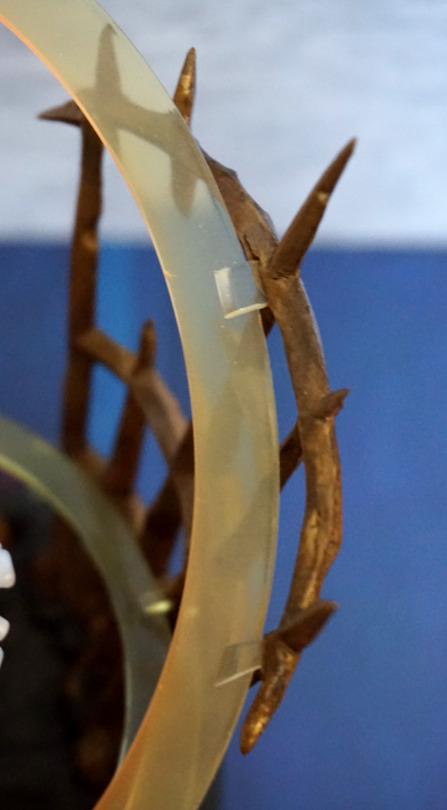 This is how the back ring attaches, so it appears to float. This one can be a little easy to knock out if you're not careful, but will stay fine if you don't nudge it. However, because of the holes in this back piece, it does show a reasonable amount that something's missing if it isn't in place. Also just having two of the rings really doesn't look right imo. 
Overall, if you like some heavy metal in your figures, whilst they remain plastic, I'd recommend this one. I'm not sure how appealing this would be to a general Rin Kagamine fan, but I personally love the concept and think it is well-executed. Kinda wish the rings were more of an optional part, as they can look a little "eh" close-up, but think they work just fine at a viewing distance.