This is a character I decided I wanted a figure of… just because. Ended up coming across her whilst I was in Japan for a reasonable price, so picked her up: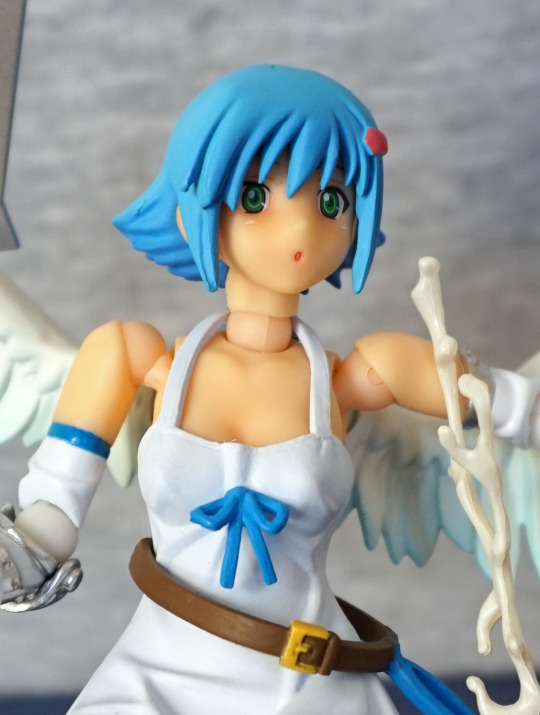 Starting with the face shot here, as the front shot features panties. Here she is, being surprised by spilling her milk. Here, the joints do look rather strange, but her face is cute, her hair is OK in the sculpt, but I'm seeing some stray bits of excess paint. And a bit of missing pink on her hair decoration. The neck strap on her dress looks overly industrial – I think this would've been improved by being thinner. Her belt is nice though, and the bow on her dress. 
Front: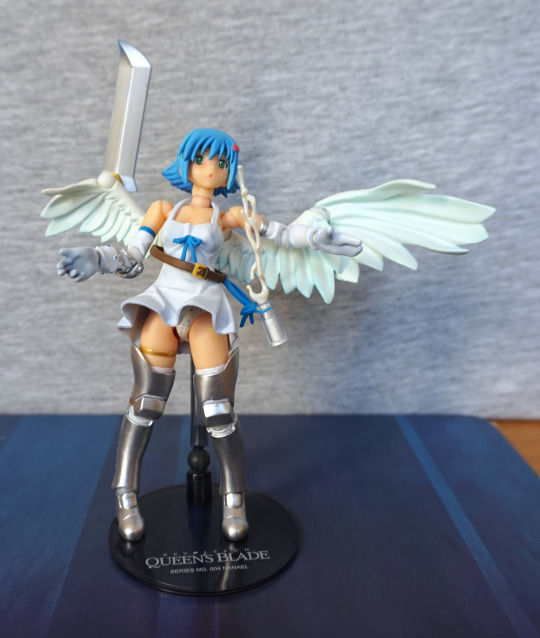 Here we see her uneven wings – at first I wasn't sure if there was a piece missing, not being overly familiar with the character, and her having a joint where a wing piece could go. Found a pic of her "holding" her sword with her wing, so decided to replicate that. One thing that stands out to me is she does feel a bit overly chunky – her legs seem a bit too wide for her body. She does have a nice pair of panties though :P. Her top is nicely wrinkled, but again, feels a bit too thick of a material. Her milk bottle looks good, and has the equippable splash – you can choose if you have the milk splashing out or not. Though obviously there's only one choice really. 
Pantsu, seeing as we mentioned them: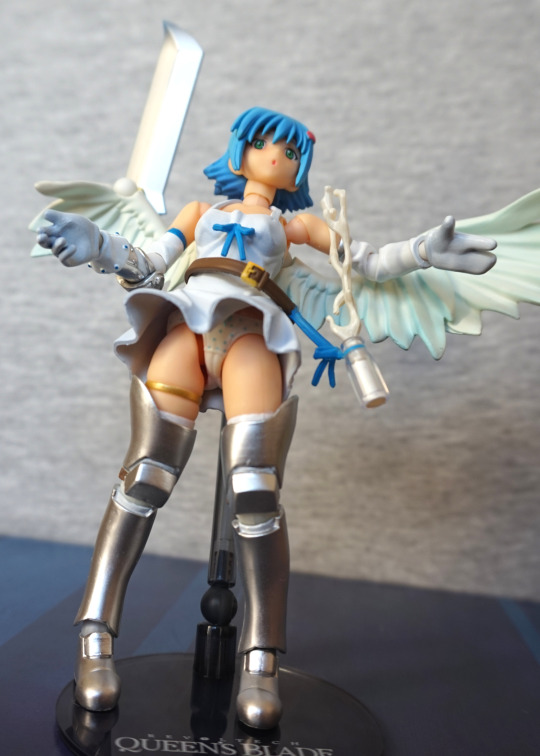 Enjoy. 
Left: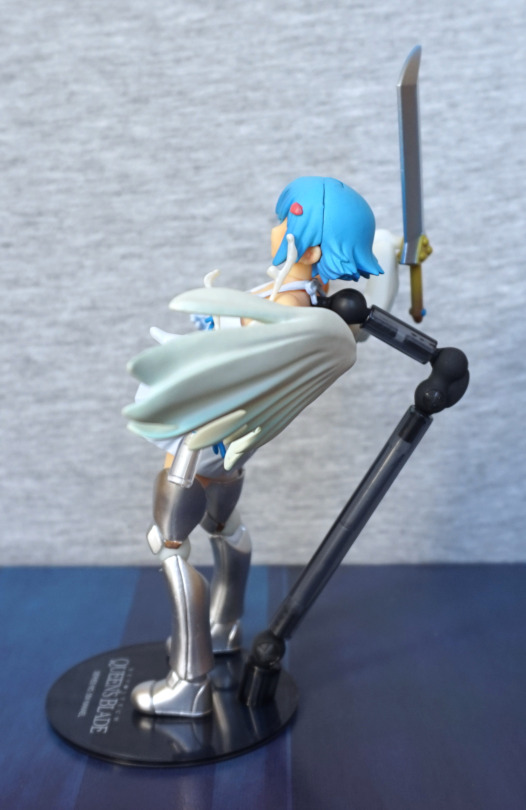 She naturally goes into a bit of a leaning-back pose, which fits with the milk splashing out at her. Silly angel, forgetting her bottle top! The base holds her well, but was a bit fiddly to set up. The writing is nice on the base, but a bit of a pain to get her standing so she wasn't blocking it. 
Right: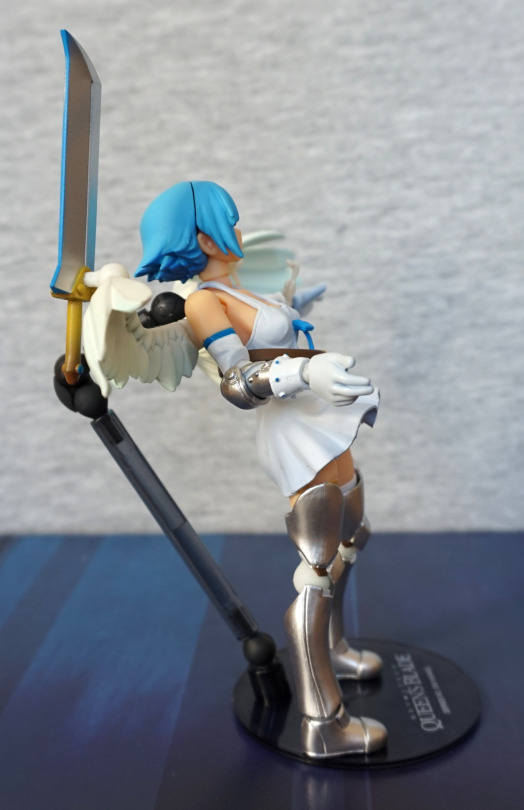 Obvious hair seam, as her fringe removes so you can change her face. She looks good from this side imo – everything looks to be painted nicely, and she looks less unnatural in shape. I prefer the hands where she has her fingers sculpted – in these shots, her left hand looks like it's in a mitten. 
Back: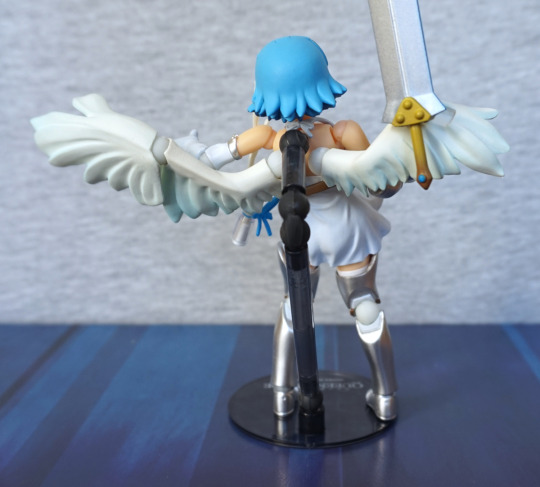 Hair looks overly simple from the back. Wings look OK, but a bit plain on the left wing. 
Base: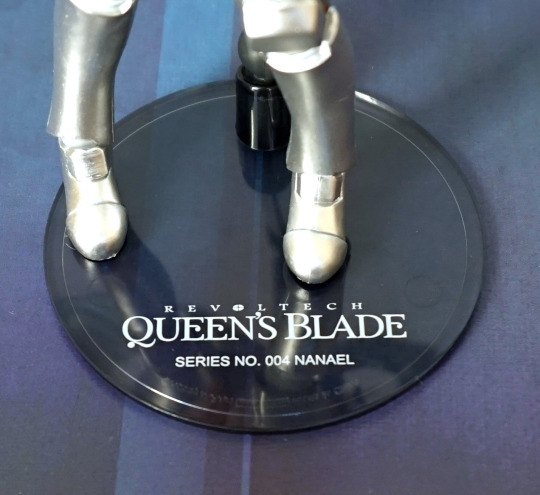 Here's the base of the base. Writing looks OK, nothing special, but nice to have something to say what the character is. I like the transparent base effect, but the base itself could've done with a bit more weight on the bottom – a common theme with the old Revoltech bases is they easily tip over, as they're top-heavy  ><. 
Accessories: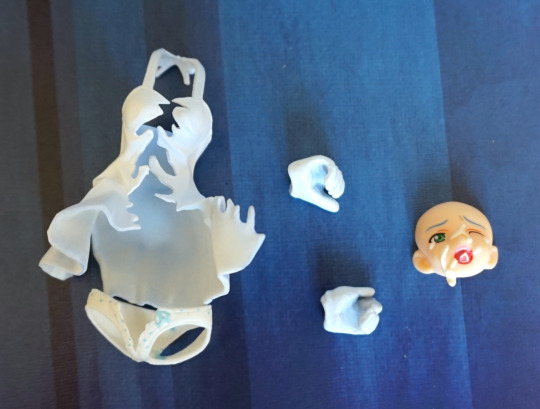 If you want her more nude, here are the ripped clothing options. Chose not to put them on her, as it looks like it was gonna be a bit of a lengthy process to do so. We also have some hands so she can hold her sword. And a face if you want her post-milking. I think this face has been well done, and I'll probably switch to it at some point. 
Overall, she's an OK action figure. I think some better design decisions could've been taken, but there are slim-ish pickings as far as
Nanael
goes. Would recommend if you want a Nanael action figure.