This was another random discovery on Mandarake. The description and picture didn't match, but decided to go for it anyway and see which of the Real Action Heroes Alien figures this was…. and it turned out to be neither of the ones I was guessing it was. This one is #41. 
Here he is, on a Play Arts Kai stand: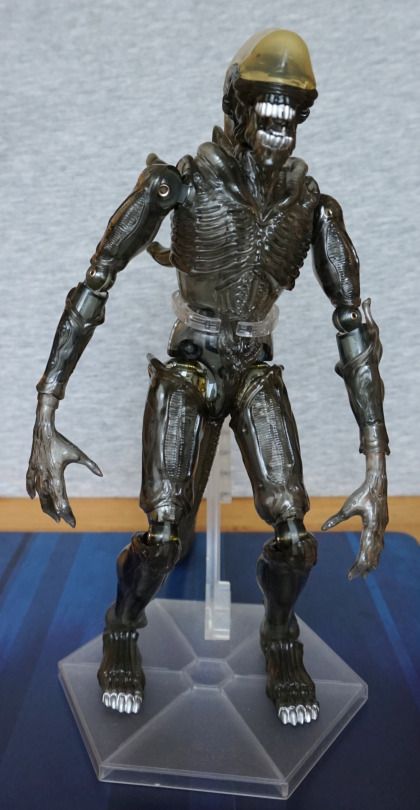 S'cuse the derpy pose XD. Some of the threads on the joints had become loose, so I added some PTFE tape, so this is slightly visible due to his transparent nature. If it ever bothers me, I'll replace the PTFE tape with clear nail polish, but PTFE tape is what I had to hand. 
Overall, he's one cool-looking dude, but it is a rubbery plastic outer, so it had got very sticky with age – ended up giving him two baths to get rid of the sticky residue. 
'Face':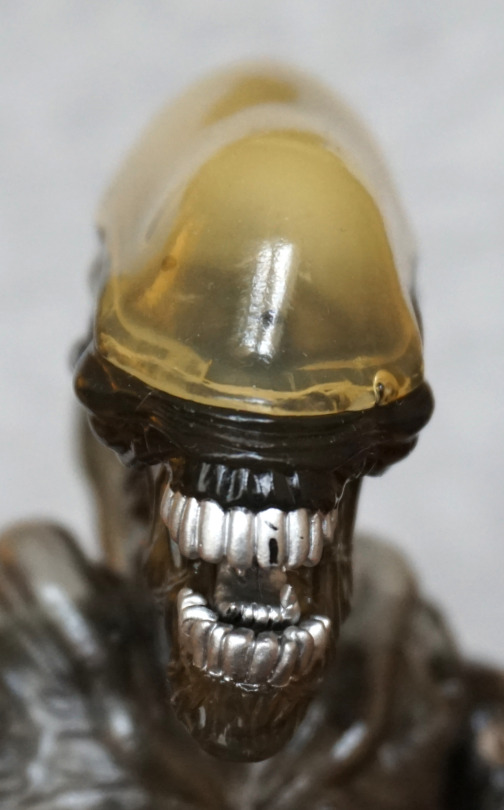 Scratches on his teeth were prior damage. Could get some silver paint/marker to fix this. His mouth has been sculpted well, and he has his inner mouth, as any Alien should. 
Crotch (because apparently I deemed this as a shot worth taking):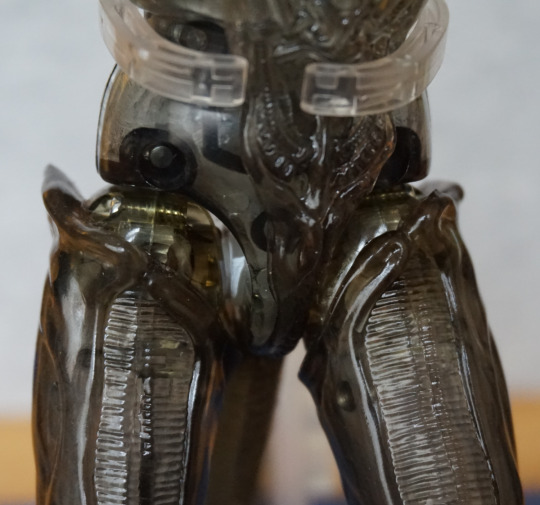 Here we can see some of the mechanisms, and the way his rubber suit is almost like a swimsuit. 
Feet: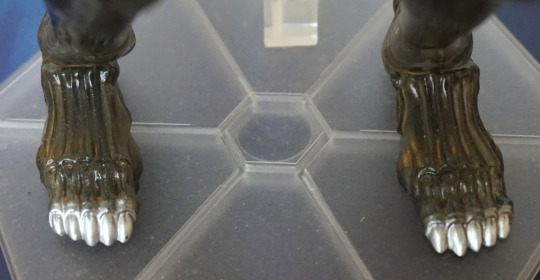 Here we have some shiny silver toes. Paint and sculpt is nice. 
Left: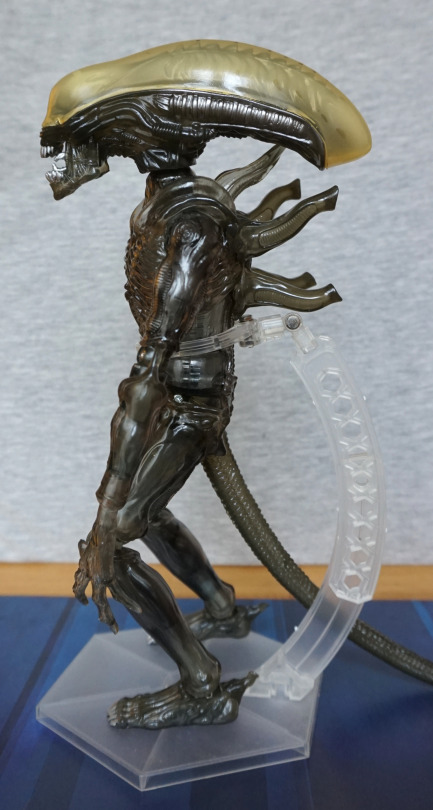 Love the sculpt on the side of his head, and he's a decently poseable figure. Even with his joints tightened, he doesn't stand too well on his own, so I'd recommend getting a stand, if you get any of these Alien figures. 
Hand:

These hands are just the rubbery plastic, plus some silver painting on his fingernails. 
He does have a second pair of hands: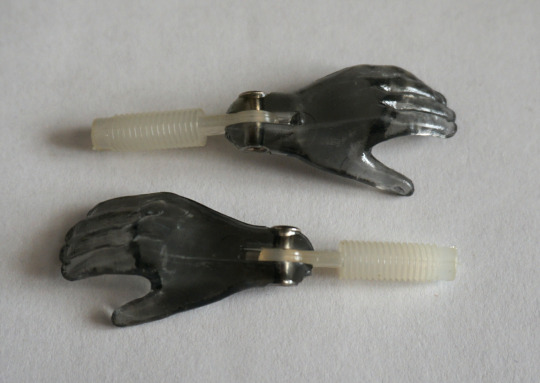 These are hard plastic, with a singular wrist joint. I prefer the spiky ones.
Right: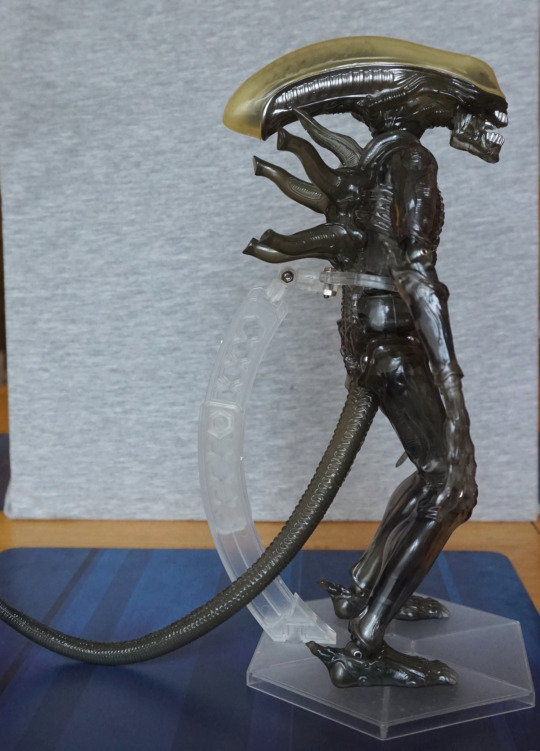 Looking symmetrical to the left side. 
Back 'pipes' side: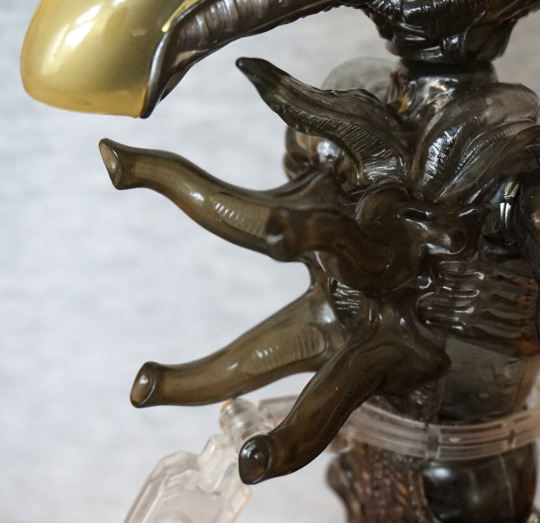 Details look nice and crisp. 
Back: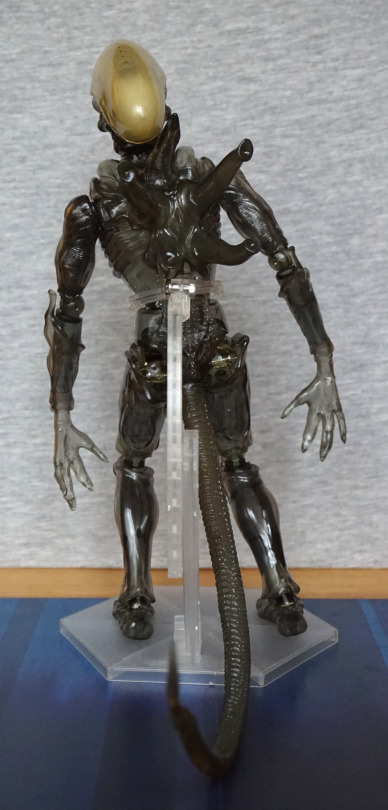 Not too much to see back here, but we can now get a good look at his tail. 
Tail joint: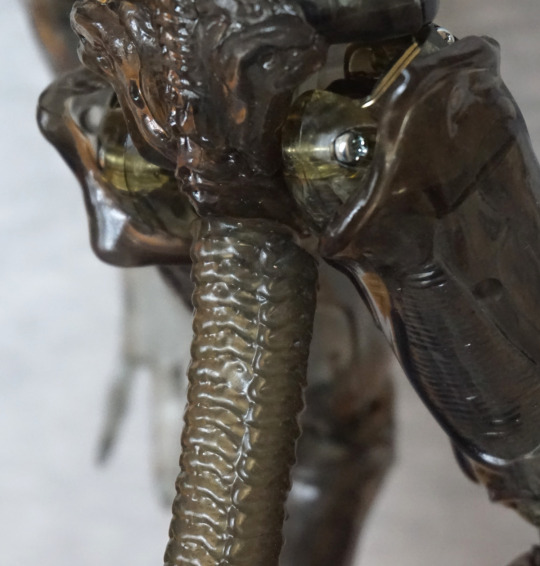 This is the part I dislike most about this figure – the tail goes onto a rubberised "spike" so it can fall off easily and isn't poseable. Wish they had a hinged joint here, so you could move his tail to the side at lest. 
Tail in all its glory: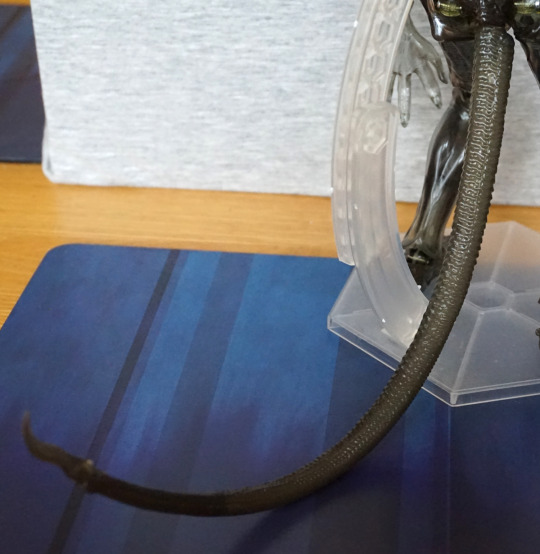 This thing is long and does pose issues when placing him on a shelf. The rubberised nub does allow it to bend to the side a bit, but can be knocked off in the process. 
Tail tip: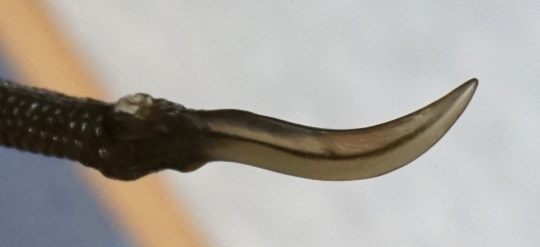 Nice bit of sculpting to end his tail. 
Head dome: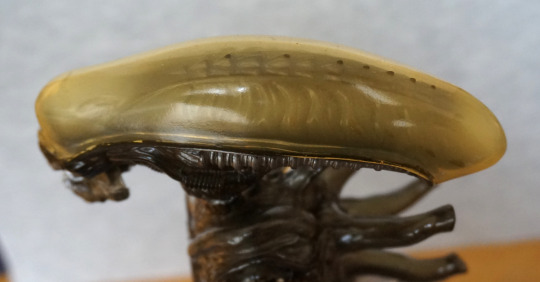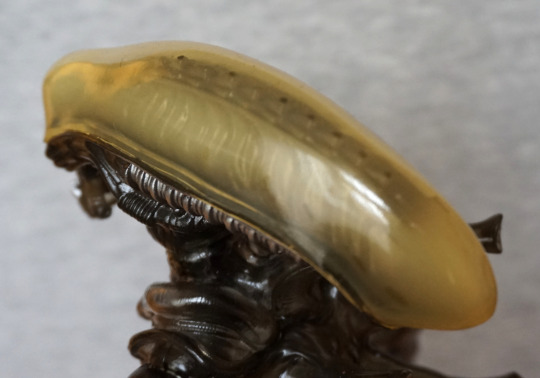 The details in here are sculpted nicely, and the transparent dome works well. You do get some dots on the dome, from the spikes pressing against it. This is also probably some of the plasticiser that's leaked out over time too. 
Overall, I really like this figure, especially for the price I paid. He hasn't aged too well, but the faults are mostly minor and fixable. For anyone interested, for getting off the plasticiser (sticky stuff) I used either hand soap or washing-up liquid, or possibly both. And some good ol' fashioned elbow grease. Due to his head already having some potentially liquid dots in there already, I was careful not to dunk his head in the water, just in case it leaked (which would be a pain to fix).