This figure was included in my Mandarake order, and was a store purchase: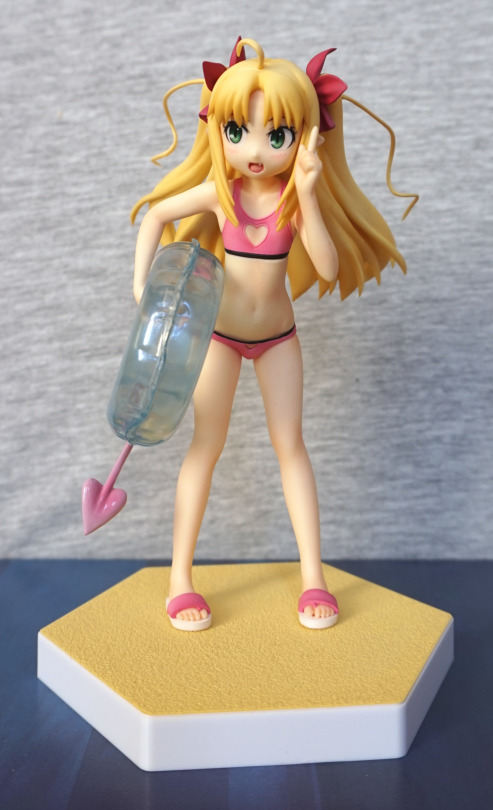 I did try to buy this from a MFC user, but they went AWOL during the process of trying to buy, so I was glad to see this on Mandarake. She's very cute imo, and I love the cute swimsuit she's wearing. And also the cute tail. 
Close-up of her face: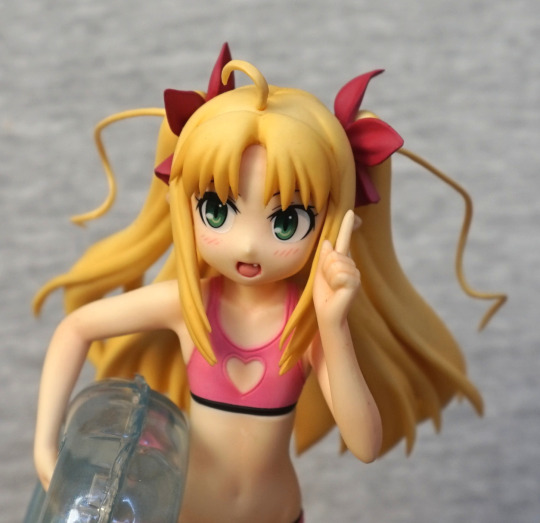 Aww, she's got that little tooth that demonic beings have in Japanese things. Her hair is nicely shaded, and pretty detailed in its sculpt. Her eyes are also detailed, and I like the way there's an edging to the swimsuit – see the heart cutout on her suit. The seams on the ring are also really well done, and make the ring look like the plastic the rings are made out of. Imo, it is better than Rin's ring.
Left: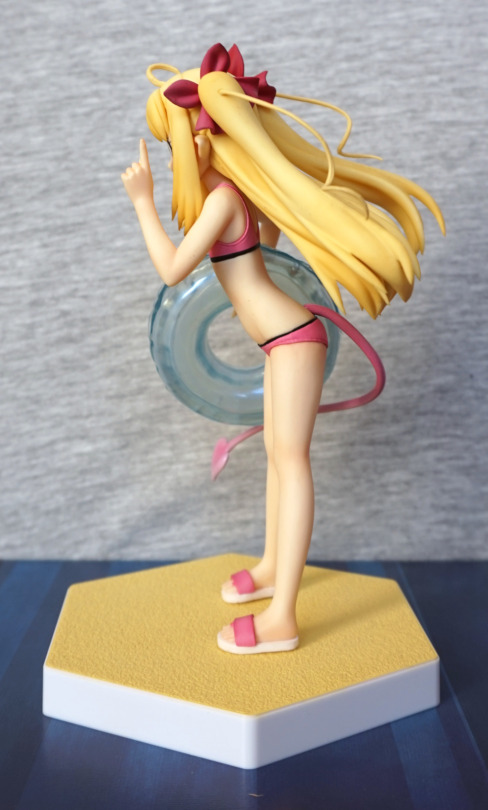 I love the flowers in her hair, plus the wispy parts that fly out of the larger clumps of her hair. Her leaning pose feels natural to me, and not overdone. 
Close-up of the hair from the side: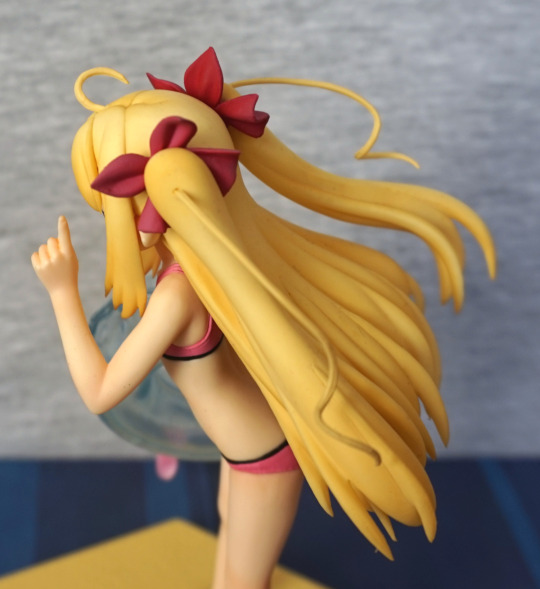 The petal-bows in her hair look nice and compliment her hair. The hair wisps aren't particularly well blended in at the top, but it doesn't bother me much. 
Right: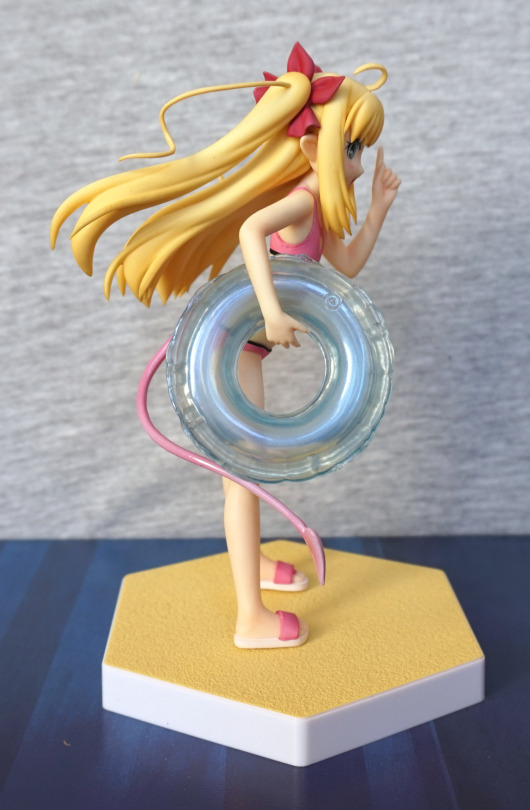 Here she is with her ring. Her tail curls nicely around the ring, and we can see the translucent ring, which is a pretty pale blue colour. I like that they've included the air valve in the moulding. 
Close-up of the ring: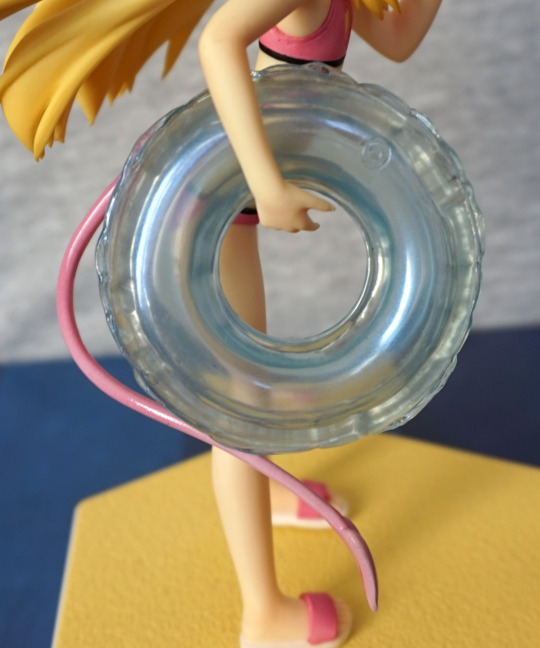 The detail in the mould is really nice – the edges of the ring has the flange that most of these rings have, and the creases almost make it look like it'll be soft to the touch, though it is not. The valve doesn't stand up to close scrutiny, but it is a nice inclusion. 
Back: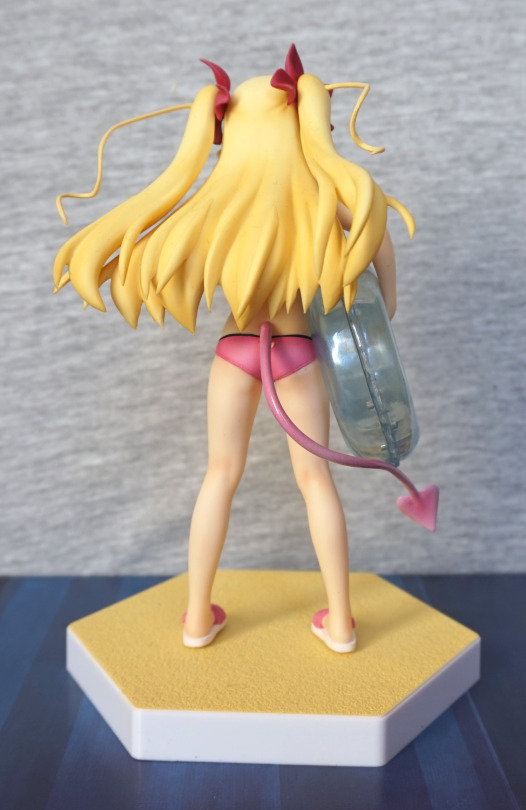 Her hair is nicely shaded, as well as her swimsuit. Her tail looks good from this angle too.
Close-up of her back: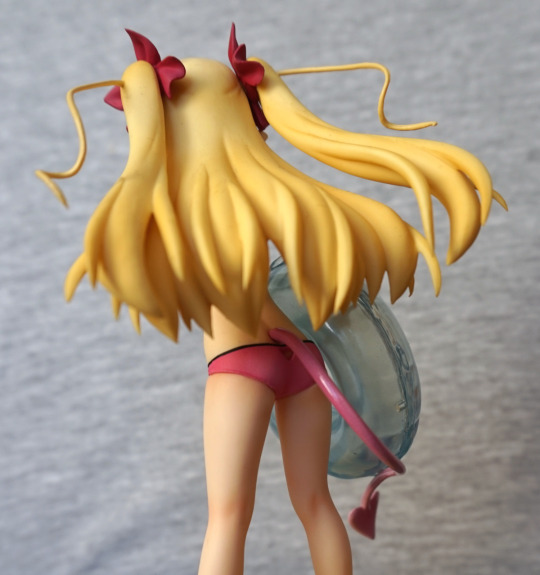 Her tail blends OK into her back, but not with any particular finesse. She's also got a cute little heart on the back of her swimsuit too, which is a nice detail.
Overall I think this is a very pretty, cute figure, with the added bonus of having a tail. Really glad to finally have her.