This post will cover the expected bits, plus an unexpected item, which pretty much made the box worth it on its own.
So what is this unexpected mystery item? A stand!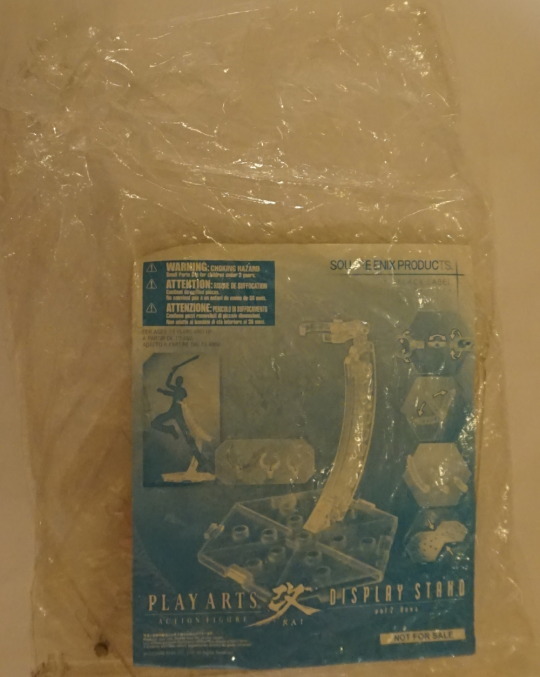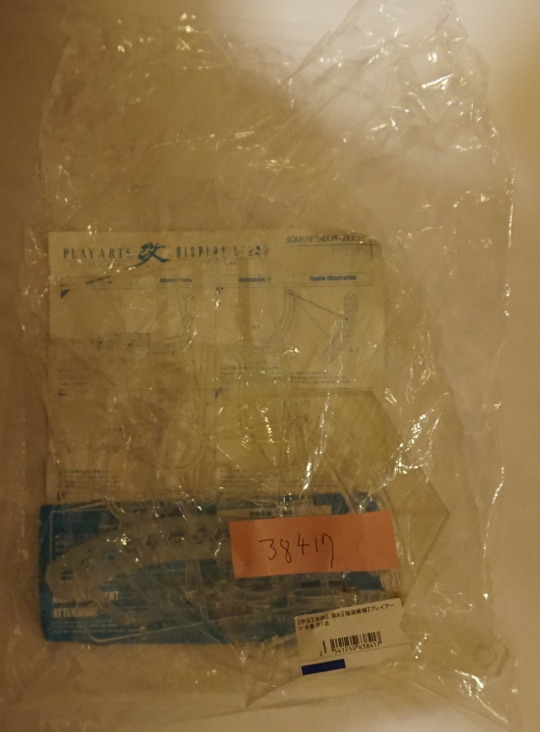 These Play Arts Kai stands can be quite useful, and tend to be pretty expensive to get a hold of on their own, so this one was a welcome addition, It also came with a few different sized "arms", one of which I've used so I can set a figure further back on the shelf it is sat on. I don't currently have any large figures in need of it, but I won't be surprised if I eventually use it. It did come with one claw with the screws in, but I suspect it originally would have come with more screws & nuts. Not an issue for me, as I have a ton already, lol. 
Next up, the Rei I saw in the packet… plus the Asuka that goes with her!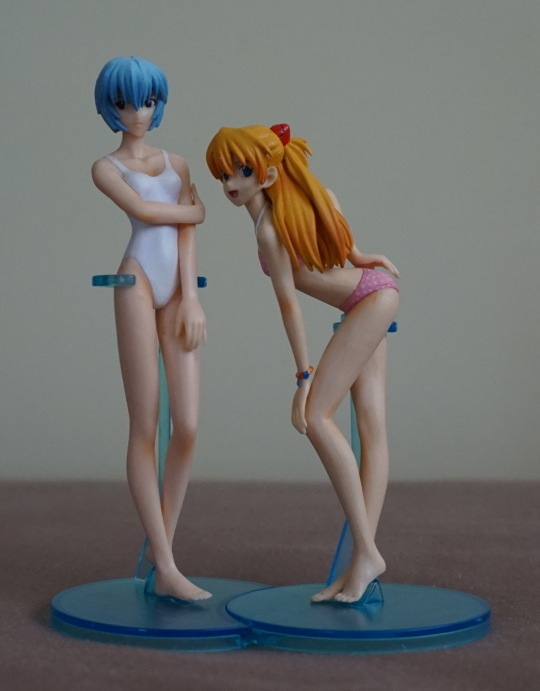 The Rei especially needed a good scrub. Looking closely at the Mandarake pic of the package, you can actually see Asuka's feet sticking up. Super-happy this pair was in here, as they're designed to go together and it's Evangelion. 
Photo showing Asuka more clearly: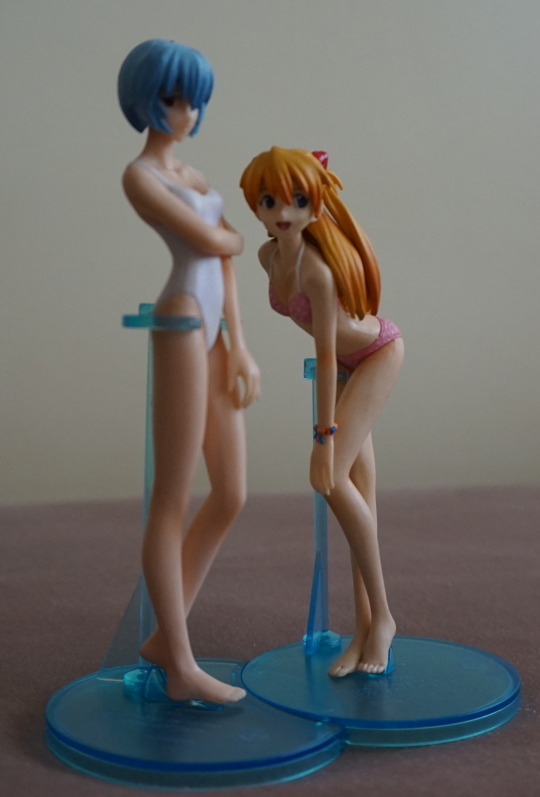 Next up, the EVA-01 that I saw sticking out: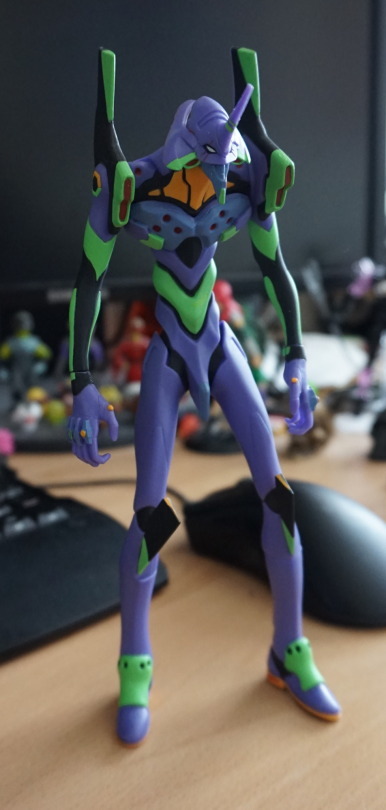 He's got a bit of an interesting smooth and almost-soft plasticy texture to him. He has a limited amount of articulation, but is decently sculpted and painted. He seems to be too nice to be a bootleg (even the bottoms of his soles have been detailed and painted!), but no idea what he is, and couldn't find him on MFC. On his leg he has the following: "© k.G", and underneath that "B China 19131″. 
And finally… what did that beach base belong to?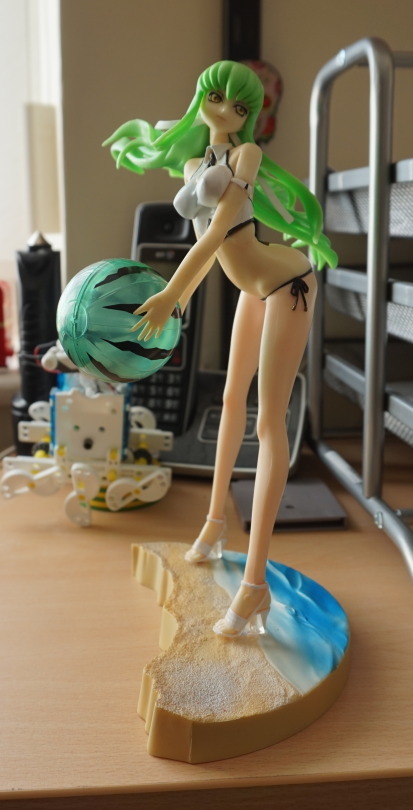 C.C. from Code Geass! She sells for around the same price as I bought the box for, so yeah, was worth it :). Though I did have to give her a good ol' scrub down first, and there are some minor marks. With the ball, I have it white-tacked to her hand – I thought you were supposed to be able to wedge it in her hands, but it was, uh, not playing ball, so I just white-tacked it. After looking up pictures, I found out that there's a stand for the beach ball, and it was actually included in the box. Not sure I'm going to bother with it though, as it looks a little naff. 
Figure from another angle: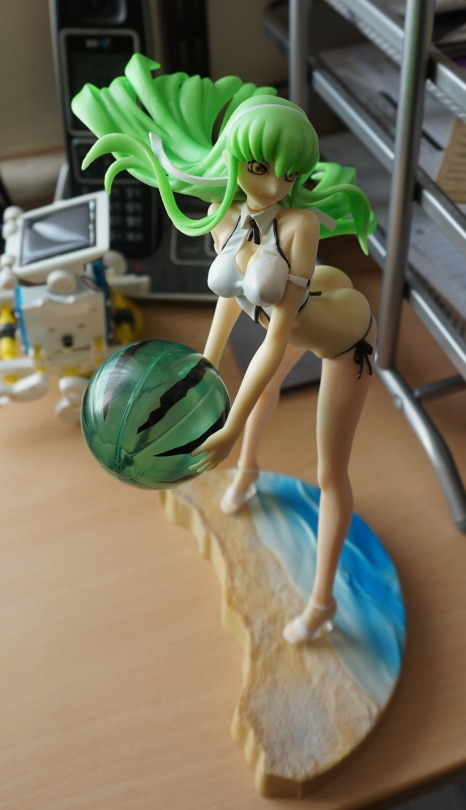 So that concludes the larger items in the box. Tomorrow, some of the smaller items in the box.