I bought this for £5, along with the Star Wars figures featured in my last blog.
In the set you get these three figures: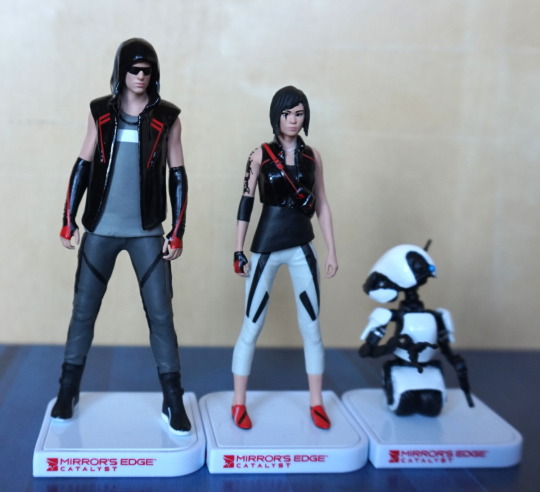 From left to right these figures are: Icarus, Faith Connors and Kuma. As I've only played the original Mirror's Edge, I'm only familiar with Faith. As this was a limited edition set, the GAME I visited only had one set on the shelves. 
Before we get into the figures themselves, all the bottoms of the bases are the same and look like this: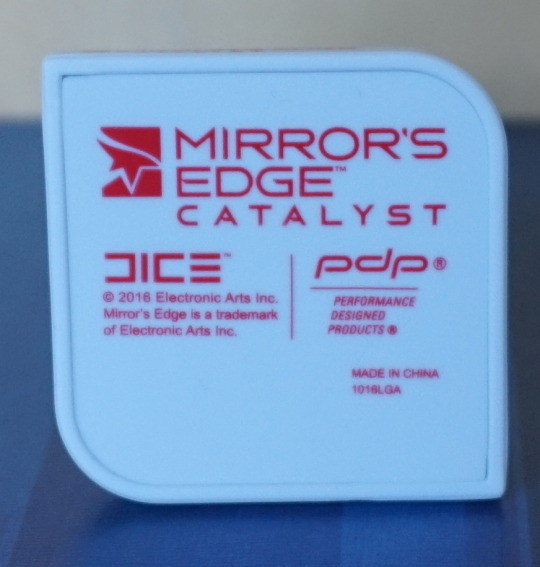 The bases themselves are magnetic, and the feet of the characters stick anywhere on the top face of the base. I like this feature, as the base holds them well, and they're not easy to knock over, plus no pegs to break. 
Onto the figures! So let's start with the main character, Faith: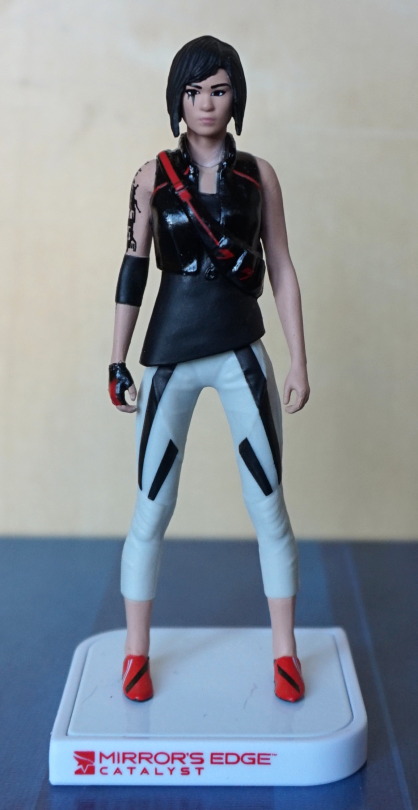 Here she is, with her expression of grim determination. We also have matt and shiny paint finishes, which really helps the figures stand out. And all the paint seems to be in the right places, which is a massive achievement for figures of this size. 
Here's Faith's right side: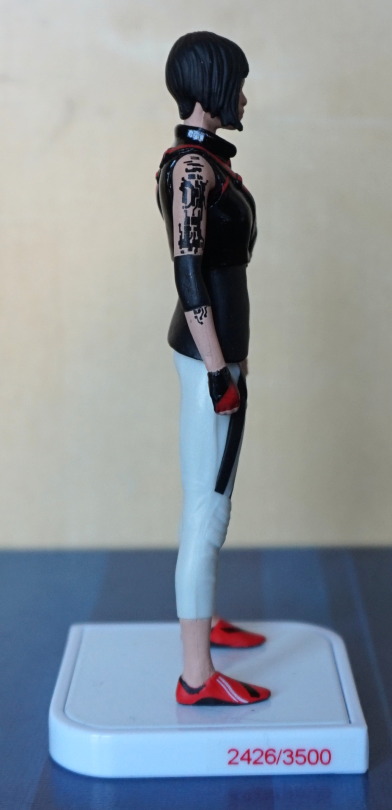 … showing the edition number and her tattoo. The tattoo is nicely done, and I have 2426/3500. As expected, it's in the higher end of the edition numbers, but maybe not as high as I'd expect for buying it during its selloff period. 
Faith's left side: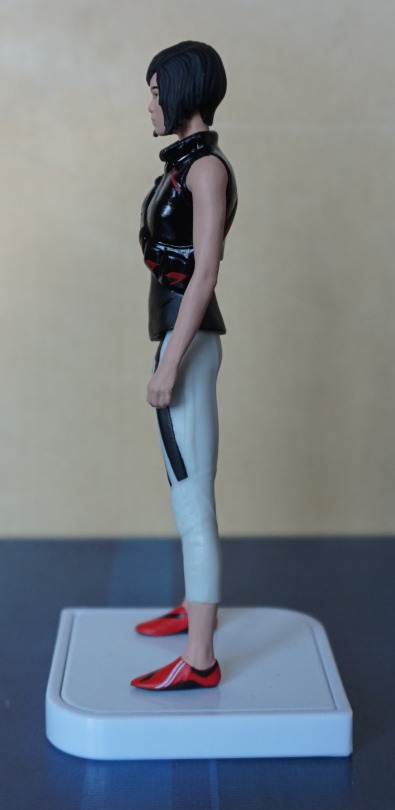 No tattoo this side, and I like the way they've posed her arm and hand so it looks like she is about to do something. 
The back: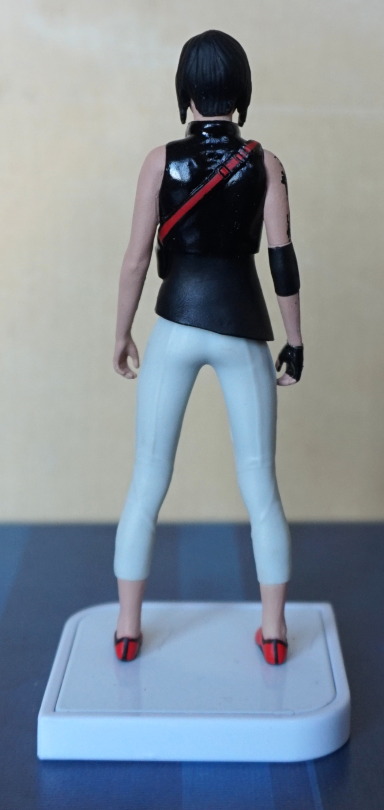 Nothing much to see here, but the details have all been finished off as expected. Crease continue to the back on her trousers, her bag strap is fully detailed. If I wanted to nitpick, I can point out the paint flaw on her armband, at the top. 
Now for Icarus: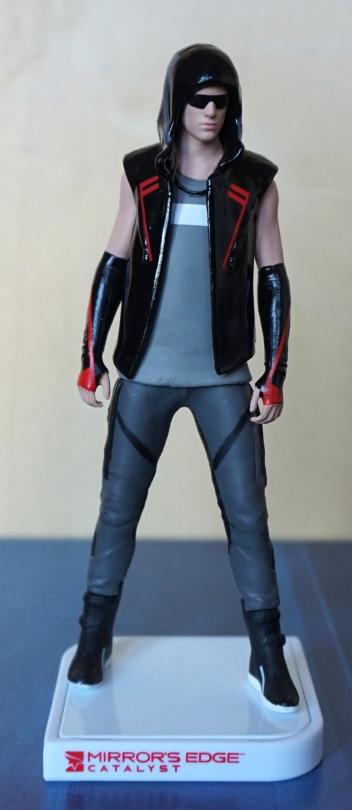 I do love the shininess of his clothing, and a credit to the game designers to make him "match" with Faith. 
Side of Icarus: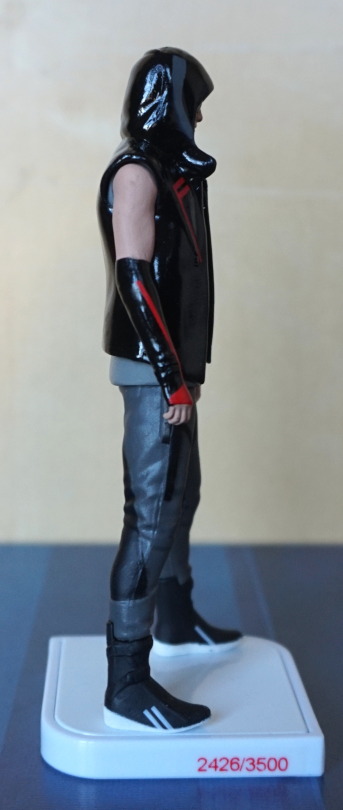 He has looser clothing with more creases compared to Faith, which is a nice touch. I like the way his arm warmers are creased realistically around the wrist. Icarus's other side is more of the same, so skipping that. 
Back of Icarus: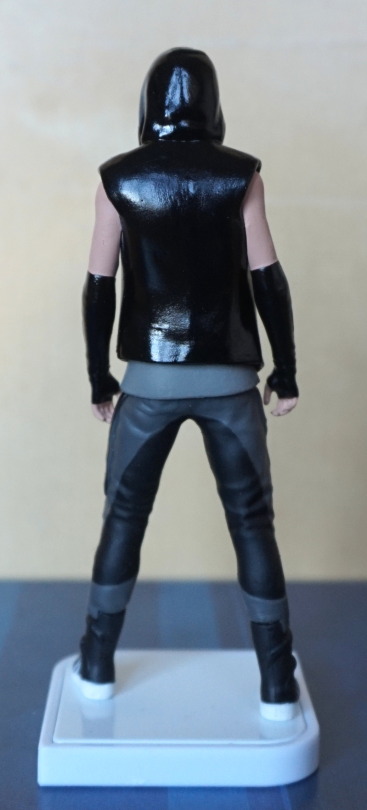 Not a huge amount to see here. Might be nice if the back of his hoodie had some detailing, but I found one screenshot showing his back, and there's nothing there. Does seem somewhat unnaturally flat – maybe some extra creasing could have left it looking less plain, like his trousers. 
Finally, Kuma: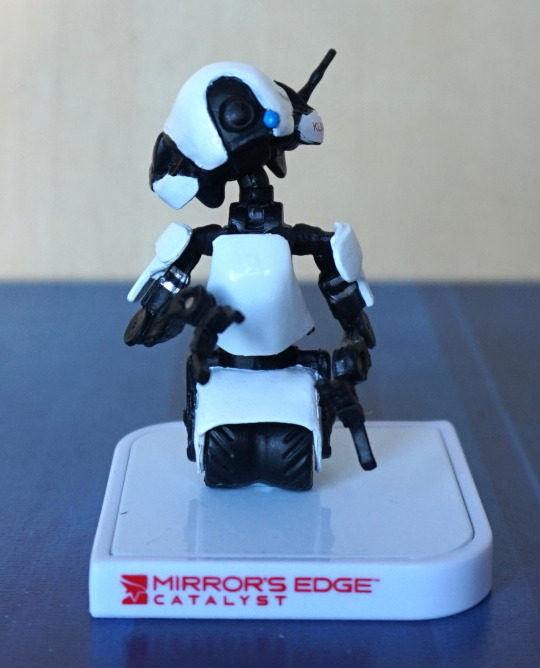 A cute little robot design, but the paintwork ends up looking sloppy, due to the white paint not finishing smoothly in a couple of places. If I had a choice of sets, I may have checked his paintjob in another set, but I'm not hugely bothered, as Faith was the one I was really after, with the other two being nice bonuses. He is a rather cute design though. 
Kuma's left side: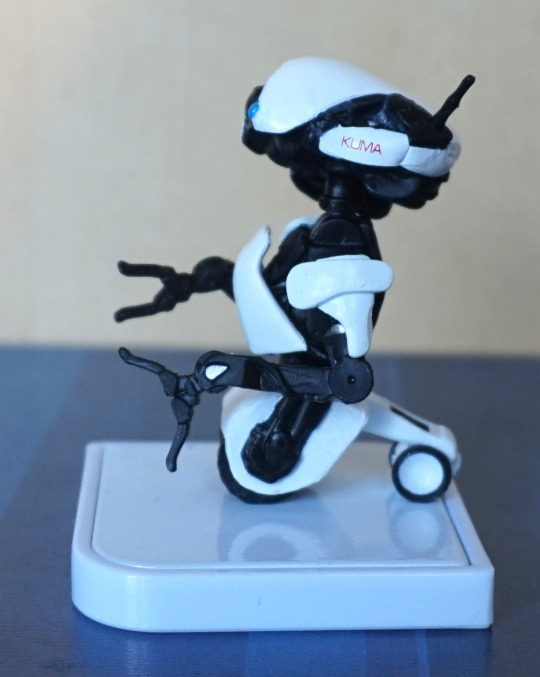 This one's name is easy to remember, what with it being written on him ;). 
Kuma's right side: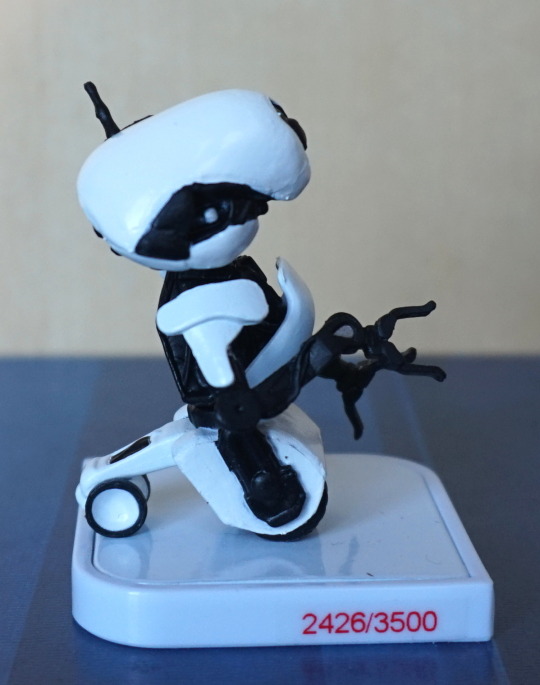 Can see some of the less-smooth painting on this side, on his head, which is a bit of a shame, compared to the other figures. 
Kuma's back: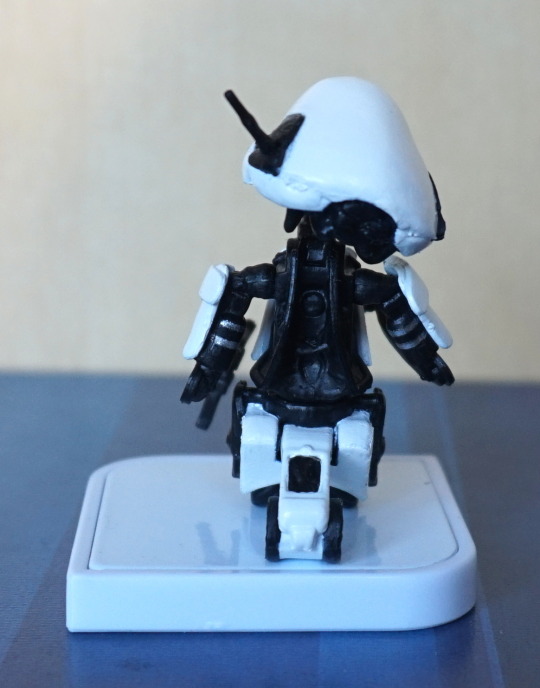 Some nice detailing here, but some lumpiness on his head, that I'm not sure is part of his character design. 
In conclusion, this is a nicely painted set, especially for its size. Would be better if Kuma had some more attention paid to him, but I didn't pay full price, so I'm not fussy. Originally the set was £18, which would be more than I would've wanted to pay, but probably justifiable for the quality of the figures. For £5, this set is a steal imo, if you're into the Mirror's Edge franchise.