This figure I was on the fence about ordering, up until her near-release. Went for it, without many days to go. Then she got delayed ><.
Fiiiinally in the new year she turned up!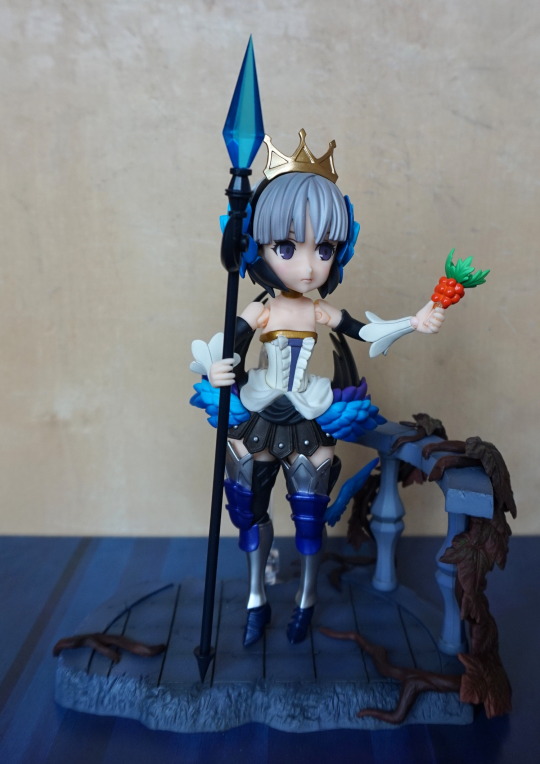 And wow, is she pretty! These Parfom figures aren't exactly cheap, but I'm definitely impressed with this one. My only real complaint is the chest articulation, as it tends to look a little odd if she's not dead-centre. Oh, and the branches to assemble on the "fancy" stand were a pain!
Here she is on the stand sideways: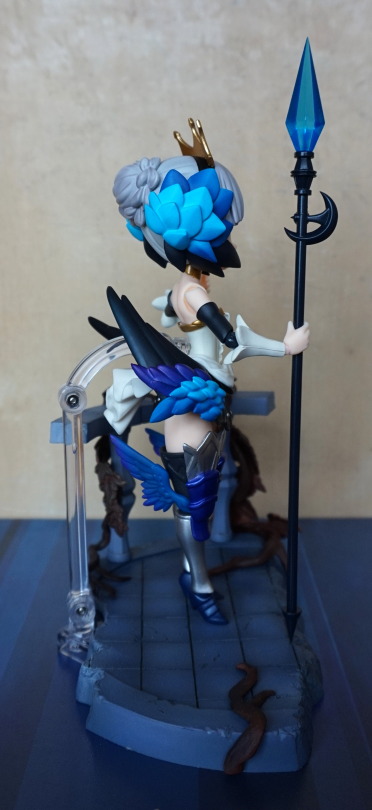 Her small wings look quite cute. 
Back, on the stand: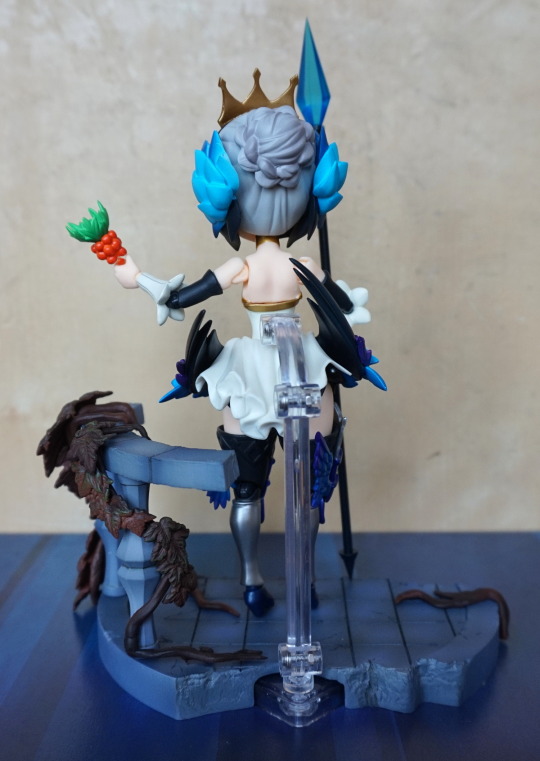 Here you can see where the detailed base slots over the clear base. Initially, I didn't realise it did this, and thought she had to balance on it. I then looked her up on MFC, and saw the arm of the clear stand in one picture, and figured it out. Her arm joints do look a little strange from the back, plus some gapping from the aforementioned chest joint. 
Left side: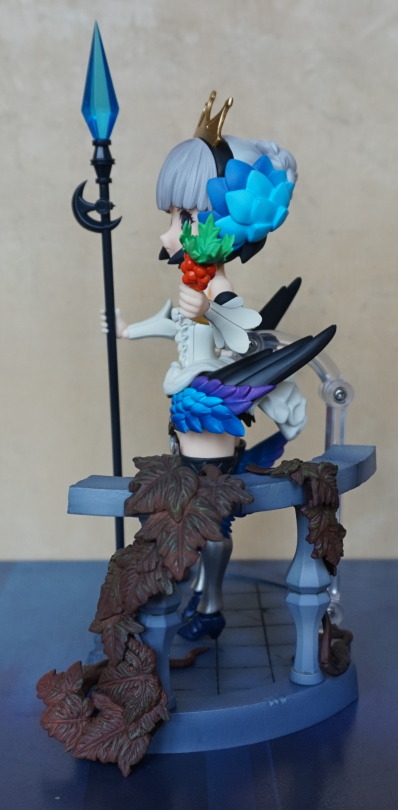 The leaves were much of a pain in the backside to put on than they look. There's only small dents where they hook in, and no reference pics in the instructions. They're also not poseable – I split a glued joint whilst trying to figure out how they were supposed to go on the thinner one (on right of pic above). Fortunately it was just some weak glue that gave way, so I glued it back together. 
She she comes with three faces: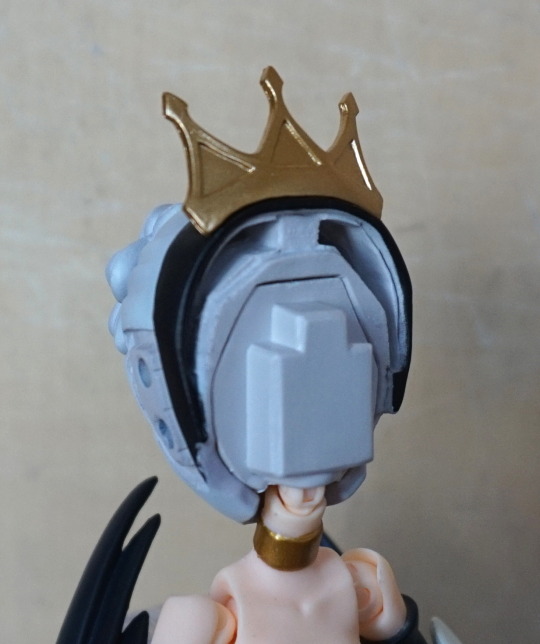 … and that wasn't one of them. 
Shocked face: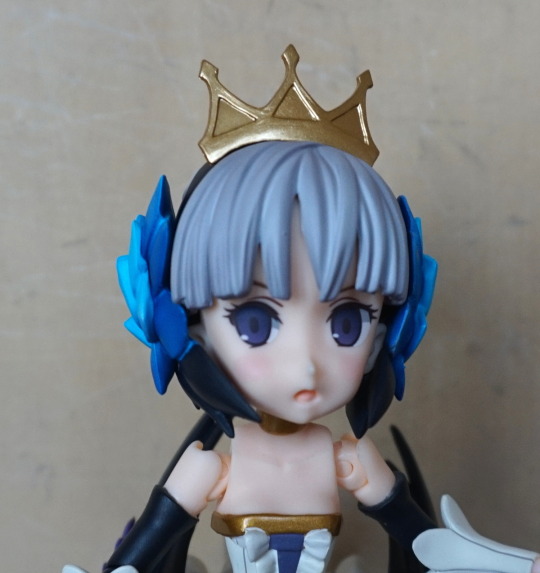 Sleeping face: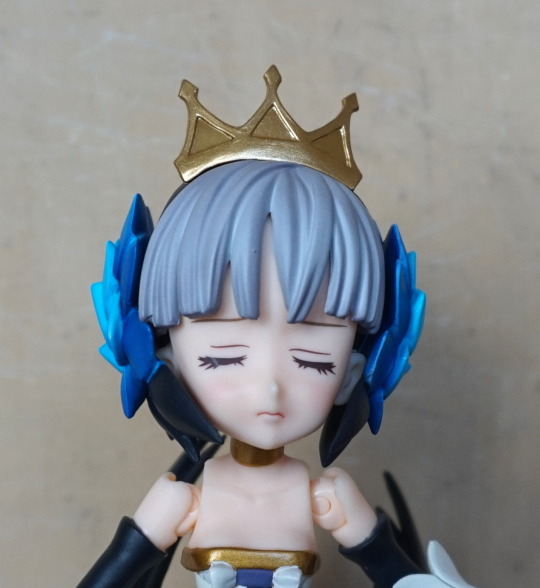 The semiserious face is in the other shots, so no real need for another close-up. 
She has some large wings you can use instead of the small ones: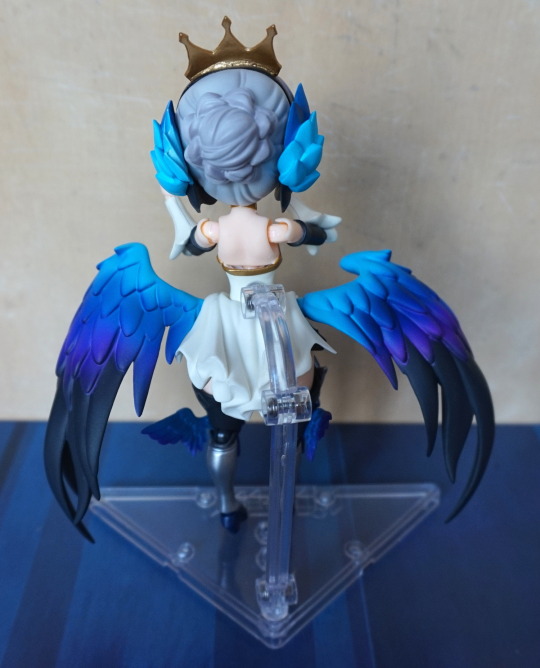 From the front: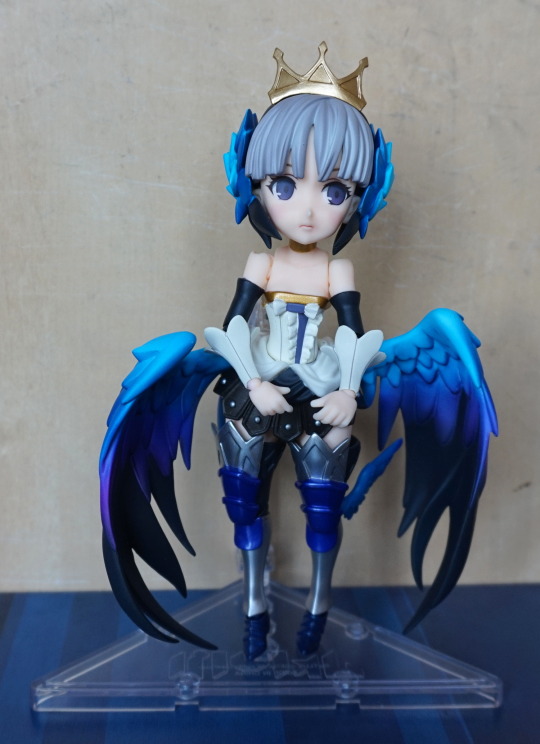 They also have a joint, so they're poseable: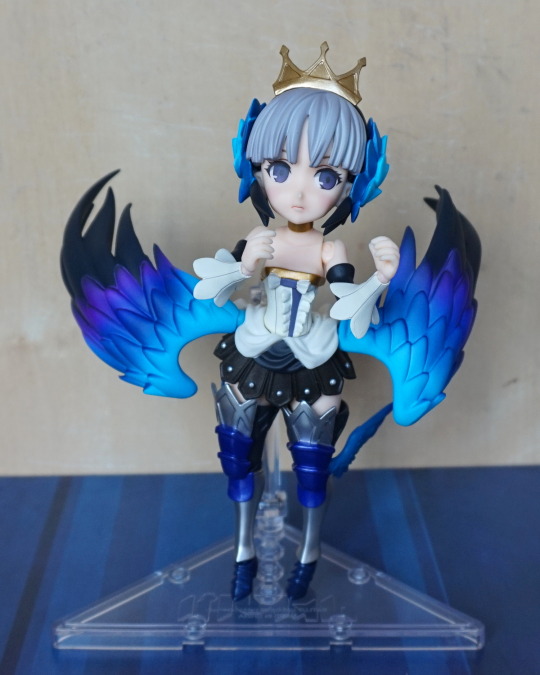 Initially I wasn't planning on using them, but after taking these photos, I changed my mind. 
And here is a pose of her on the base with her large wings: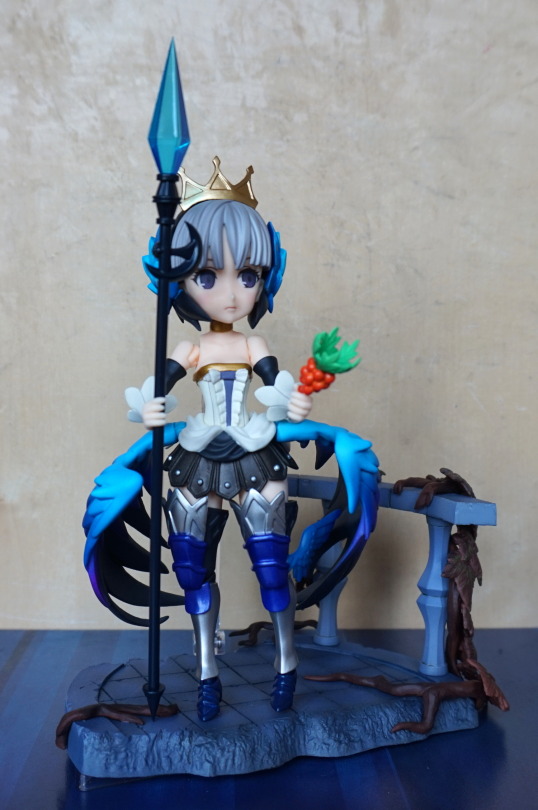 Pretty!
Here she is with the shield, which I didn't pose her with: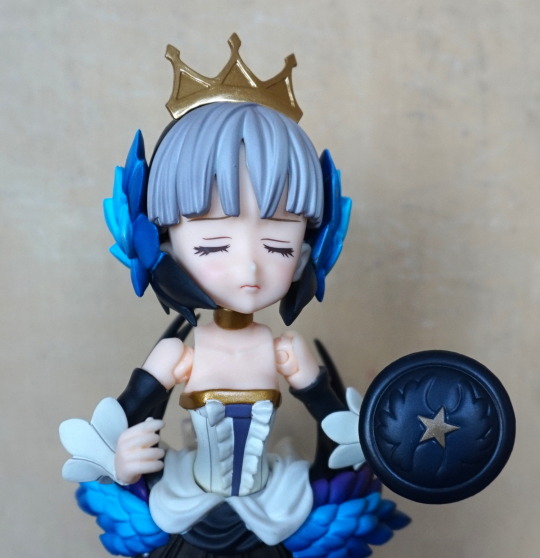 I love the range of accessories the figure comes with, and the colours and design of this character really appeals to me, so glad to have bought at least one version of her. 
The next few pics go into detail of the accessories she comes with, and the base, so if this post isn't enthralling, feel free to stop reading here.
All of the Parfoms come with a clear base: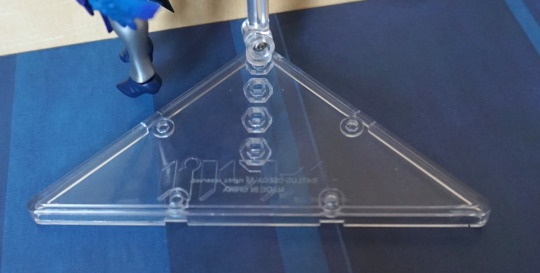 These bases can be locked together, using some connectors that come with them, but I don't see myself doing that.
This is how the base fits into the fancy base: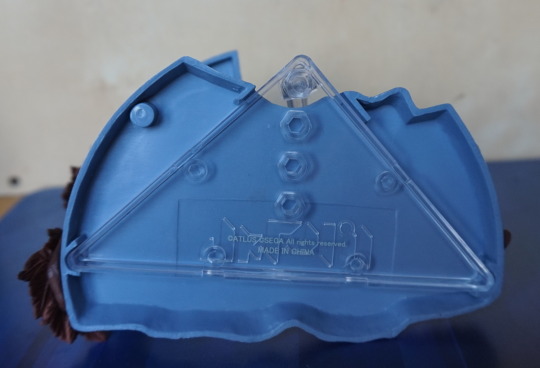 Kinda wish the other Parfoms came with some kind of "stage", or you could buy one separately to suit them. Maybe they'll do the latter if enough people suggest it. This one really adds to the figure, without being too massive. 
Spare parts: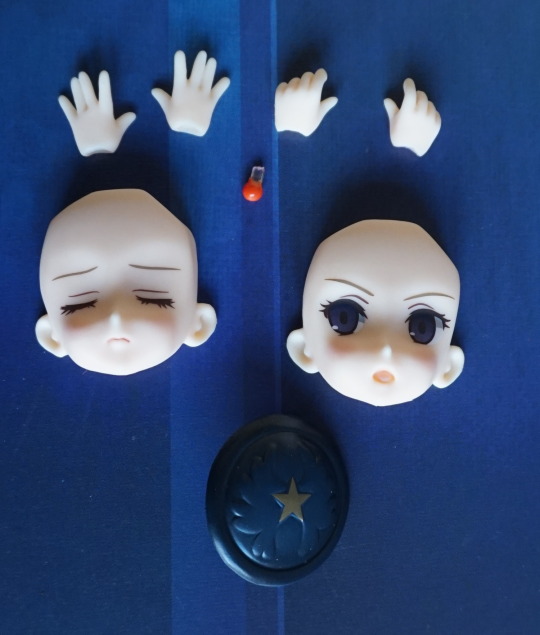 The small red blob is initially attached into the bottom of the berries she's holding in the above pics. If you want her to hold the berries, you swap in a piece that has a clear plastic bit for her to hold, but if you just want them in the scene, you can leave the red blob in, and it looks like a full set of berries. 
Here's the large wings, when not plugged into her body: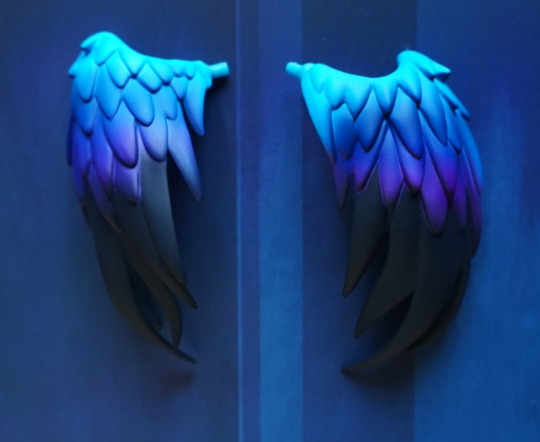 The smaller wings just have a static plastic rod to attach them, which I think is enough for them. The real fun is in these larger wings :). 
And here's some pantsu, for those who read this far: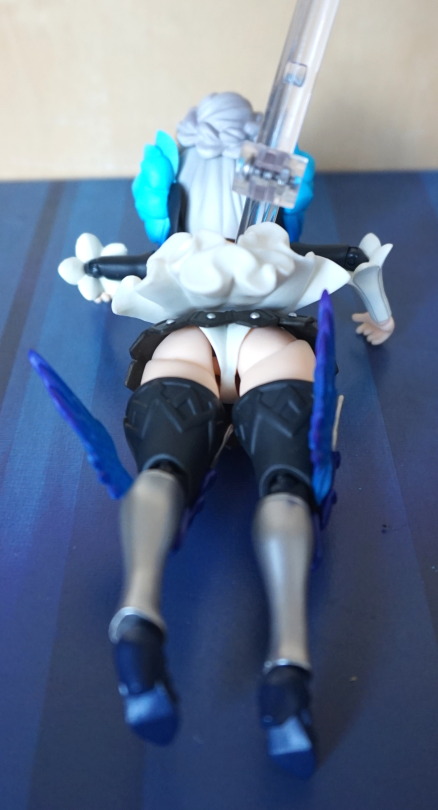 Not totally hiding the articulation gaps, but doing the job!