This figure was pretty much an instabuy when I saw it… after some price-checking.
So here she is, out of the box: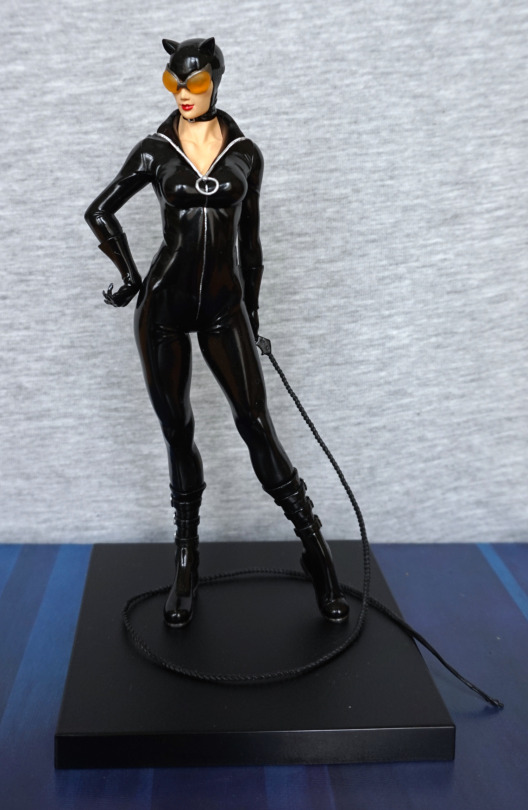 They've nailed the shiny outfit she wears, though the zipper doesn't feel super-detailed. I like her pose, as it conveys her confidence and strength. Her collar also looks nice, and her lipstick is painted well. The base is the standard Kotobukiya magnetic stand that they use for their Western property figures.
Left: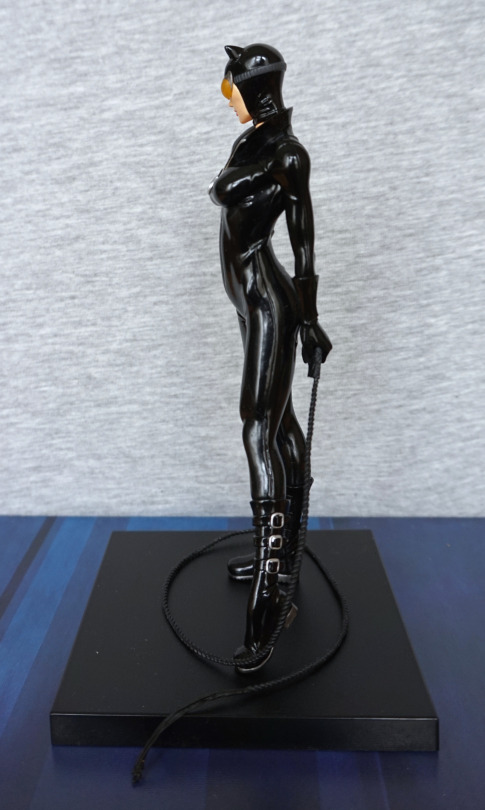 Here we can see she is endowed, but not overly so. There are a couple of creases in her outfit, and her buckles on her boots are painted well. Here we get a look at her whip – this is mostly a cord, which looks OK at a distance, but would prefer if it was something with a poseable wire.
Right: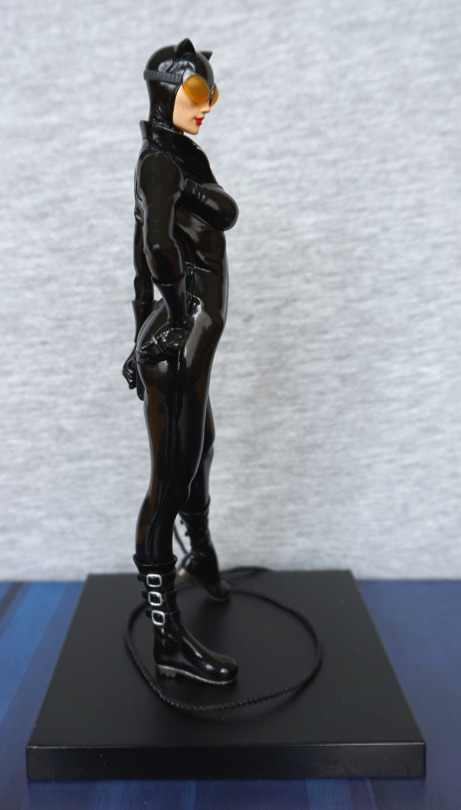 Her small ears on her hood work well. Buckles on this side are also well painted and sculpted – I like the way they're not perfectly even. Here we can also see her spiked gloves, which look good.
Back: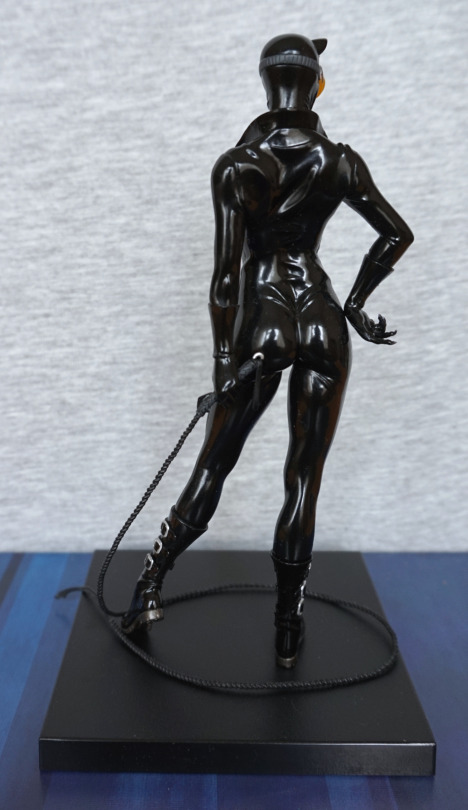 Here we see a bunch of creasing in the back of her outfit – I do like the fact they have sculpted it like this, instead of totally flat, like most Catwoman figures. The band for her goggles looks a little odd though – just doesn't feel like it's any particular material.
She also has switchable goggles, here is a close-up of the ones used in the above figures: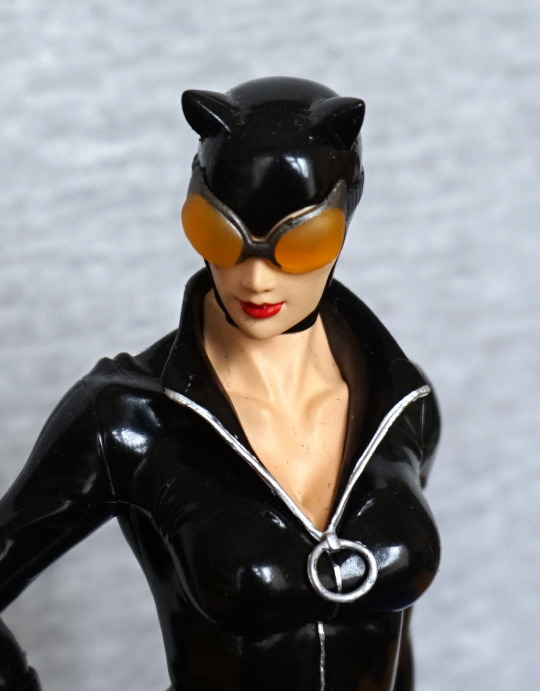 These goggles are pretty decent. Please ignoe the dust on her chest… Here we can see the lack of sculpt detail in the zipper, above the zipper itself. Would've been nicer if the teeth of the zipper were more defined.
Without glasses: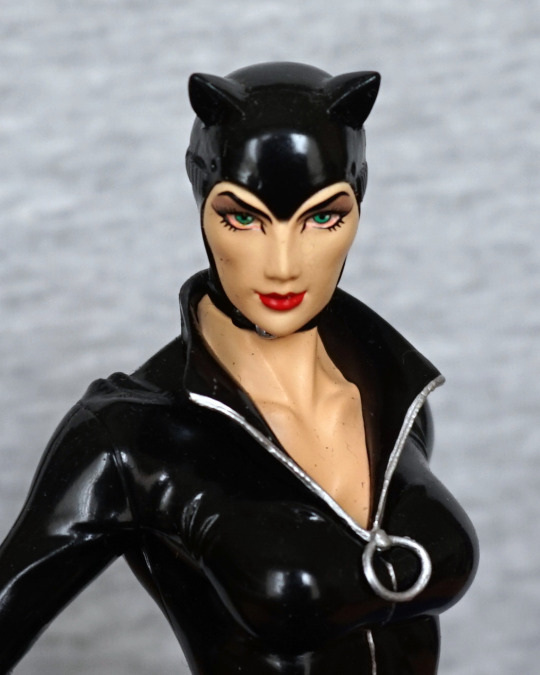 Her eyes are painted well, though her eyes do look a little bloodshot, as it seems the eyelid edge paint went a bit walkies into the whites of her eyes. If you look just above her eyes, on the sides of her hood, you can see the indentations that the glasses attach to. Looking at the zipper pull in this shot, it does appear to be a bit distorted.
Alternative glasses: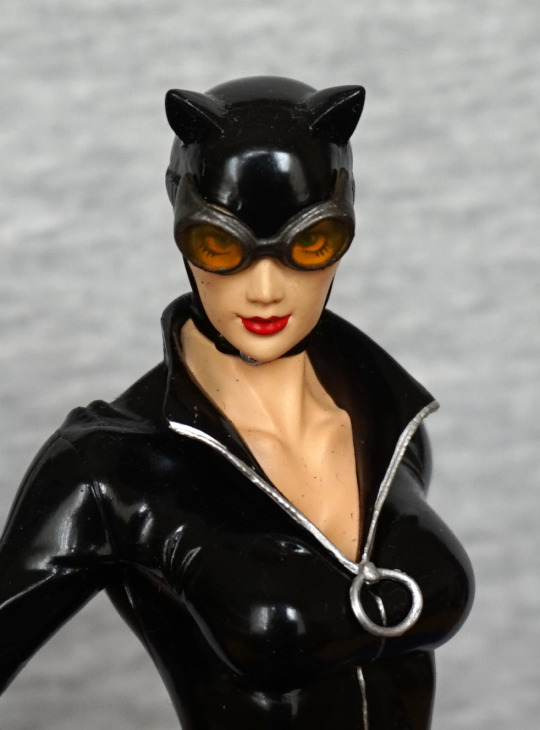 After trying these pair of glasses on her, I think these are the ones I will display her with. I like the way they are see-through, so you can see her eyes. The orange colour is nice too.
Overall, this figure is fairly decent, but does have a couple of flaws. I could recommend it at a good price, but not worth an inflated aftermarket price. Personally, I quite like this figure, and am happy to add another Catwoman to my collection.