This was one figure I was planning to pick up prior to visiting Japan, after seeing it on the Mandarake website.
Here's her upper half, in her clothed form: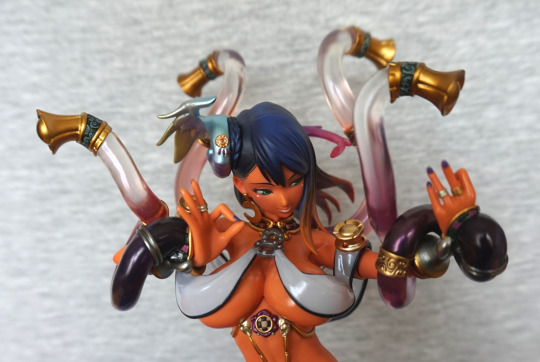 Even clothed, she's not really that SFW, but we'll get onto that in a minute. Her top sits nicely, and definitely looks like part of the figure when she's wearing it, so her clothed option is definitely viable if you're not so fond of having boobs hangin' out. I love her four tentacles posed around her head, and her hands posed in a very dancer-ish way. I love the small details here – her rings and nail polish are both well done.
Overall, I'm really happy with this figure and glad I got her. She's a nice piece of (tentacly) colour, in an interesting and dynamic pose. I love the darker skin tone, and the amount of smaller details that went into this figure. If you like this kind of figure, I'd recommend her.