And now for a Barbie that I can appreciate! Never did see one as a kid that I'd ever want, but at 32 I find the purrfect Barbie for me: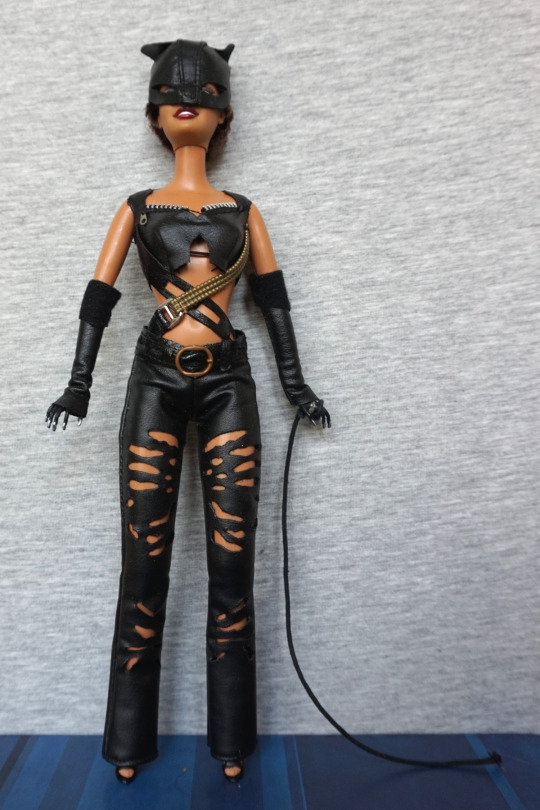 Hm. I really could've straightened out that mask a bit more, couldn't I?
Anyways, onto the figure – I think the fusion of Catwoman and Barbie works well here – it definitely looks like an even mix of both. I love the fact the clothes have been made to look like leather, and she has just enough touches to sell itself as being Catwoman. A large part of that is the mask, but she has cat claws on her gloves, and the quintessential whip. She has a utility belt thing going on, which apparently marks this as being based on Catwoman from the 2004 movie… which I haven't watched. Hm. I should probably get on that. Anyway, moving on…
Left:

The seams have been sewn so the stitching is inwards, so everything looks nice and neat from this side. Her claws have been tipped with silver, which has been nicely done. Her neck does look a bit odd from the side though. 
Right:

Here we can see a small zipper, which is a nice attention to detail. I do rather like the fluffy upper to her gloves, and the high heels poking out from the bottom of her trousers. 
Back: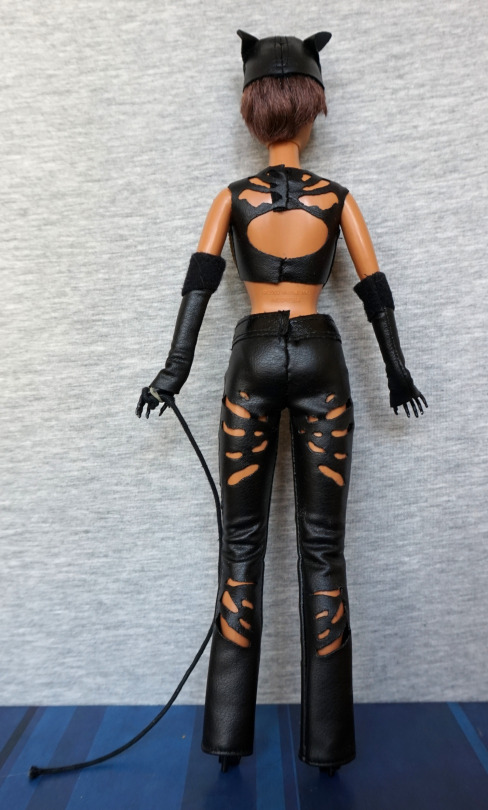 Here we can see some things that weren't finished off too well – several of teh back joints are uneven, which is a bit of a shame. Also a bit of excess fabric at uppermost join. Her hair is very nice though, and the backs of her trousers look good, even if the belt doesn't quite line up… 
Overall, I'm glad I bought this Barbie, and I think it makes an excellent first choice :P. Not sure if it'd appeal to a Barbie fan, as her outfit does somewhat limit her articulation, though all the joints are there. For me, I'm using this as a display piece, so I'm not bothered by knees being hampered by her trousers. I may have to get a doll stand for her though, as she's not standing on her own with those small feet.