Pre-ordered this as it was a noodle stopper and SAO. She isn't one of my favourite characters, but I thought this was cute and cheap enough to go for it.
So here she is, being cute: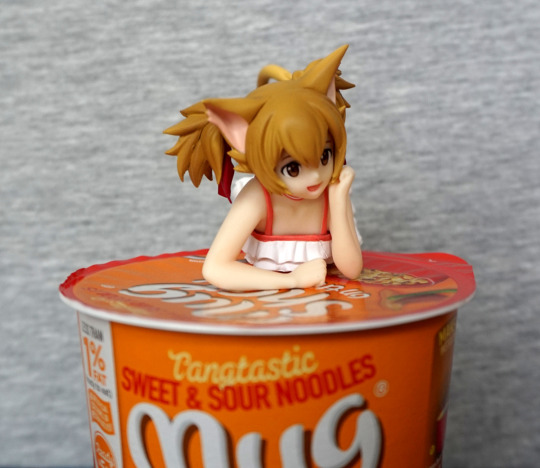 And herein demos my main issue with this figure – she's pretty hard to display, and get the most out of her. 
Closer look: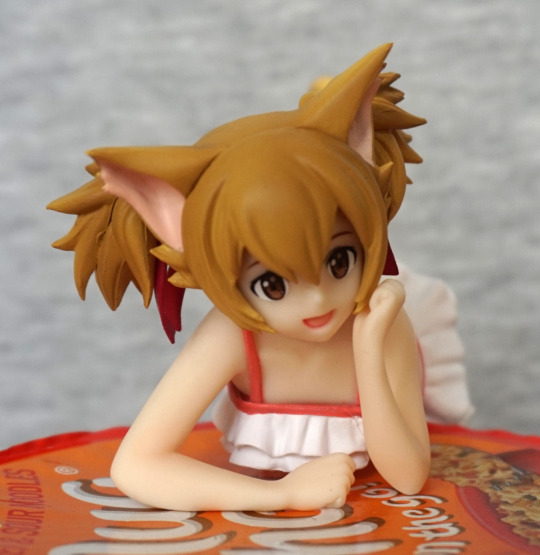 I love the cute, playful expression, and the hair is nicely done. There are little clumpy bits, if you look close, but these are sort of to be expected with a prize figure. The front of her swimsuit has been done nicely, and the red parts are enough within the lines to not be distracting. The posing of her upper half is really well done imo, and feels expressive. 
Left: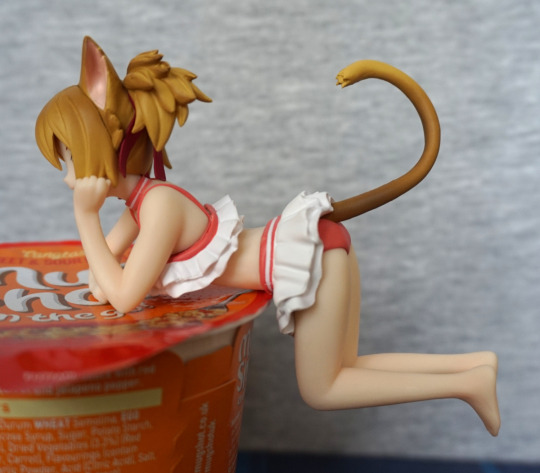 And here's the everything we can't see, if we use an opaque item to rest her upon. Her outfit is cute and neatly painted – I like the fact they've given her a collar, though it isn't really visible from the front. Her tail curls playfully upwards, and the shading on it is nice. Love the detail they've put into her hair.
Unfortunately with this pose she's a tad back-heavy – she will sit fine like this, but if she's not fully resting on an object or you nudge her, she'll fall off fairly easily. Out of the "noodle stopper" figures I have, this one wouldn't function too well as one, even if you decided to use it for that imo. 
Right: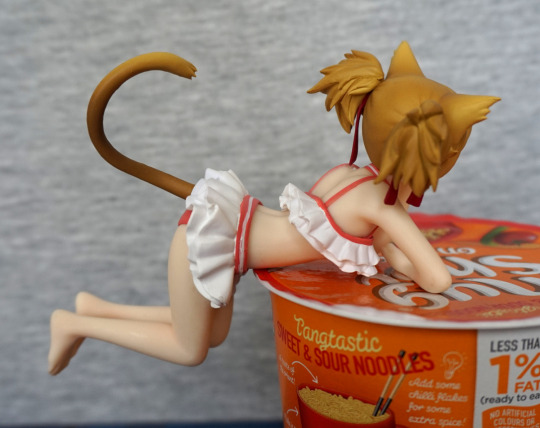 Paint is a tad more uneven on this side, but still looks decent enough. Love all the bits they've sculpted in the hair, and her tail shading fits the curve of her tail. 
Back: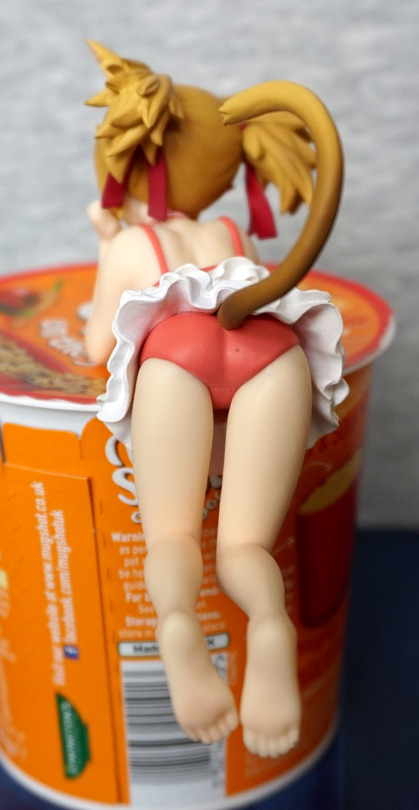 The tail ends somewhere out of sight, which works for me. The frills in her skirt have been sculpted nicely, along with her butt. There's a bit of an annoying paint flaw on mine – a little excess paint on her panties. Her legs and feet are sculpted nicely, and her toes look good. 
Close-up of the back of her hair: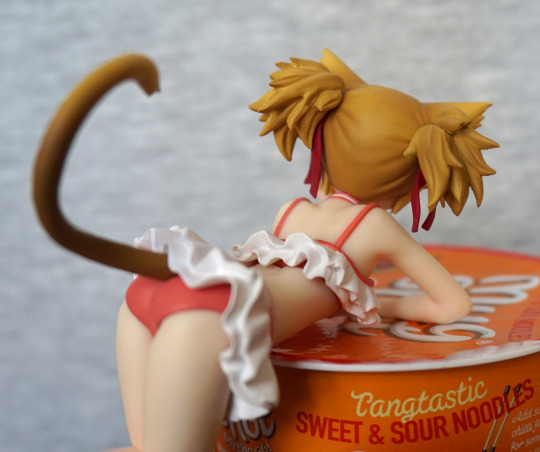 I like the shading on her hair, and as mentioned previously, the amount of detail they've put into it. Seems a fair bit more than your average prize figure. Her top also has a fabric bit painted under her frills, which is a nice attention-to-detail.
Overall, the figure looks very nice, and has been executed nicely for the most part. The major issue that prevents me from recommending it is the display potential – I think it would've been better to have her head turned to the side, so she could be displayed side-on. Currently I have her sat on a clear U-shaped riser, so you can see more of her, otherwise it's a toss-up if you display her face or her body. I suspect the pose was chosen to accommodate the tail, and it works on that front, but I think she would've been better coming with a small clear claw stand, so you can display her unobstructed…. as let's face it, nobody's going to use this as noodle stoppers.