This figure was a random pickup at an action figure store I visited. Thought he looked cool, so decided to buy him. When I did my research on this figure, I found he was the alt colouring. 
So here he is, in his alternative colour scheme glory: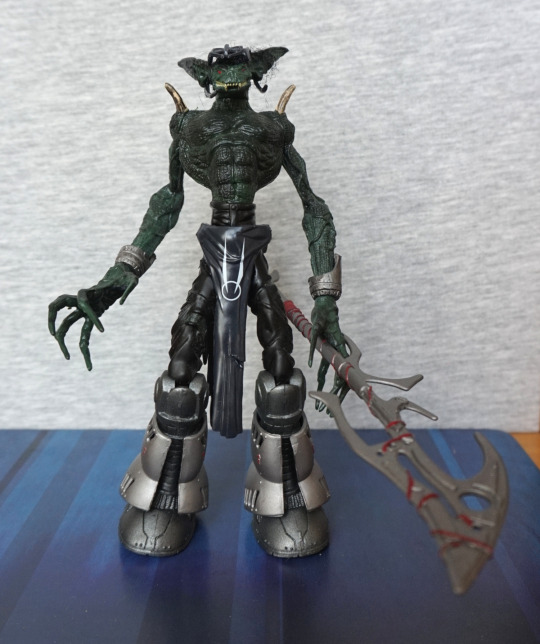 Personally, I prefer this colouring to the main version – here he has black pants and loincloth, which I think fits the theme of the figure better. He's also a dark green instead of a greyish colour, which I don't think helps him look vampiric, but the sculpt doesn't say "Vampire" to me anyway, despite that being his name. 
The sculpt on him is nice and detailed for the most part, but… that waist… what's going on there?! 
Let's take a closer look: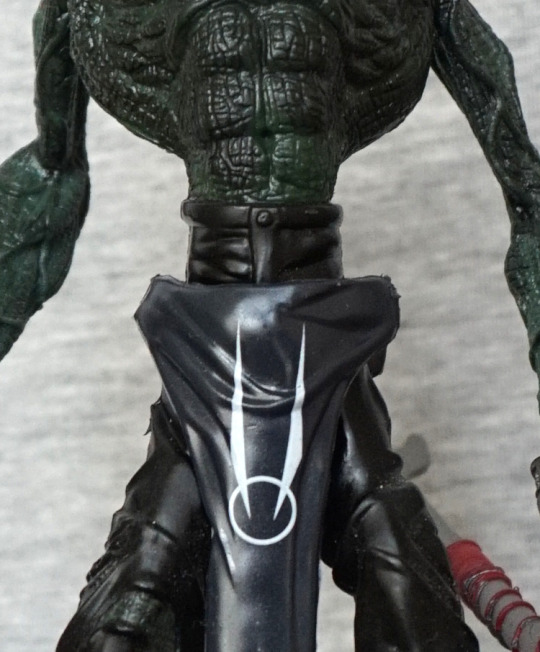 Totally tubular! Now I've seen it, I'm not sure I can unsee it… not a big fan of this design. I do like the logo thing going on, on the loincloth. The loincloth is made out of a fairly thick plastic, which coupled with the odd waist design, does make it look comedy-sized. As a standalone piece it looks OK, but with it sitting strangely on his hips, it isn't a good look imo. I am loving the detail on his skin though, which can be seen in the upper parts of this photo. 
Face: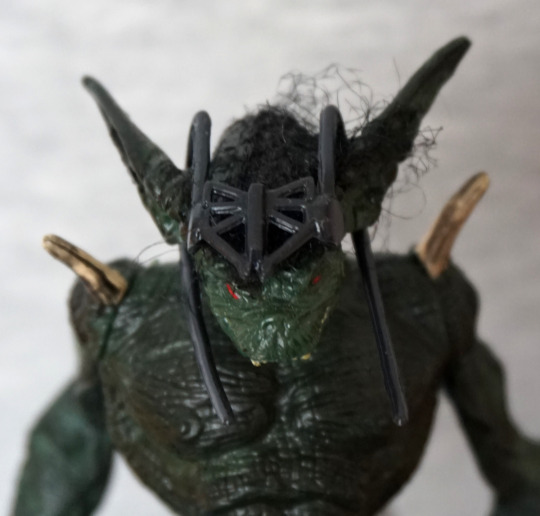 He has this headgear thing that slides on his head. Kind of in two minds about this piece – he looks better with it, but in of itself, it just feels odd. If you don't like it, then it is an optional part though, so isn't a biggie. Jury's out for me though. 
Left: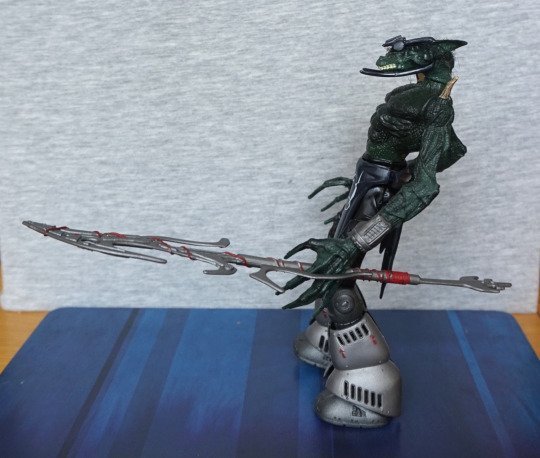 Here he is, leaning back apparently. He cuts a decent profile from the side imo – looks a lot less strangely shaped from the side. His head sticks out nicely, and I love his hands, with their elongated claw-style. The tendons show up from the top too. 
Aand the obligatory fat leg parts – this is a McFarlane creation after all – these are painted well, and have enough details to not be plain. This fat leg design is useful for keeping the figures upright though! I do like the lesser need for stands. 
He holds his weapon decently well – you could probably get a more convincing grip out of it than I have, but it slots OK over his hand. 
Right: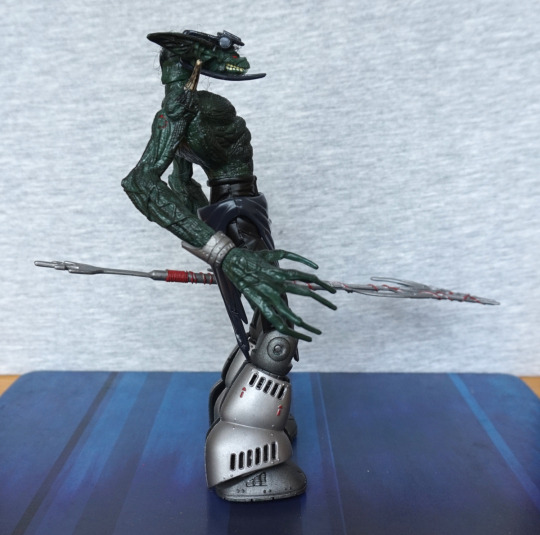 Loving the veinwork on his arm, and the horns on his shoulders. The silver bracers around his wrists add a nice detail to the figure, and hide the joint. ABout joints – there aren't a huge amount, but there are a few posing possibilities. McFarlane figures don't tend to be super-articulated, especially of this age, but they make up for it in looks imo. 
Back: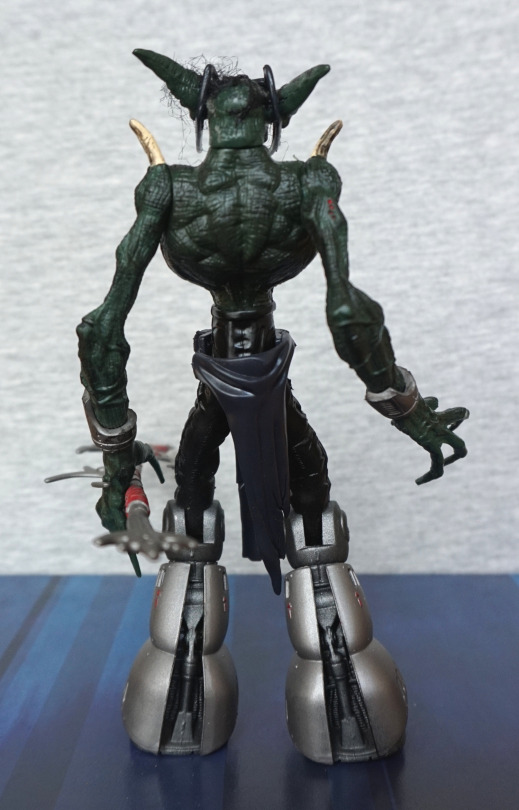 The texture details are continued around to the back, and he has some blood marks on his upper right arm. His hair is quite scraggly, but does the job – I doubt a creature like this would have neat hair, after all. Loincloth looks OK back here, but has the same issues as the front (as well as seemingly making a break for it! If you don't like it, there's the option of removing it). We also have some mechanical details on the back of his legs, which is nice to see. 
Weapon: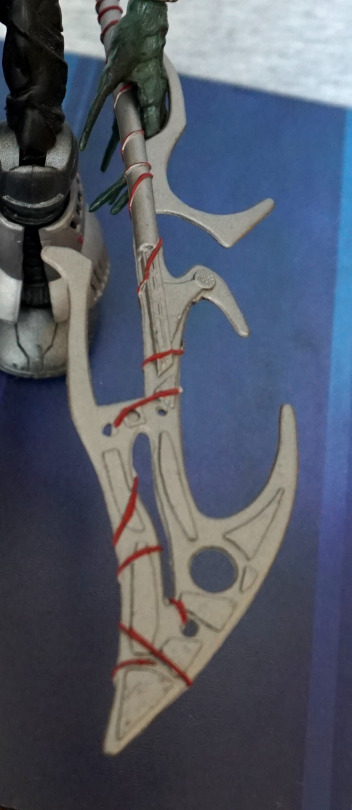 Clod do with a little more red paint on some of the wire/vine parts. It has an interesting, tribal design, but does kinda look… lump of plastic-y. I think if they had sharper points and maybe some paint shading, it would look better. I think it's mostly the very rounded points that make me think more "cosplay prop" than "dangerous weapon". I think they could've gone a bit pointier, without making it "ouch" pointy. 
Overall, a decent figure. Not sure I'd particularly recommend it, but if you like what you see, and can find him for a decent price, I think a solid enough figure.