This is yet another figure I bought because I thought it looked good… It was on sale dammit. 
So, here she is:
Loving the blue shade and her outfit, and the interesting range of accessories she comes with, that I have little idea about… Reading about her, she's from a parody series, so I wouldn't be surprised if they produced more of these than tokusatsu parody fans. In terms of a figure, her outfit isn't very detailed, but this does give her a stark and clean appearance. I do like the shiny breastplate and the cool-looking helmet she's wearing. However, her paintwork is flat and without shading, which puts her out of premium figure territory. 
Left: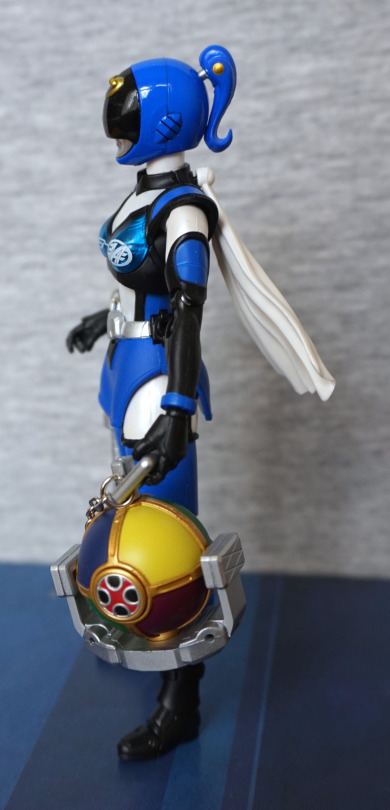 She looks fine form the side, and has a couple of details on hte side of her helmet. She also has a ponytail thing going on, but it's not hinged. Don't try to do so, lest you want to break this part – the gold dot is just for show. The paint lines seem clean throughout – especially on the ball accessory… which I like to think of as a multicoloured bomb… 
Right: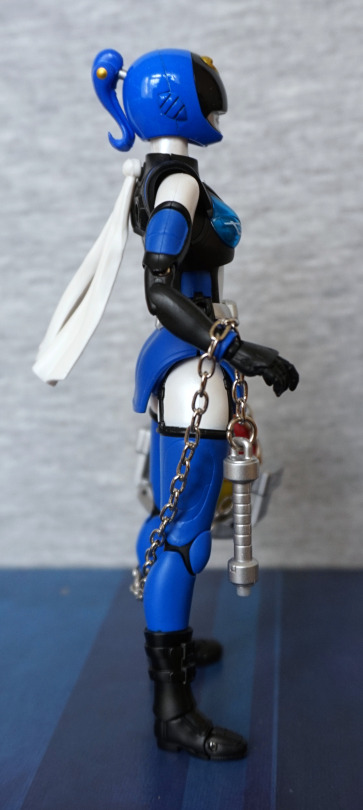 More of the same on this side. A double-jointed elbow is visible, without much to hide it, so it does look lumpy. We can also see the ribbon thing she wears on her shoulder – I like the way they've sculpted this so it is flowing in the breeze. 
Back:
The sculpting's nice on the back ribbon, but there isn't too much detail here to speak of. There's a couple of holes in her back – you could probably attach an accessory in here, or a stand. There wasn't one in the box, but 3mm peg stands aren't hard to come by. Was disappointed with the lack of stand, but she does have articulated toes, so she's not too bad to balance. You can also use the accessories to weight her, if needed.
In terms of accessories, she does have a decent range of stuff. One that I managed to not photograph is another ribbon – it's very similar to the one shown, only it's more like one half of the ribbon shown, if you want less ribbon for posing. 
She comes with these guns: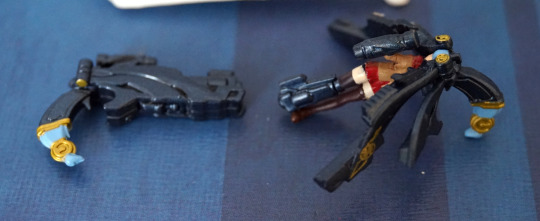 I love the overly large "armed" mode this gun has. I guess this is for when the battle gets super serious. Both guns are nicely sculpted and painted, and would make great accessories for any figure they fit with. 
She also comes with many, many hands: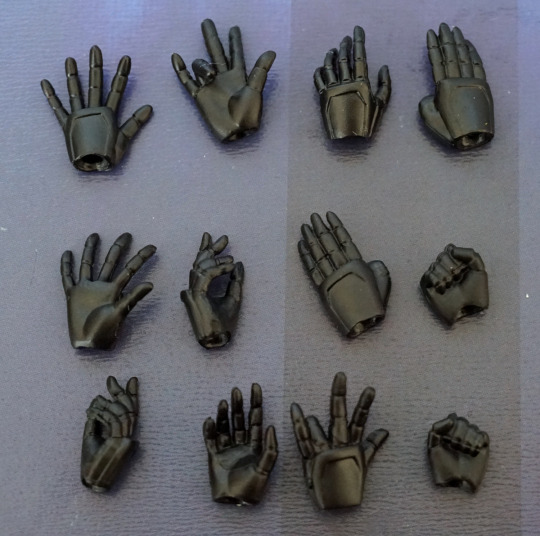 So if you need a certain hand pose, it's probably in this lot! Always nice to see a range of hands, as it gives more posing opportunities, and especially useful for her, and the several things she can hold. 
Overall, I think she's a decent figure, but probably not a popular character, hence her cheap price. If you need a random blue ranger for your collection, this one could possibly fit the bill. With the number of parts she comes with, she could be good for custom fodder too, if you're basing something around a Bandai figure(s).