In a fit of rarity, I actually bought these in a brick n' mortar store, for a not-too-unreasonable price. I got four of these figures total, and will be splitting them into two blogs.
This first blog will feature Kotetsu T. Kaburagi and Keith Goodman.
First up,
Kotetsu: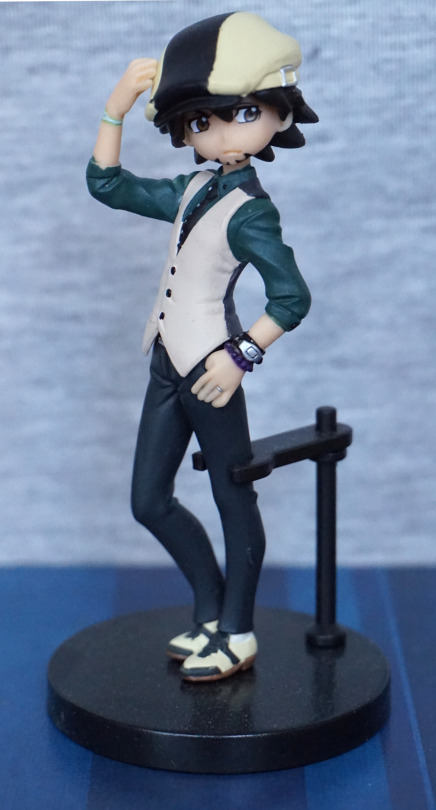 Looking cute in his half-age form, I think they did a really good job on this one. The paint is mostly pretty neat, with a couple of stray bits – main one that can be seen here is the collar.
Left: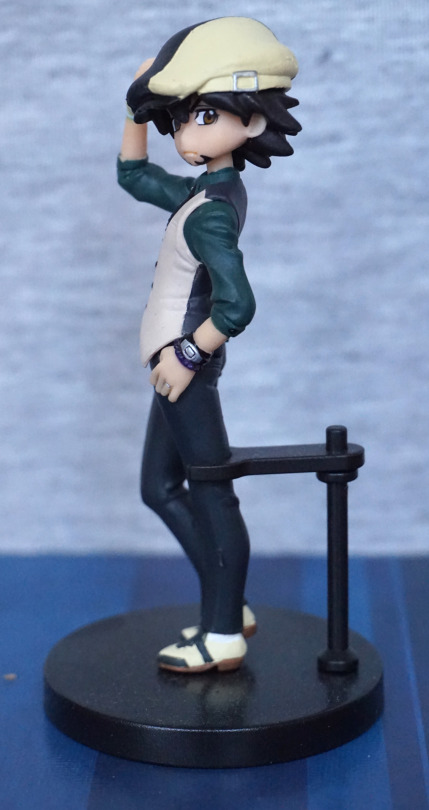 Bit of a loose lump on his lower leg here. Paint is neat around the beads and strap he wears on his left wrist, and the buckle on his hat. 
Right: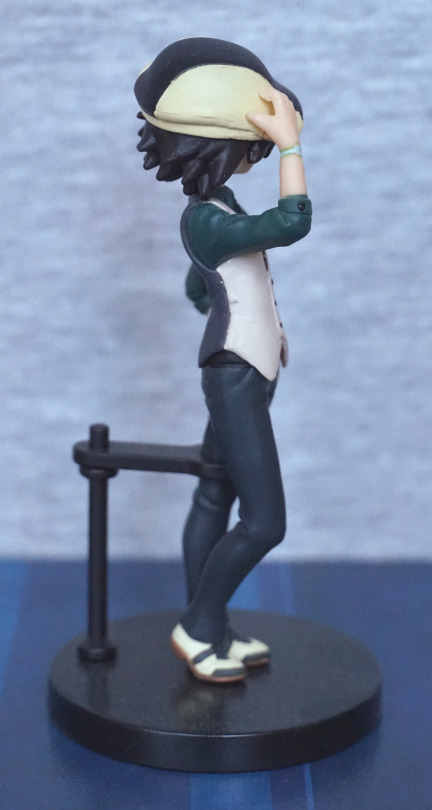 Bit of blobbiness on the waistcoat seam, but again, nothing too bad. Seam on his hat is fairly visible, but not really a dealbreaker. Paint on his sleeve has decided to take over his arm a bit, though. 
Back: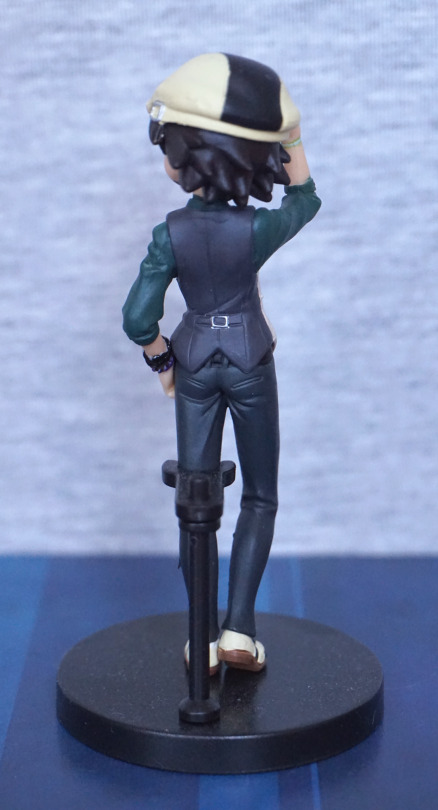 Buckle on the back of his waistcoat looks good, and the wrinkles on his clothes look fairly realistic. Hair is also nicely sculpted. 
Overall, I'd say this is a decent trading figure, that succeeds in looking like a young Kotetsu. 
Now for Keith Goodman, aka Sky High: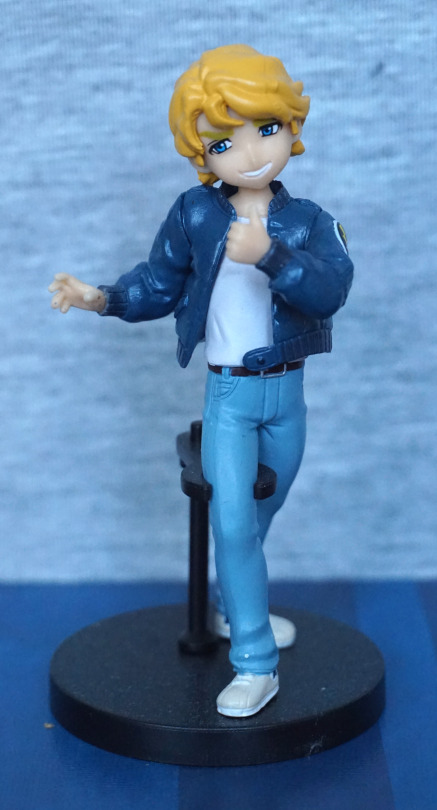 Here he is, definitely with an air of the "cool kid" about him, which I think works well for him. I don't think the paint works quite as well on him as it does on Kotetsu – it feels a bit shiny in places, and I think his jeans could've done with a bit of shading to blend them in a bit more. 
Left: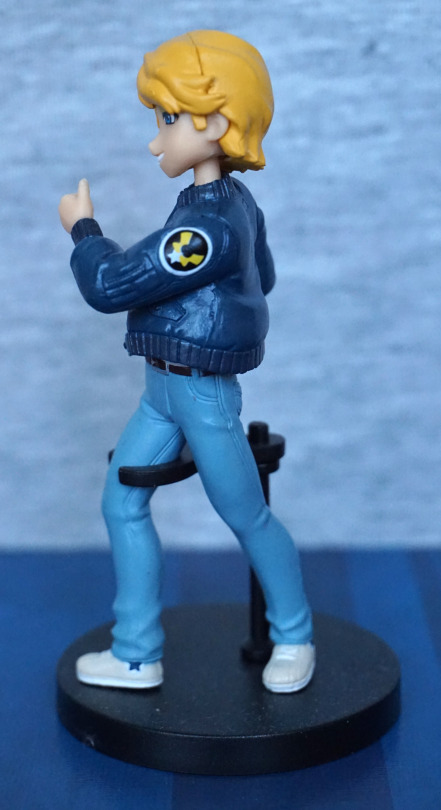 The logo on his jacket is rendered well, and the sculptwork here is nice. Not really sold on the slight shininess of the jacket though. 
Right: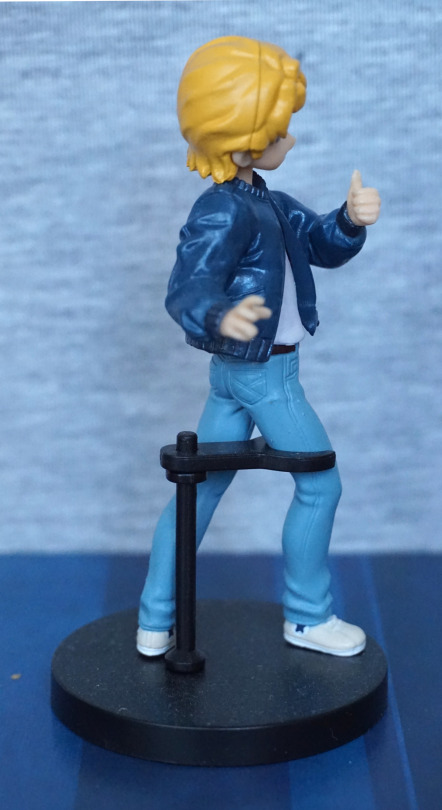 I'm liking the dynamicness of his pose, and the detailing on his shoes. 
Back: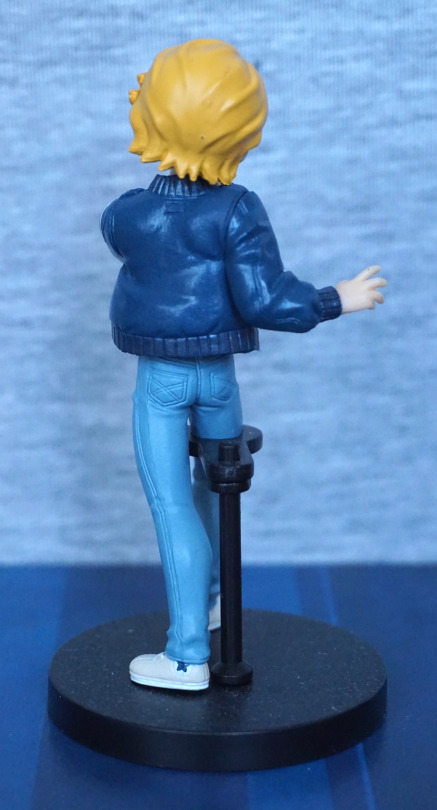 Slight paint lump on the back of his hair. Would've been nice to see some more strands back here in his hair, but overall it looks OK. Nothing to really complain about back here – looks like I'd expect, so that's good. 
Overall, I think he's also a decent figure, but I think Kotetsu has the edge in quality over Keith. Still, they're both solid figures that I could recommend. I think they both succeed in being the half-age counterparts of the characters they represent.