After pondering what I could pad my Mandarake order out with… I remembered I wanted to get some Tiger & Bunny figures. After some deliberation, I went for a Kotetsu prize figure and Chibi Arts Blue Rose. Ordinarily I wouldn't go for a chibi figure, but Blue Rose seems to be woefully catered for in the figure market. 
First up, Kotetsu: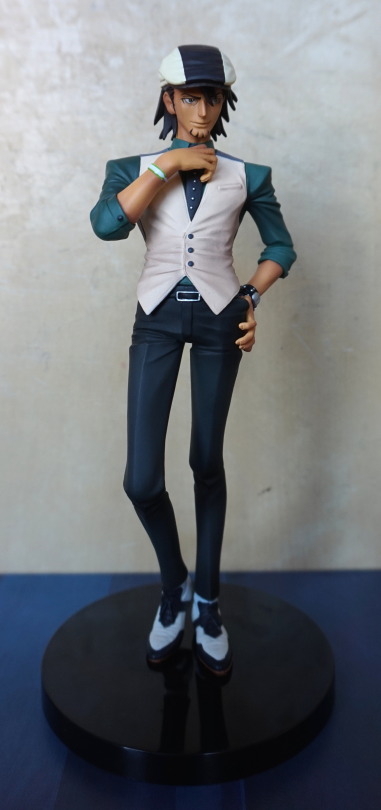 Lookin' nice from the front. Some good shading, most of the paintwork is good, a bit missed on the chin, but it's not really noticeable. Not pictured are the way he fits into the base – he looks like he's wearing platform shoes, but the extra "shoe" fits into the strangely shaped slots on the base. 
Here's a close-up of the face to admire the beard paint: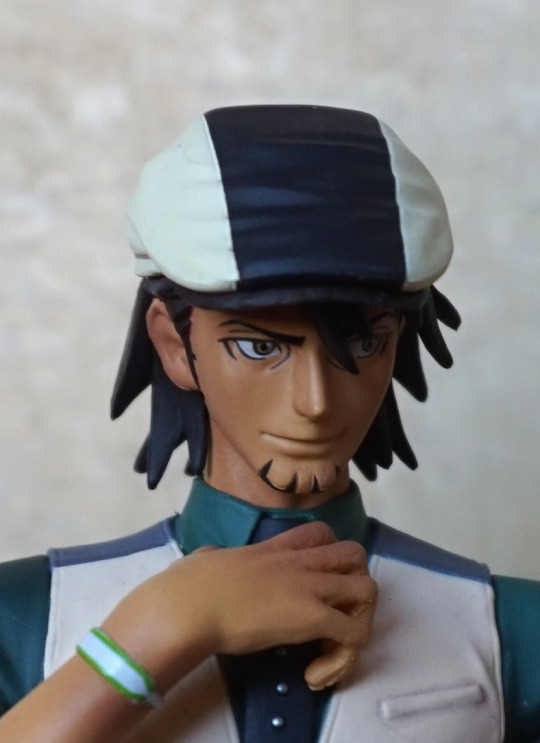 As you ca see, it doesn't quite fit in the marked area, and there is some mould fuzz on his hand. For a prize figure though, the derps are minor. 
From the right side: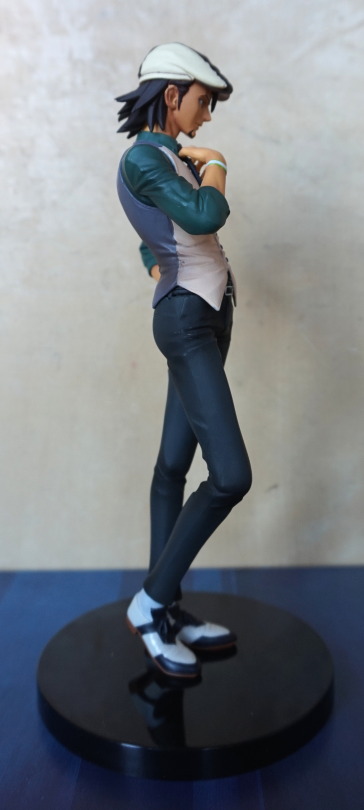 He sadly has some marks on his hip, probably from rattlin' around in his box. He hasn't been out, but he was secondhand, so he may have been shaken around a bit. The marks don't show from the front though.
Left side: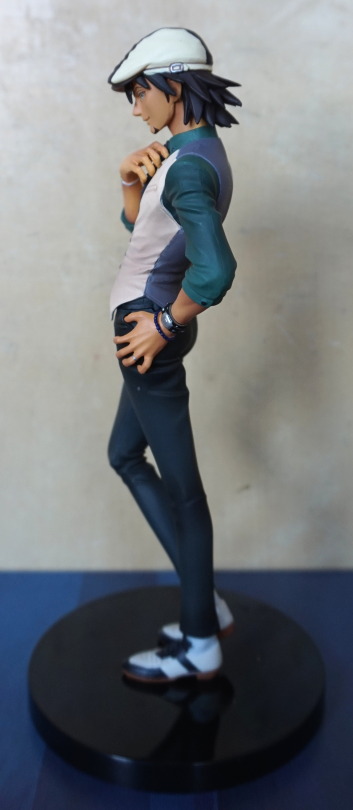 Do love the accuracy of the moulding of the jewellery and hand. It's also been nicely, which is a strong bonus in prize figures. 
Finally, his back: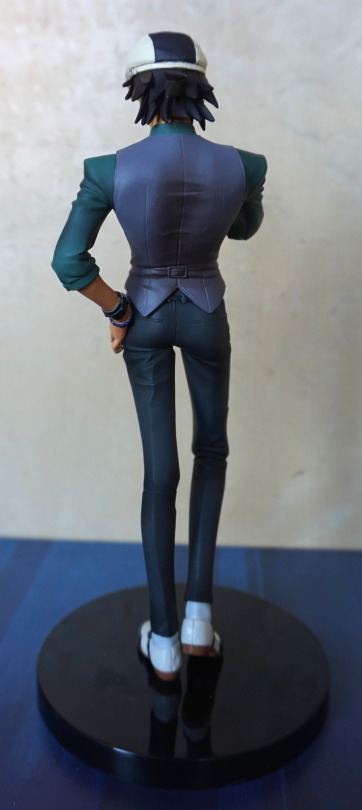 Some nice shading work here, if you want to admire his backside. Not doing it for me personally, but he does have good shoulders. 
All in all, pleased with my pic.
Next up, Blue Rose: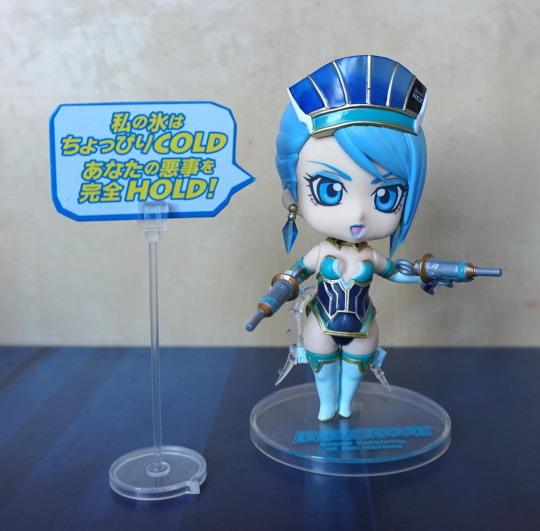 The speech bubble is of her catchphrase, and translates to:
"My ice may be a little cold, but your crime has been put completely on hold!"
She is a bit sticky with plasticiser, from being kept in her box, and she has some minor chipping on her headpiece, but this could be from when she was manufactured. This chibi works surprisingly well for me. 
Here's two shots of her sides: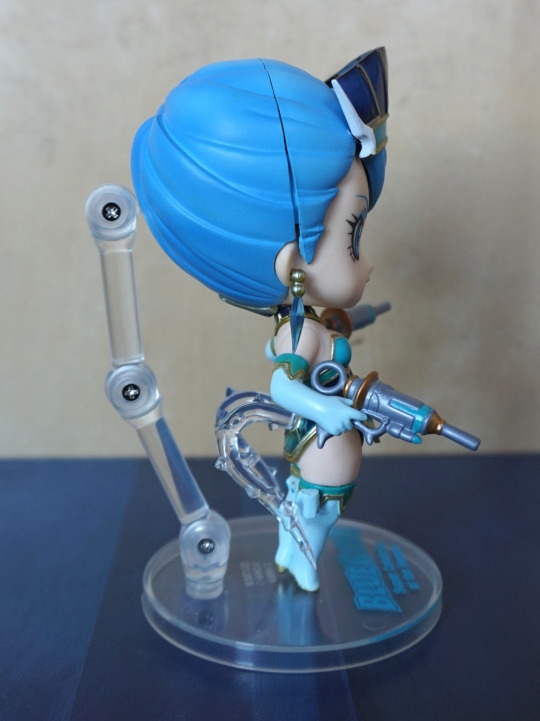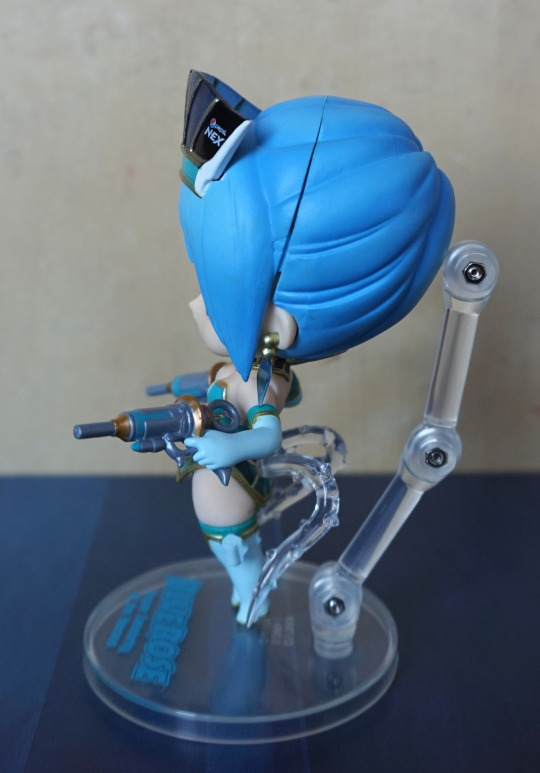 Her tendrils are nicely done in clear plastic, but her front hair doesn't like to clip well into her back hair. May attempt to fix this at some point, with some hot air. Most of this figure slotted together surprisingly well, with the odd bits needing heating to get in place. 
Her back: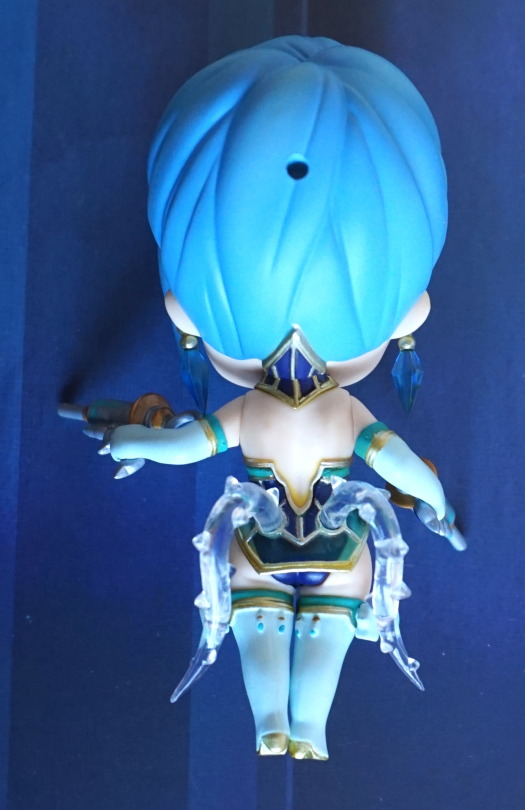 Tried to lean her against the board, but nah, she wasn't gonna stand. Some details back here, which is nice. 
Here are her other parts: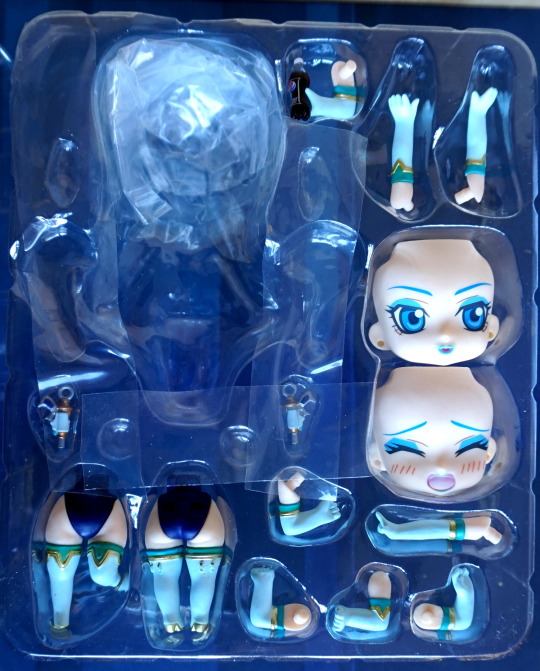 Plenty of bits to choose from! The tiny guns go where here tiny holsters are on her legs (small blue lumps), if you don't want her to be holding her guns. The arms in the top-right are the default ones, which she holds her hands out from her sides. I love the selection of items they provided. 
The other things she can say: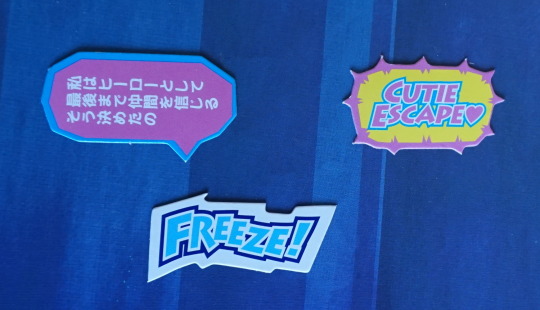 Yeah, I accidentally put the one in Japanese on its side… It translates to "I decided to believe my friends until the end as a hero". At some point, I may swap in the Cutie Escape! one. 
Tiger & Bunny was a bit of an up and down show for me – some of it I loved, other bits I'm waiting for them to get on with it/less interested in what was going on. I may get figures of one or two of the characters, but I'm not going to be making a Tiger & Bunny display. Happy with my purchases though.