These figures are part of a set of summer figures, however I was only interested in the Darkstalker figures of the set. They do come with a segmented beach base, but I didn't take photos of this. Here is the pair posed together: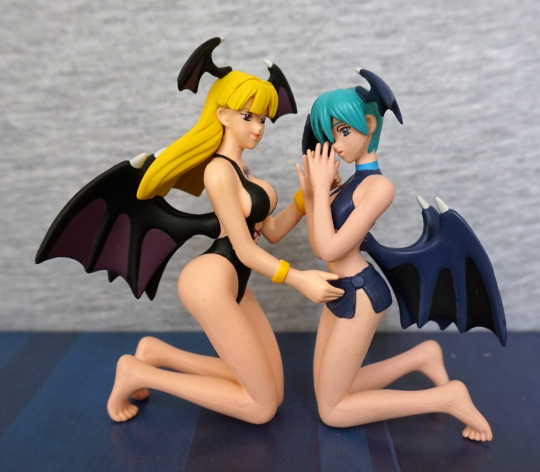 These are small, older trading figures, so they're not super-detailed, but they are posted and painted well for the most part. 
Let's have a closer look at Morrigan: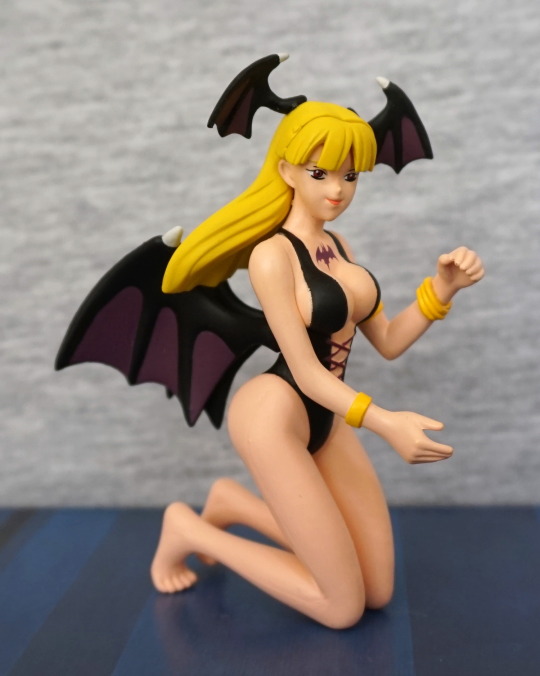 Hair is rough around the seam, but the face is painted nicely, along with her bracelets and wings. Yes, this is Morrigan, despite the palette swap ;). There is a bit of stray paint on the upper parts of her top, but it's not much. 
Morrigan's front: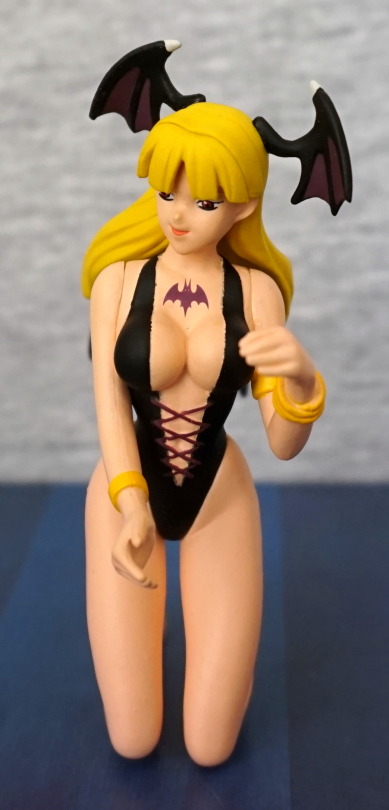 Here you can see the stray paint, were they didn't manage to get clean edges. Around her hips there's a join, hence why those lines are clean. The bat has been done well, and the straps are OK. 
Her back: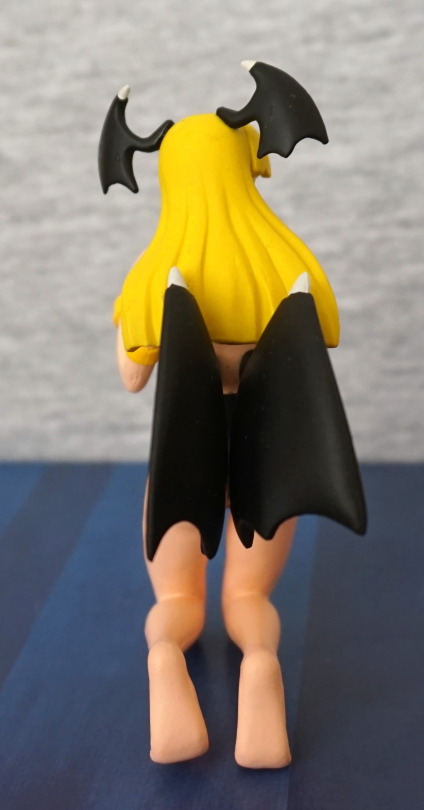 Not much to see here, but some moulding has been done in her hair. Most things are pretty flat back here. 
Opposite side: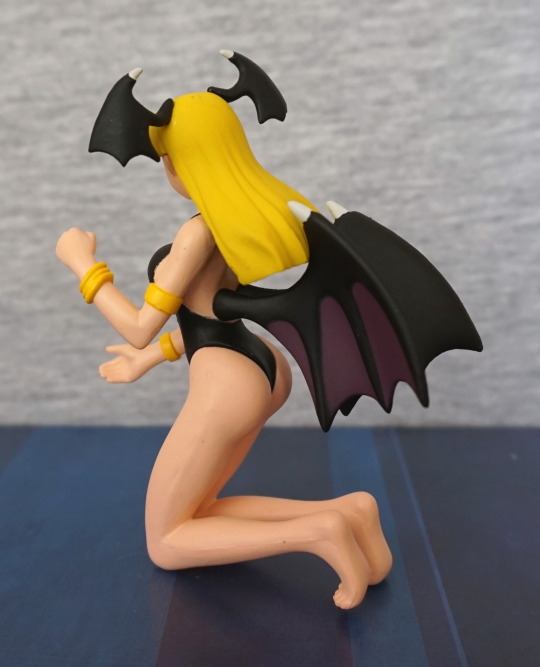 She looks good from this angle mostly, but she does have a seam running up her leg. I think the black and purple wings work well. Most Morrigan figures have a more pinkish colour for her wings, so not sure if this counts as palette swap or not :P.
Now for Lilith: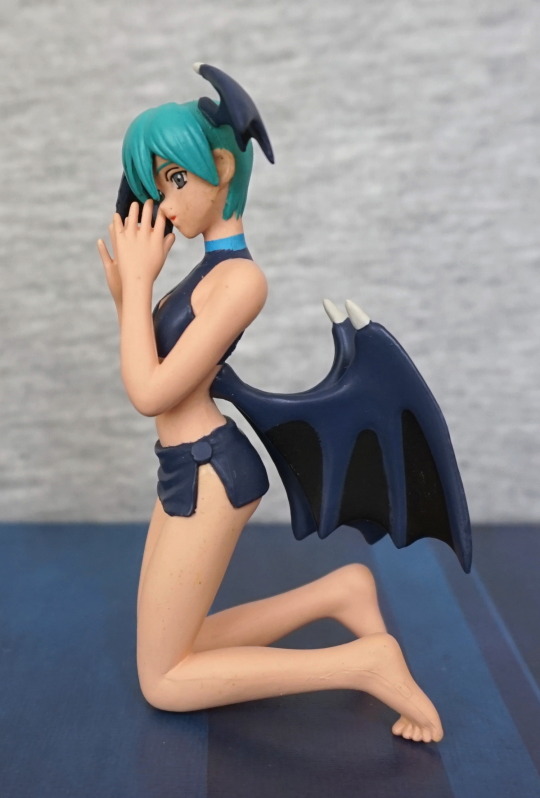 She's stolen Morrigan's hair dye for the day. Unlike Morrigan, her wings are definitely a palette swap, as she's usually red "struts" with black wings. Bit of stray paint on her skirt, and an… interesting expression. 
Her front: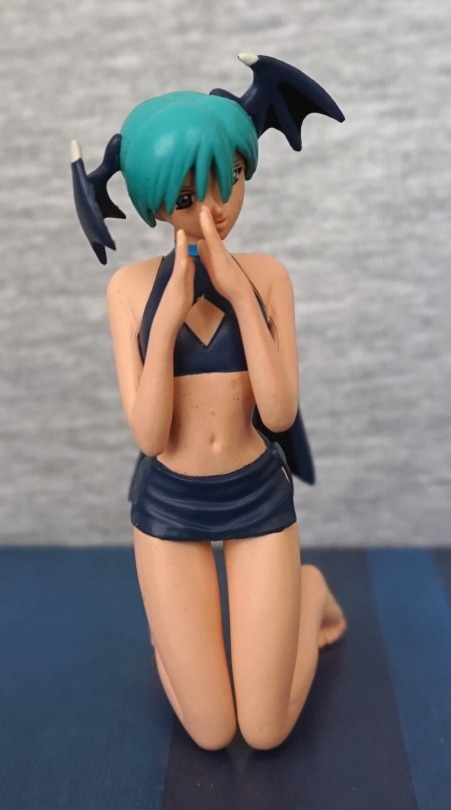 A simple outfit. The shorts are nice, but the top looks super-flat and a bit out-of-place because of that. Looks like I might have to attack her belly with an eraser and see if I can clean up some of those blobs… Hair is a bit flat. 
Back: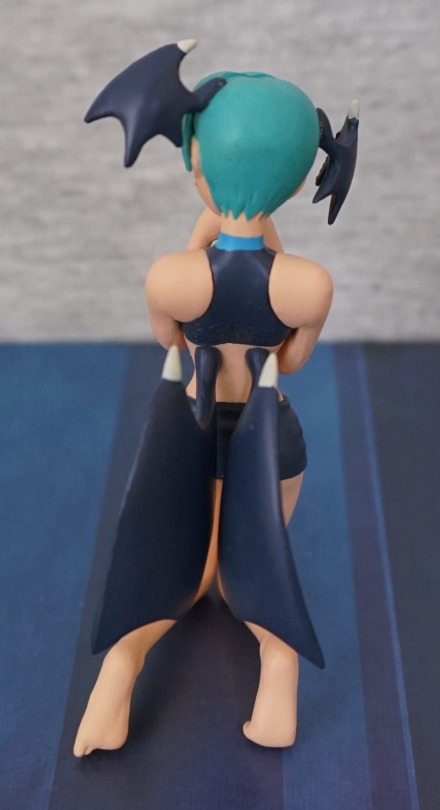 Hair is very flat here. Back of her top looks nice, and I like the way they've don her wings. If it weren't fro the hair, I don't think I would have any complaints about this angle. 
Opposite side: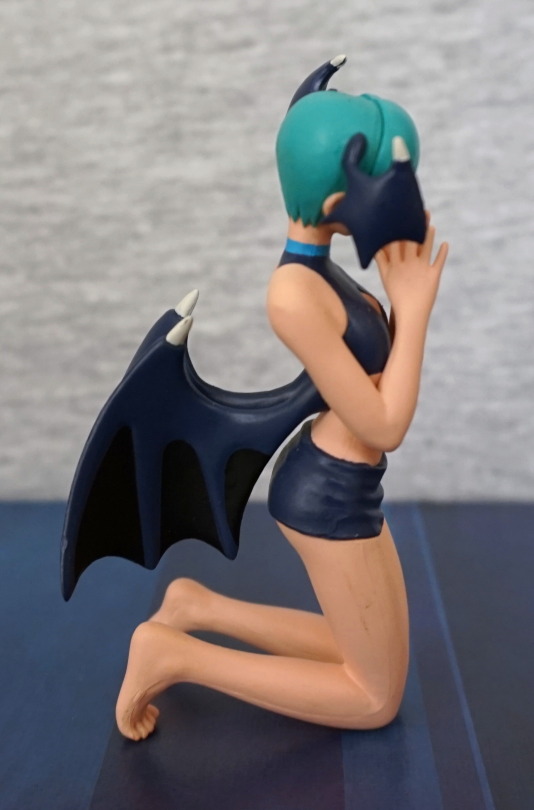 Leg seam line is more noticeable on this side, but other than that, pretty much the same story as the rest of it. OK, with a couple of minor flaws. 
As two separate figures they're OK prize figures, but together, they look like a very cute pair, which is how I intend to display them. So if you get one, for maximum enjoyment, I'd recommend buying the other, so you can pose them as designed :).