Saw this figure, and can say this one was an impulse buy. Also partly because buying it allowed me to buy this figure and another tax-free. Gotta save dat tax. 
So here she is: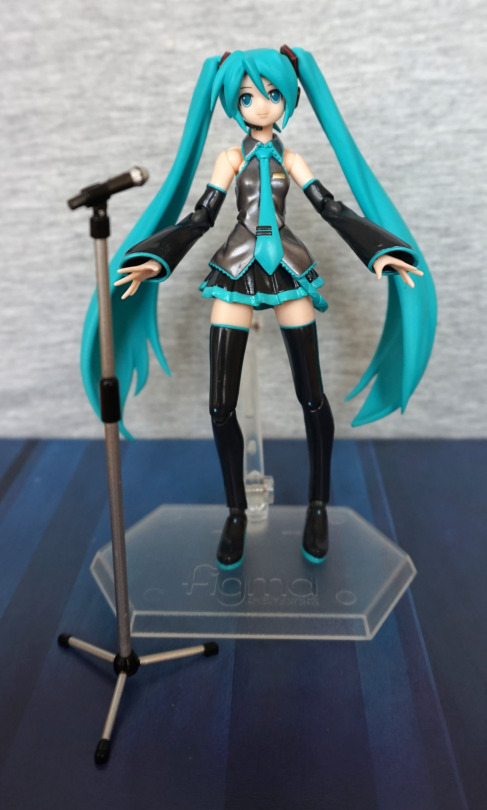 As she didn't have her box, she was really cheap, but all her accessories were included. Here she is with her microphone.The microphone feels solid, given its thinness, and definitely looks the part. This one I considered buying the bootleg of way back when, just to get an idea of what Figma were like and to see how the bootlegs compared. In the end, I didn't, and looking back I'm glad I didn't. 
I was attracted to buying this particular Miku because of the silvery top. and her sleeves. Being the official thing, the green edging is painted neatly, and she articulates well. Her face is also cute and Miku-y. 
Face: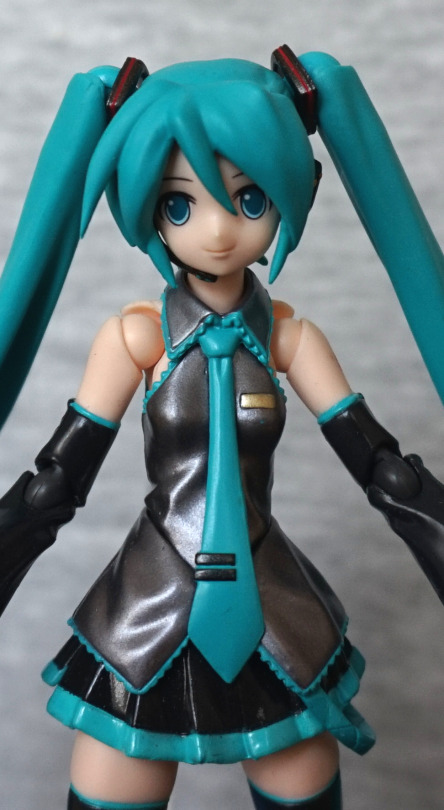 I like this face – it's nice and cute. Here we can see there's a tiny scratch in the silver from her being a secondhand figure. Suspect some of the black on the green part of the skirt might be secondhand issues. Some creasing in her clothing, so it isn't entirely flat. Her tie clips have been painted nicely, and work to break up the large sea of green. The range of finishes is one thing that also attracted me to this figure.
Left: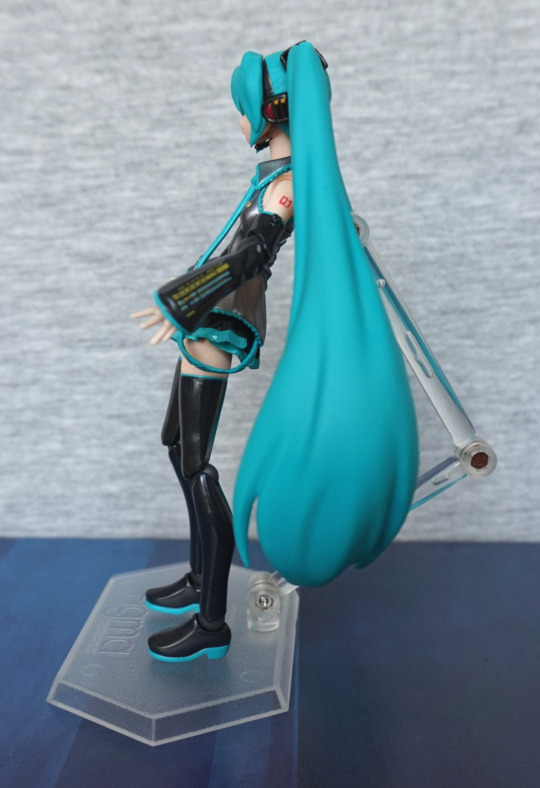 Here we can see her large, sweeping hair and the aforementioned sleeves. Her black boots have nice green details at either end. The finish is nice, but not super-detailed. Her top has a good bits of detail – the hanging strap, the green border on her skirt and the silver part. The number she has on her arm is tattooed on nicely. 
Close-up of her sleeve: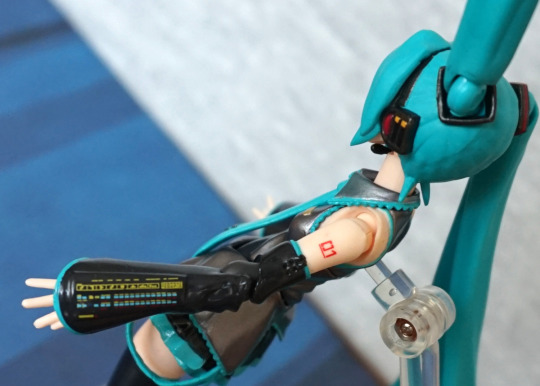 I like the detailed keyboard on her arm, and this came out well. Here we see the "01″ in more detail too. Arm joint isn't particularly hidden. Here we can see where the stand has gone a little rusty – guess they're more prone to doing that in Japan. 
Her hair bands look a little lumpy up close, but fine at a distnace. Her headset has also been done nicely, with some little, coloured details.
Right: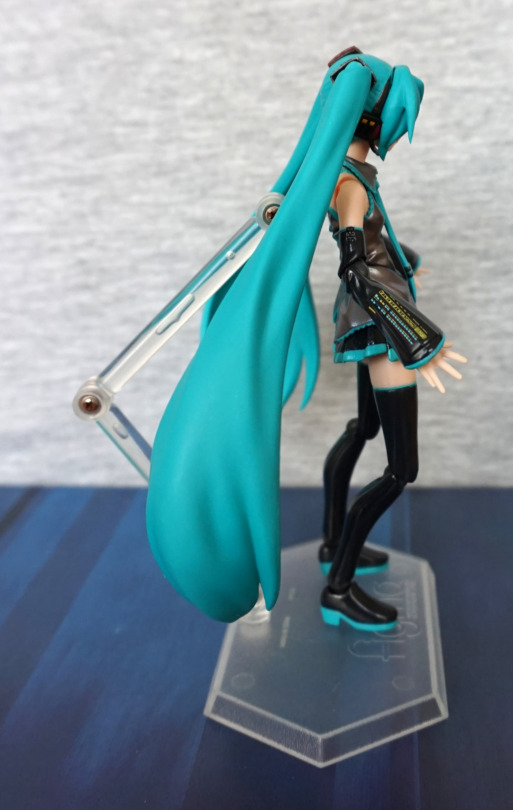 More hair! Not much to differentiate this side – she doesn't have a strap here, or the tattoo. 
Back: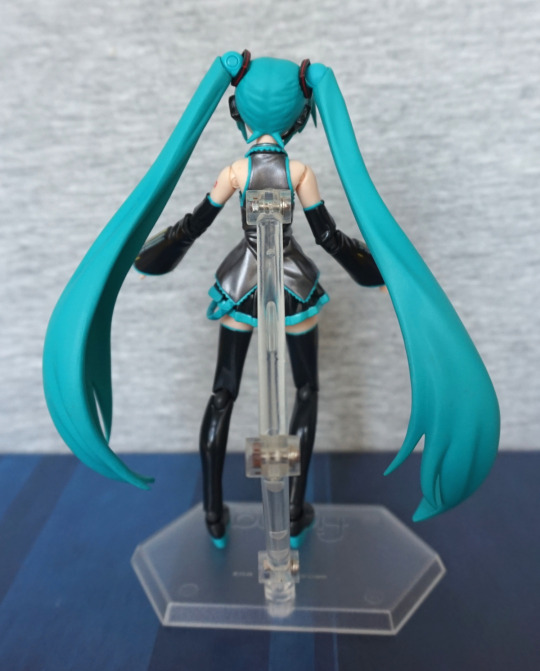 Looks OK from the back. Some creases in her clothing, hair has sculpting onm the back. I like the fact her hair is articulated too – can be used to give her poses more life. I think this angle emphasises the lack of shading on this figure – she is an older Figma, so this is showing one thing that's changed – there tends to be more paint detail in newer figures. I still think she's cute though.
Accessories: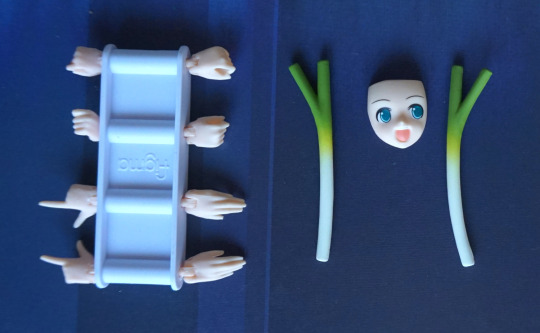 I may give her the leeks at some point. They're nicely painted and sculpted for what they are, though I'm not particularly attached to Miku, so the accessories don't hold any special place for me. 
Overall, I think she's nice for an older Figma. I think it shows how the designs have gotten more detailed over time, whether that justifies their current price tag or not. I'd recommend this one, if you can find it cheap. Don't think it's really worth pushing the boat out for, as there's plenty of other Miku stuff out there to choose from.