And now time to say farewell to the Japan loot with this small model kit of Retsuryu. I wanted to buy a Gundam model kit, as I was in the Diver City mall, but didn't want anything too big due to luggage space, and I'm not the most Gundam-y person. 
So enter this little fellah: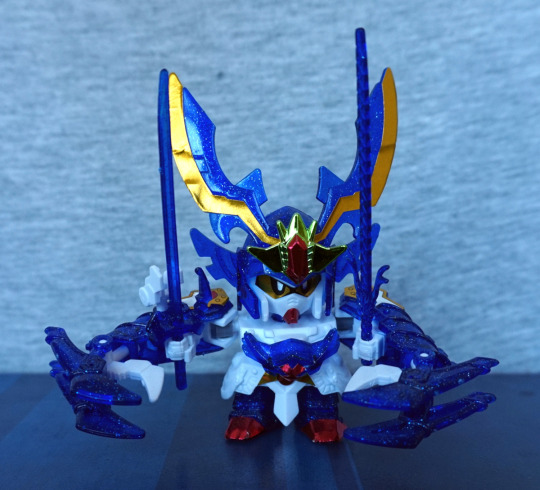 Yep, was attracted to him thanks to the shiny blue. Can't go wrong with blue. He's a cute and colourful-looking dude. From what I remember from the build, he was a pretty easy one to do. Also the end result is pretty cool imo. A couple of the stickers you definitely have to be careful with – especially thinking the eyes and his chin. 
Claws stretched out: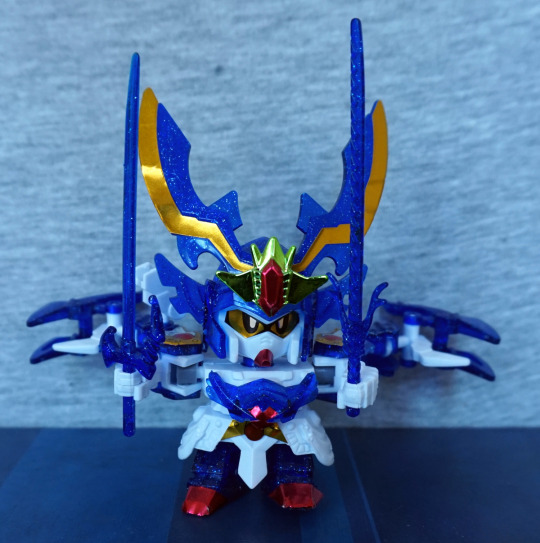 He has a reasonable amount of posing ability, given his actual arms don't move that much. He rotates at the head and the waist, plus these outer claws can be moved and grab things. 
Left: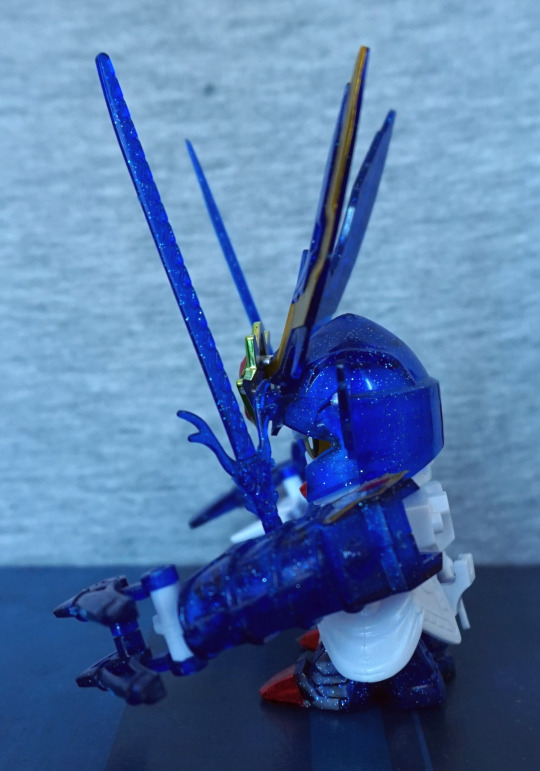 Mmm. Shiny. Blue. I like the ribbed effect on his arm, and he's got some material motion going on in his skirt. 
Right: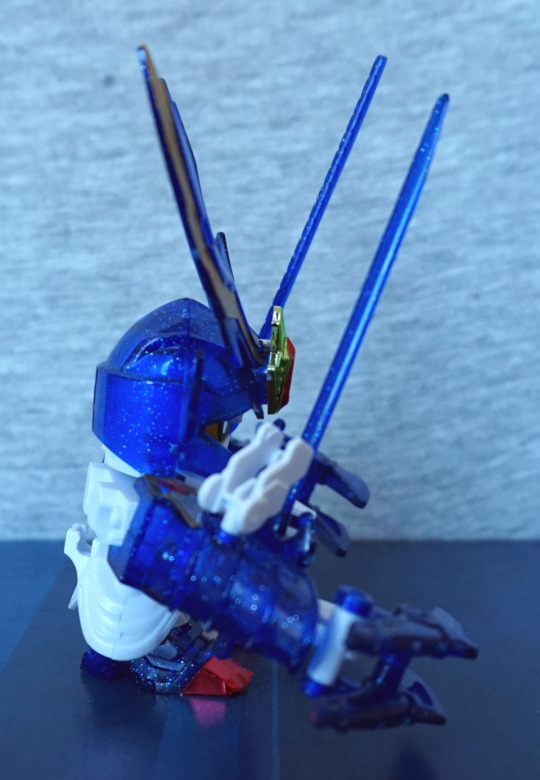 Here we see the holder for his axe, which we will look at later. The holder doesn't work very well though, imo.
Back: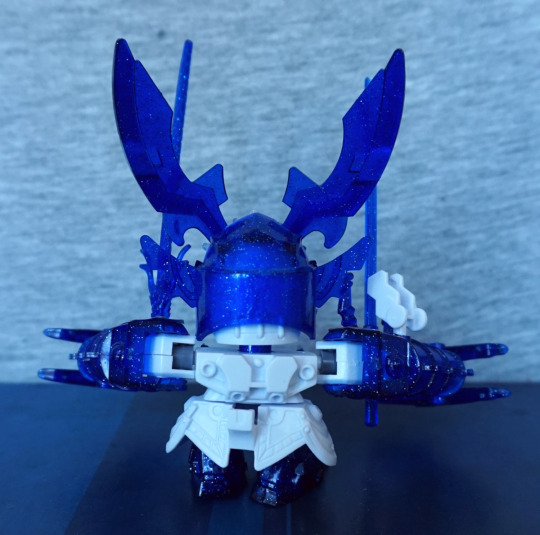 Looks decent enough, but very plain. Might've been nice to have a couple of gold/red stickers to put on back here. 
One last look before we move onto the aforementioned axe: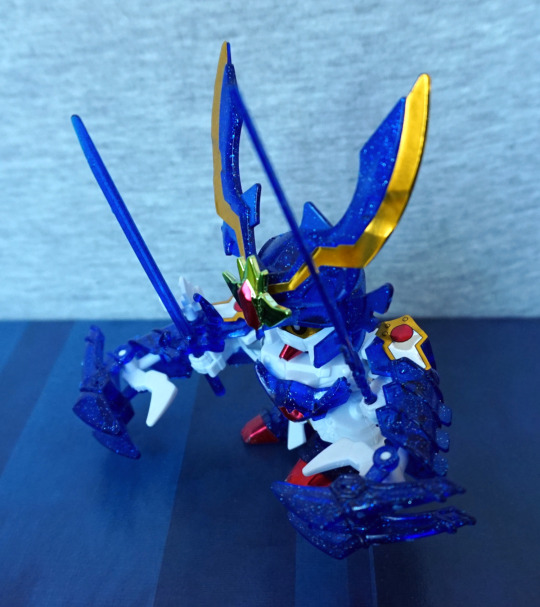 Would've been nice if we had some back stickers that matched thematically with the ones on his arms. The green shiny part on his helmet adds a nice central focal point to him. 
Axe: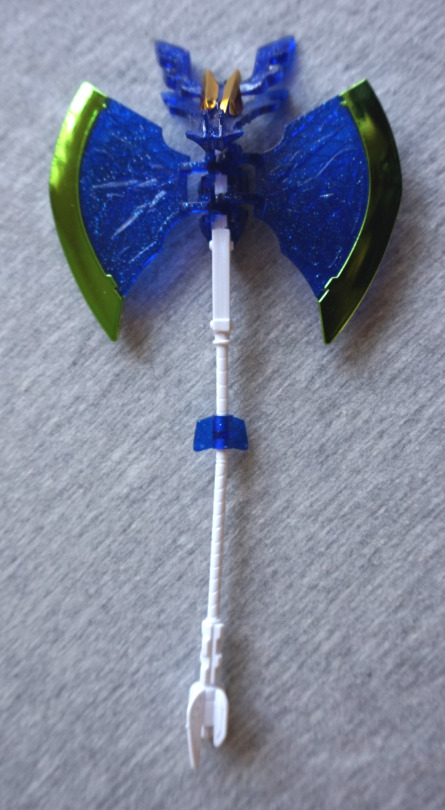 He has this shiny axe, which you can have a short or a long handle on. This is the long handle mode, but you can remove the blue part and the lower part if you wish. You can then put that part in his hand. 
Close-up of the head: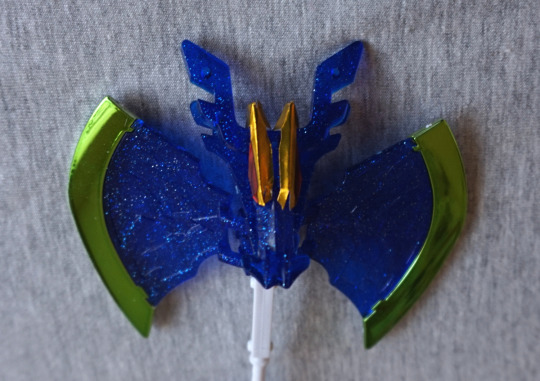 Yeah, didn't do the stickers so good here… glad the green parts are painted green. Though only on one side. The box shows the axe coloured, would've been nice to have a couple of stickers to add to the front design. Alas, not to be.
He can also fold up the axe: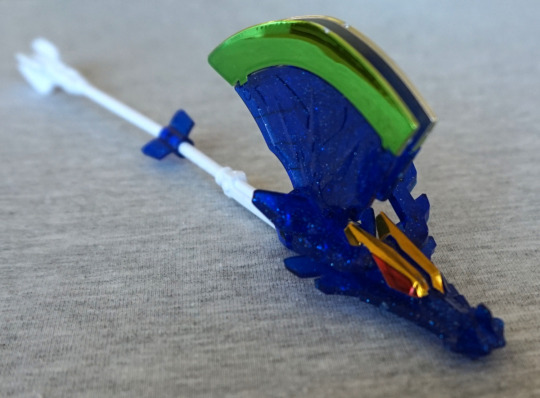 Which, apparently, lore-wise he can use to fly! Pretty neat, huh? I like the way the axe parts and the dragon head are hinged, so you can do this transformation. 
Overall, he's a cool little dude, and these small kits are very cheap to buy. These mini-kits I think would be good for beginners – not too many pieces or stickers. If you want to try making a model kit, I think these small Gundam kits would make a good intro kit. The other small kits I've done (Mecha Colle ones) have been on the fiddly side, and might be a bit much, but this one was a nice balance of things. Though looking at that axe, reminds me it was kind of a pain to get the green bits to stay put XD.