And now for some Klan Klang… as I went out and bought a whole bunch o' Klan Klang figures & merch…
First up, we have the micronized version of her by Alpha x Omega: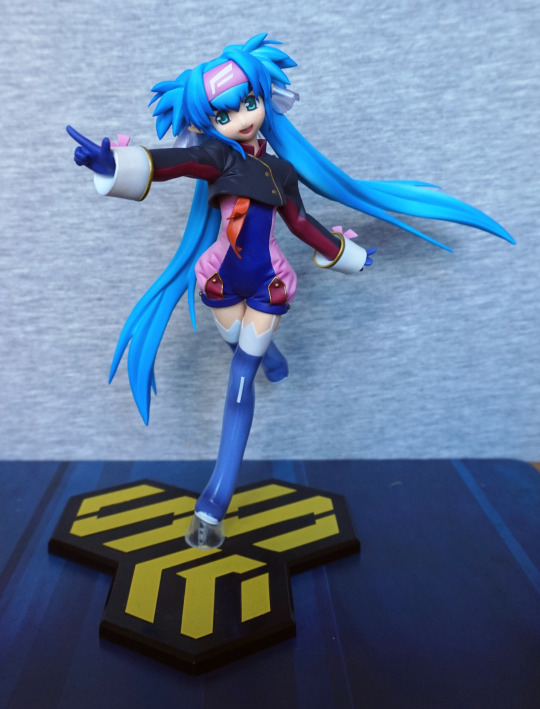 And she's very cute! Only Alpha x Omega produced any kind of premium scale figure of her, and thankfully this one is a nice one! They also did a macro version of her, but Santa's told me I'm not seeing that one until Christmas… 
I think the pose works well – it gives off the playful vibe that micronized Klan Klang has. I can imagine she's running up to one of the other characters and gesturing towards them. 
I like the way they've done her outfit – her jacket is overlaid on her dress(?), which gives her outfit some depth. Her boots are also sculpted at the top – they're not a separate part, but there's some depth there so it doesn't look like she's got painted-on boots. 
The shading in the paint is all very nice, and helps add detail to the figure. The details are also painted cleanly, which is especially important for the gold edging. 
Face: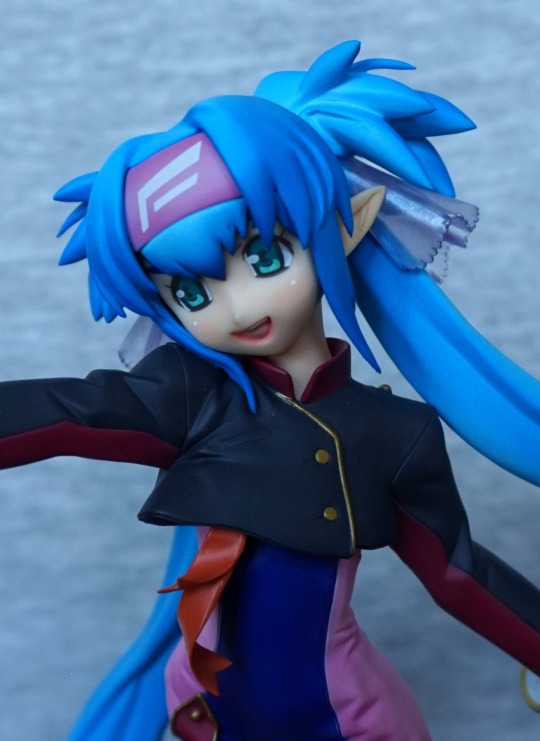 She has a very cute face, and her mouth is painted well. Here we can see the jacket – the gold paint mostly holds up close-up – if I had to nitpick, the ends of the gold piping on the jacket edge are a bit dodgy. The creases work well, and she also has a small pocket here. Her hairband is done as a separate piece, which helps it feel like a band. They've even included some sculpt details in her ear, which is nice to see. 
Outfit: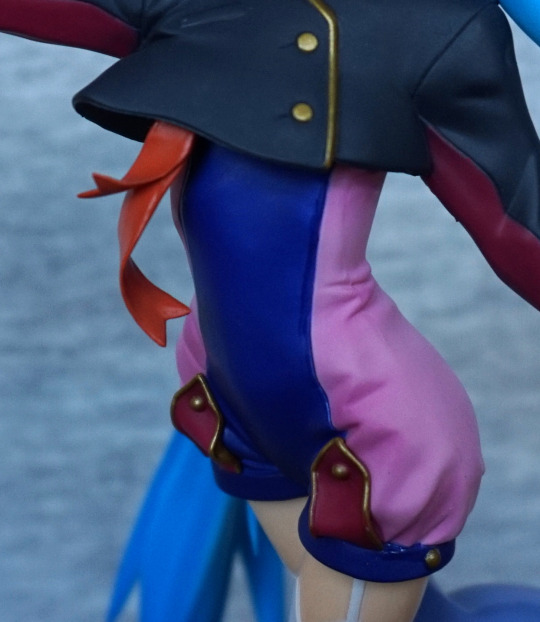 The pink-blue border holds up well, and I love the contrast between the gold and the blue on the erm… tie bits? I like the way the ribbon she's wearing curls nicely down and helps emphasise her movement. We can see a bit of a seam close-up here, but it has been blended well, and could potentially be regarded as a seam in her clothing, as would exist in a real dress. 
Left: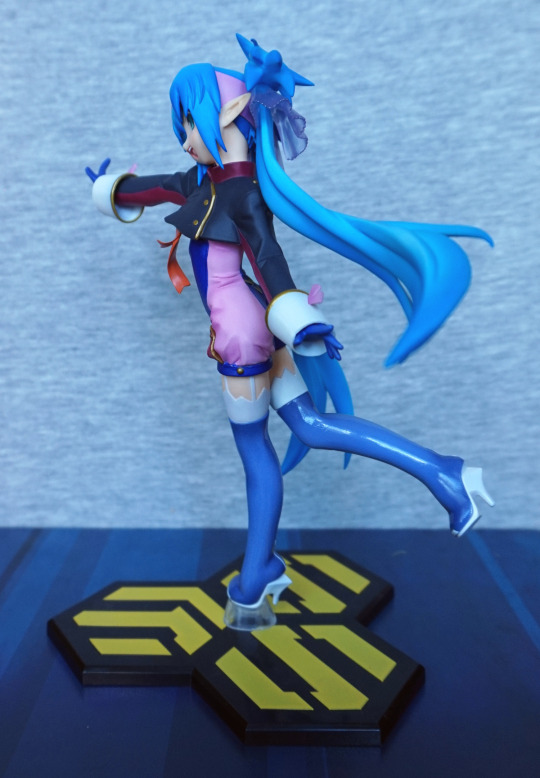 I live her playful, stretched out pose. She's also got an interesting heel design going on there… I love the little pink ribbons on her cuffs. The base holds her well but personally I would've preferred for her front foot to actually be on the base, instead of her being "midair". 
Right: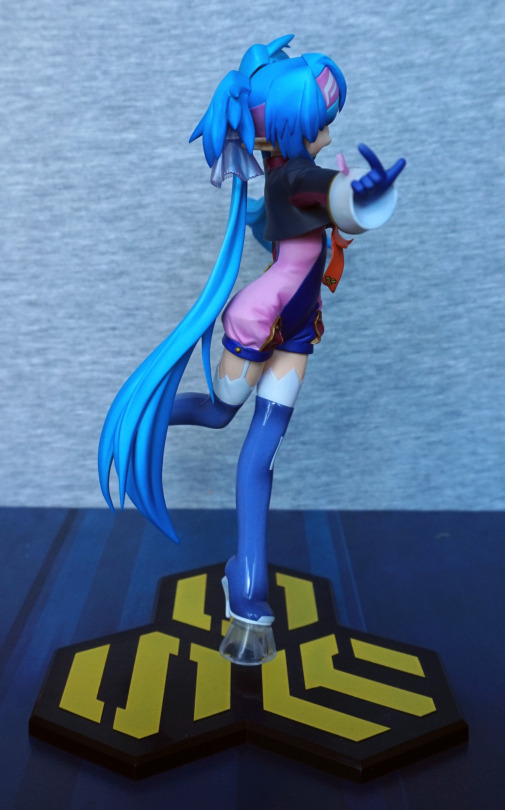 Here we can see she's got the "SMS" on her ribbon, as well as the base. Nice attention to detail there. Her hair flows well around her body, and is well-shaded. Contrast is probably a bit too high in the photo… the figure is fine. 
Back: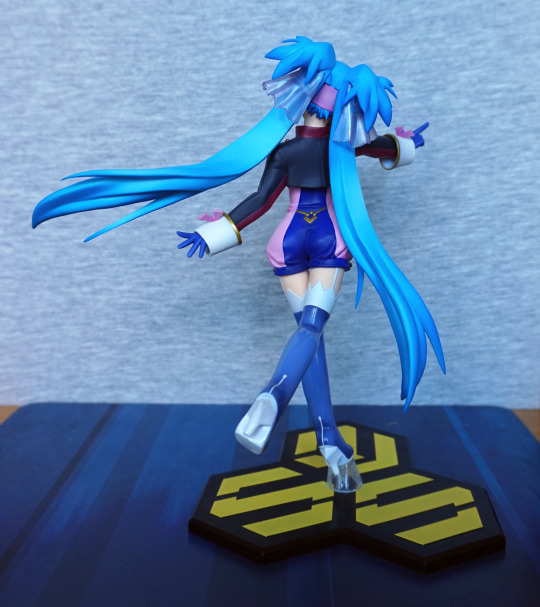 Here we see she's got a small gold detail on her back, so they haven't neglected the back of her outfit. There's also an intentional seam on the jacket, plus a paint detail on the back of her boots. 
Hair close-up: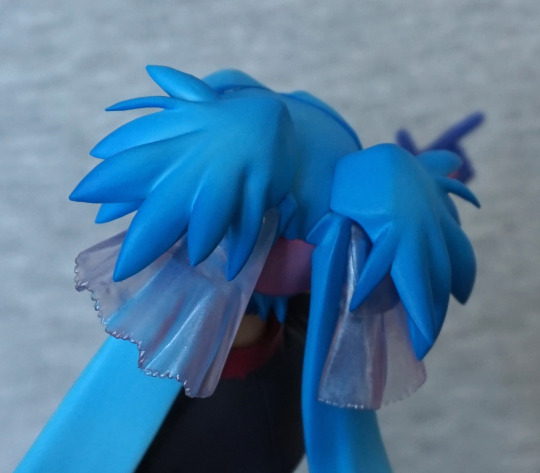 Here we can see they've done her hair ribbons in translucent plastic. I think they could've done with a tad more paint/dye, but they do the job. 
Overall, I'm really pleased with this figure and glad I got it. I think this is a solid figure for Klan Klang in her micro form, which is good… as there aren't a lot of figures of her. It was nice to be able to get a figure that wasn't a prize figure for her.