Now for the Big Bad in Tiger & Bunny, Lunatic: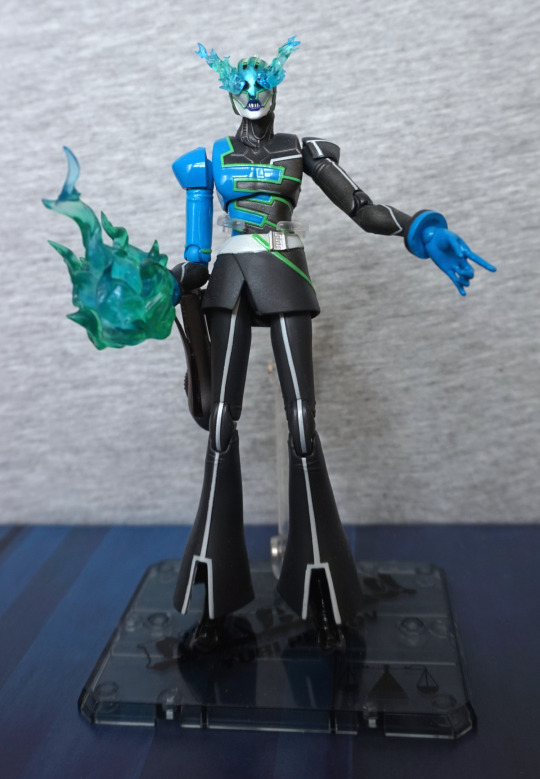 I'm not sure he's the most compelling of foes, but I do love his bright blue-green colour scheme and snappy sense of dress. For this figure, I've "equipped" one of his flaming hands and the flaming head. He also has another head without the flaming eyes, but that just isn't cool enough for me. 
Left: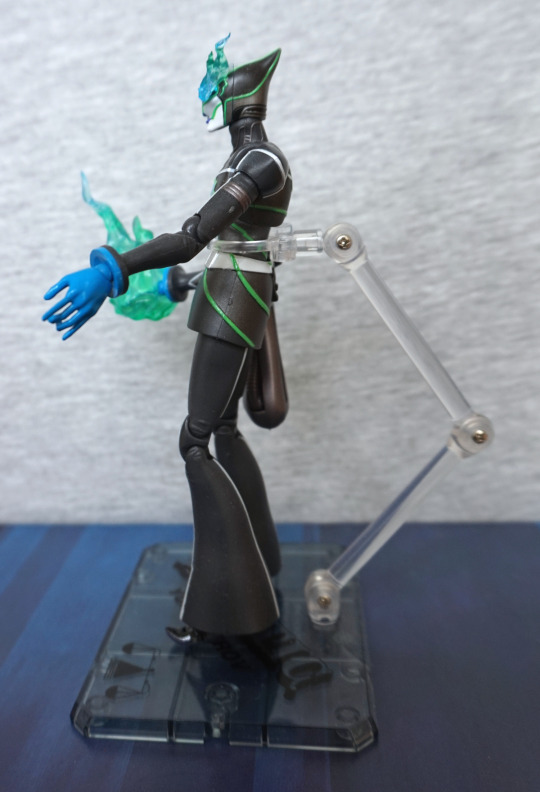 I love the shape of his head from the side, and he's well-articulated. He also seems to be doing a good line in trying to get flares back into fashion. The paint is nicely done, though I'm seeing one tiny bit of sprue :P. Meh, any model kit I make is way worse. 
Right: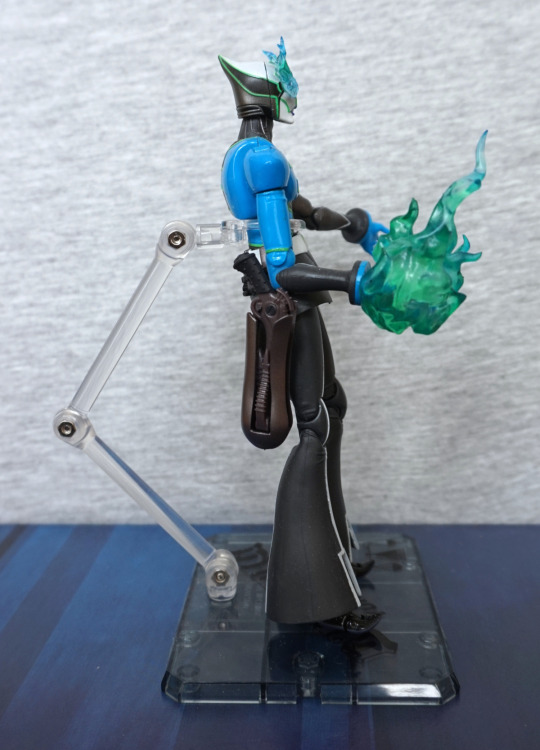 Here we can see his sheathed crossbow – his flaming weapon of choice. I've chosen to use the holstered version, as I wanted to have at least one flaming hand. It clips on decently well to his side. 
Flame: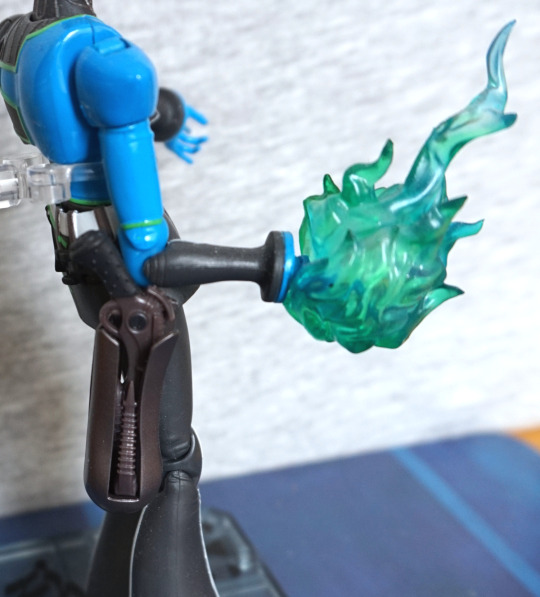 The blues and greens are blended well in the flame parts, and look really nice imo. We can also admire some of the details in the crossbow sculpt as we're here :). 
Back: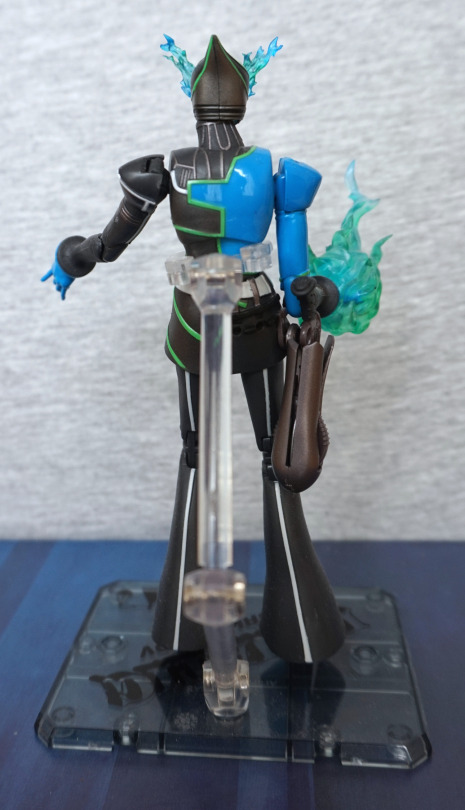 His suit is decently detailed on the back. His shoulders are a bit gappy though. 
Crossbow and default head: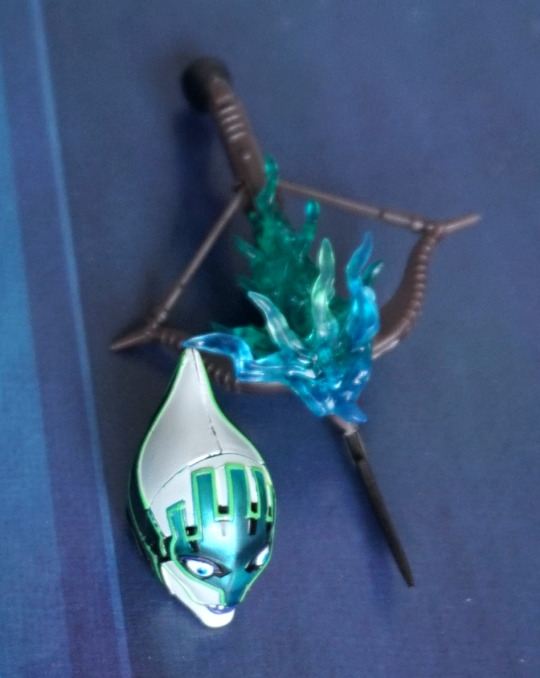 I love the flaming detail on his crossbow. His heads are both nicely painted from the front, though a little gappy on the sides. 
Rest of the small accessories: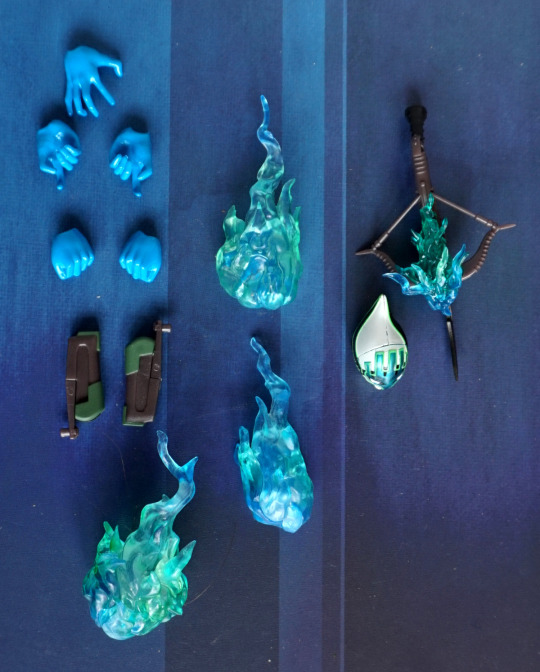 He has a good range of pieces, which I think gives a lot of posing options, which is something really good with this figure.
Cloak parts: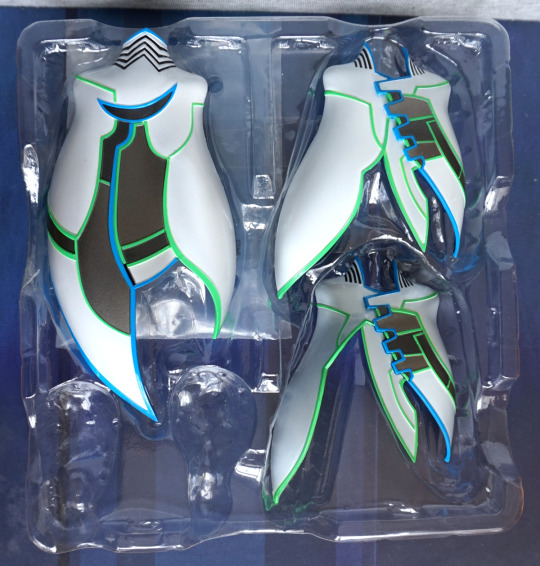 Whilst these pieces look really cool, I had massive issues getting them on, and it does somewhat limit your posing options, so I've decided to leave them off for now. Maybe I'll have a go with them some other day in the far future. 
Overall, I think he's a decent figure, even if he's probably not a popular character. I'm glad to have him, and if you're after him, he shouldn't be too expensive to obtain.