For awhile, I was toying with the idea of ordering the original version of this figure, but I didn't quite like it enough to do so. Then I found out there was this v1.5 version, and went for it:

The main differences between this one and the v1 is the hair and the matte finish to her swimsuit. The mould is the same for both versions.
Face: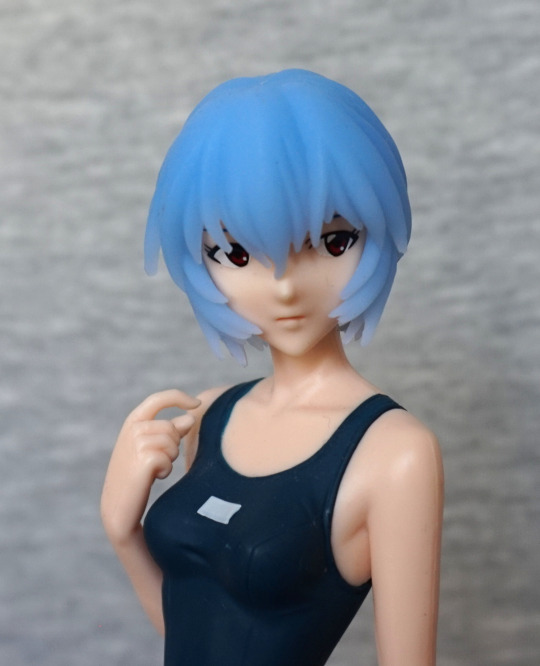 I love the soft faded effect to her hair, and am a sucker for translucent hair, despite its weirdness. I think her face has been rendered decently well for a prize figure. The matte texture certainly looks nicer than the shiny one imo, but it is more prone to showing up scuffs on the figure – of which there is a minor amount. She does have a seam line that is pretty noticeable on her left arm in this photo. 
Swimsuit:

Here we can see they've added in wrinkle details, and seams to the swimsuit, but they haven't added any markings to the labels. Usually the character's name would be written in the space. Guess she's borrowing a swimsuit for the day?
Left:

Here we can get a good look at the shower – the finish is nicely rendered, but due to the way the peg is, it does lean a little. Overall, I like this piece, and seems to have all the details it needs. Unless you want some limescale 😛
Due to the way Rei is facing, this actually makes for a good viewing angle. I like her overall pose, and I think this side shows it off well.
Right:

Here we can admire the details in her hair – she has a good number of strands moulded, which is a lot nicer than some prize figures where they just have the top of her hair smooth. 
Back:

Erm, er, let's try that again: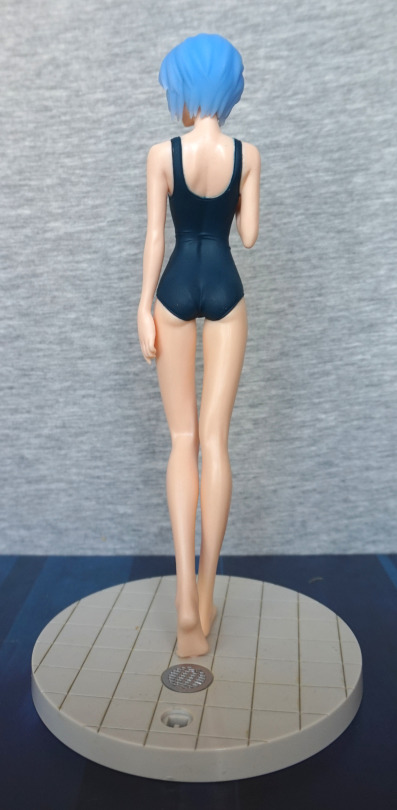 Here we can see they've sculpted her spine and shoulder blades. The swimsuit hugs her backside, and is creased near her middle, which are all nice detail.s 
Base: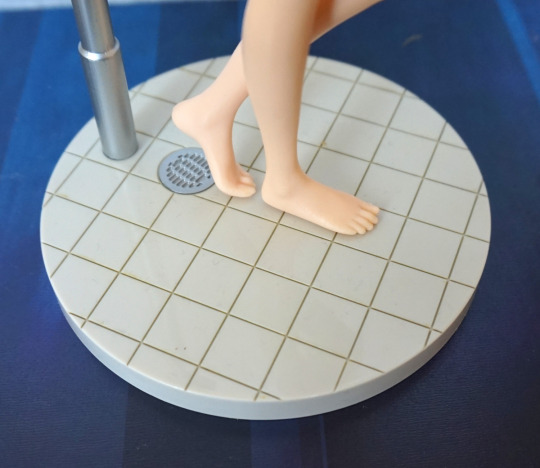 I like the fact they've coloured the grout – this is also a feature new to the v1.5, and I think it really adds to the base. The shower drain has also been nicely done, and looks like a drain. Her foot does look a bit overly rectangular from this angle… but is nicely sculpted otherwise. 
Overall, I really like this figure and glad I got it. The shower could do with being a bit more stable, but I don't think it's critical, as it looks fine from the front, and not prone to falling out – just leaning a little. Glad I went for this one, and would recommend it. I don't think there's any reason to own both versions of this figure, and would recommend picking your preferred one. Looking at pictures of the other version, this is definitely my preferred version.